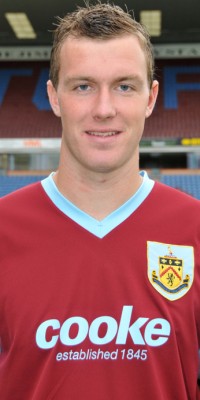 Kevin McDonald - made few telling contributions in the promotion season
Respectively, they were a 20 year old prodigy from Dundee, a 22 year old Manchester United reserve with a big reputation and a 21 year old striker whose pace and tenacity had made him one of the most successful strikers in the Championship during a single season at Scunthorpe.
Whilst big things were expected of all three, none proved to be the pivotal figure in Burnley's promotion campaign. Paterson's dynamism was essential to the team up front, of course. But Robbie Blake, Steven Caldwell, Graham Alexander and Wade Elliott were the personalities who picked the team up and dragged it towards promotion. For all Coyle's talk of building a young and vibrant side, it was the wise old heads what won it.
Of the three bright young signings, Paterson achieved the most in their first season at Turf Moor. He established himself as a first choice, but his haul of 12 league goals was useful rather than crucial. Eagles featured in all but 3 games and became an important weapon in Coyle's attacking arsenal, but he failed to make any position his own consistently. Meanwhile, McDonald featured only intermittently, hinting at enormous potential but making few telling contributions.
And, after experiencing frustration last season in the Premier League, all three are now back in the Championship seeking to demonstrate that they really do belong at a higher level.
But it is not only their own futures which rest upon their performances. The performances of these three individuals may hold the key to Burnley's entire season.
Brian Laws needs two of this trio to come good if his team are to mount a realistic challenge for automatic promotion. His signings, to date, have been credible. Fox, Cort and Grant will be key components of a defensive unit which looks stronger than any other in the division, particularly if Tyrone Mears does end up staying at Turf Moor. Marney is a reassuring rather than exciting addition to the midfield, although with continuing doubts over Chris McCann's condition there is still a vacancy for a cultured midfielder capable of adding quality at both ends of the pitch.
Further forwards Wallace is a sensible replacement for Blake and will add natural craft on the left, whilst Iwelumo offers a decent focus for the attack, a steady goal threat and a rousing personality.
These players will join seasoned Championship performers like Bikey, Alexander, Elliott and Thompson in the Clarets' squad. But for all the competence of this team, there is the feeling it lacks the couple of sparkling talents who can make the difference between real achievement and mere flirtation.
Which is where, in the absence of any significant expenditure, Coyle's likely lads come in.
Paterson is the only one of the trio likely to start the season - at Eagles' expense, on the right hand side of a front three. But all three have the potential to set this division alight. Despite the tribulations of the past 15 months, they should all have matured since Burnley left this stage at Wembley. And they should now be aspiring to have the impact upon Burnley's campaign that Graeme Dorrans - another to fail to make an impact at Premier League level on his first visit - had upon West Brom's season last time around.
There remains speculation that Eagles will move on before the season starts, in front of a bigger stage for his talents. Aside from a few comments made before the end of last season and leapt upon by the media, there appears to be little to suggest he is agitating for a move away. He, like McDonald, is in the last year of his contract - but it may prove best for both Burnley and for the player if he remains at Turf Moor for one more season, establishes himself in the team and demonstrates the ability which made him such an eye-catching proposition when he first signed.
It is not hard to see how he, Paterson and McDonald might ultimately end up playing together. Eagles is versatile enough to play on either flank in a 4-3-3, whilst Paterson can play either wide or through the middle. McDonald has the attributes to become a colossus if given freedom to roam and influence the game from behind a single central striker, with two more conservative midfielders minding shop behind him.
All have the attributes to establish themselves as top class Championship players in this system. Ironically, given their lesser contributions to date, it is Eagles and McDonald who have the most talent: they have the sort of infuriating, mercurial talent which only so rarely blossoms in this country. Both lack for consistency and maturity, but both have the sort of instinctive flair and sheer ability which few in the Championship possess. For his part, Paterson is the only member of the squad who might plausibly plunder 20 league goals this season.
Yet it is unlikely that this diverting proposition will become a successful reality. It requires the realisation of too many 'ifs' and 'maybes'. If Paterson proves himself capable of scoring 20 goals a season; if Eagles finally comes to understand that he is a manipulator of angles and not a winger with genuine pace or the ability to trouble goalkeepers from 35 yards; if McDonald realises that, for most of any game, his ability to use the ball will be less important than the movement he employs to ensure he gets the ball in effective positions in the first place: if all of these things happen and all three stay fit then with a supporting cast which is the envy of the division, Brian Laws' team will win promotion come next May at a canter. Such a collective blossoming really does seem too good to be true.
It is, however, just possible that Laws will be able to coax the potential out of two of them - and that this might be sufficient to lift Laws' team above the other pretenders for Championship success.
If not, it will leave many scratching their heads. Burnley started this summer from a high financial base, with coffers which ought to have been well filled with last year's Premier League bounty. After Steven Fletcher was sold to Wolves for a tidy sum, they ought to have been overflowing. And yet only a fraction of Fletcher's transfer fee has yet been reinvested into incoming transfers.
There is still hope that Jack Cork will arrive - either permanently or on loan - and his arrival would certainly plug the remaining gaping gap in midfield. But the feeling persists that the lack of a striker with the class to decide a tight game could yet be Burnley's undoing. It is all very well refusing to bet the ranch. But in two or three years when the parachute payments have run out and the finances are leaking once again, Barry Kilby and his board may regret shunning the opportunity to fix all those leaks for the foreseeable future - in return for a comparatively modest outlay.
Nonetheless, whilst the Clarets refuse to buy ready made stars, it will give those who were the foot soldiers of the last Championship campaign a glorious opportunity to take the lead this time around. For McDonald and Eagles in particular, it is more than that. This season could prove a tipping point in their careers; if they fail to take their chance to shine now, they may find themselves looking back in years to come and wishing they had done so after all.
Should they realise their talent, then they and their teammates can go far this season. And if it happens, Brian Laws may find himself raising a quiet glass to the most reviled man in Burnley: the one who left him holding the most poisoned of chalices last January, but the one who also brought three supremely talented youngsters to Turf Moor. Now, Owen Coyle's boys must deliver.