But when it is, it will surely view this latest season - the first chapter of that new edition - as a glorious opportunity missed.
Redemption is unlikely to come swiftly; unfortunately, the ever increasing finances of our championship rivals makes it unlikely that the author of that updated story will judge this season an insignificant failure. Yet in the cold light of day, a failure it undoubtedly is.
Brendan Flood stated when Steve Cotterill departed that he believed the squad had untapped potential which Cotterill could not realise. An inevitable finish in mid-table mediocrity hardly lives up to that expectation. And at the start of the season, to finish below comparable clubs such as Hull, Stoke (unfancied in August after losing Hendrie and Diao) and Bristol City would unquestionably have been considered a disappointment.
Much has been said about the golden chance that January offered to capitalise on a promising league position and a league so bereft of quality that any of the teams ultimately promoted should make Derby County's current efforts in the Premiership look positively respectable. Whatever the reason, we didn't take it. The result is that whilst the first three teams mentioned above play to near full houses for the remainder of the season, our final home game will be played in front of less than 10,000 home supporters and without the slightest whiff of intensity or anticipation in the air.
It is of course impossible to say for sure that the season would have been extended had we taken the bull by the horns at the start of the year. But in the end, we teased: we fluttered our eyelids and flirted a little without ever making any sort of move. This has ultimately proved a season to satisfy every cynical expectation of the most careworn of Burnley supporter. As a result, even more supporters will no doubt follow the trend of recent seasons and send themselves into hibernation, asking to be woken up in the future only when - if - anything interesting happens.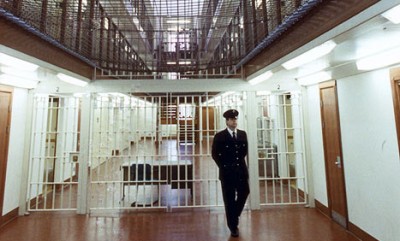 Belmarsh - a warmer welcome to be had than at Turf Moor
People are asking themselves, in ever increasing numbers, what the point is of committing time and money to watching Burnley. It isn't fun, at least not at Turf Moor; the lack of atmosphere and the oppressive stewarding which treats every supporter as a potentially dangerous inconvenience has long since seen to that. There are warmer welcomes to be had on a day trip to Belmarsh.
It isn't because there is a clear possibility of success: after the driving ambition of the 1990's, we have long since misplaced that road map. And it isn't because the football has been especially good to watch, or because the club has demonstrated any enterprise in its approach to inspire pride or confidence in the future.
Watching Burnley Football Club has become dull. Boring. We have been in this division for 8 barren years now - and in that time we have lost our way.
I hear people say that the pleasure has been lost from their trips to Turf Moor and it is hard to argue. That is in part due to that lack of success and that unpleasant matchday environment. But it is also because Burnley Football Club no longer has a creed.
We have been told consistently that we are in the process of building for the future. For when exactly is unclear, because even since Steve Cotterill became manager less than four years ago we have seen two separate teams built, and this summer work must begin on a third. That is indicative of a club which has become paralysed by a failure to countenance risk - and which has, as a result, become a bastion of pragmatism.
We have consistently targeted mediocre, short term recruits who are able to do a 'job' for a couple of years: journeymen footballers who are either acting out the last rites of their careers, or else who have long since accepted that their talents will fit them only for a life in the Championship. These are players who provide a solid nucleus upon which to build but who are unable, on their own, to offer anything more than the promise of comfortable survival.
And if this policy was ever to yield dividends, it was this season - as long as it was appropriately backed at the right time. But we did not provide that backing. And the utter folly of our paralysis in the January transfer market is that to improve in time for next season, at least seven players will be required this summer - assuming Kyle Lafferty and Jon Harley are still with us in August.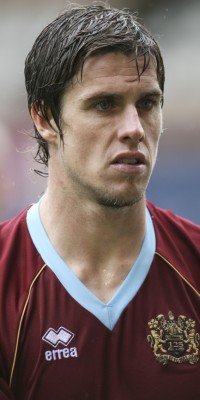 Andy Gray - the limit of our ambition
Too many fans have become restless at this policy of constant drifting and it is insufficient to alleviate that frustration by promising shiny new facilities a few years down the line. I'm sick of hearing of how tough it is for us to compete and of a culture of deferred ambition. With no hard feelings to the efforts of the players in question, I'm sick of the likes of Andy Gray, James O'Connor and Gareth Taylor amounting to the limit of our ambition and imagination in the transfer market.
And so if Burnley Football Club does not wish to open that brand new stand to a paltry four-figure crowd, it must begin to put some food on the table for supporters. It must rip up a policy which, if justifiable in the immediate post ITV digital era, is no longer sustainable. The club has two options: it must choose whether it is in fact going to launch a concerted effort to make the Premiership dream an overnight reality, or whether a longer term policy is to be pursued.
If we are taking the former option, then we can sit back and look forward to genuinely superior players arriving on premier league wages. But if that is as unrealistic as we all suspect, then the underlying intention should be to sign young, hungry players who have the as yet unrealised potential to be ultimately too good for this level of football.
Staggeringly, since leaving the fourth division in 1992, Burnley have never signed a player from a lower division of the Football League and sold him for a profit. Indeed, Andy Cooke remains the only such player to have been signed from any lower tier whatsoever. For a club of our profile, that statistic is a straightforward embarrassment. As Preston have amply demonstrated just along the M65, there are diamonds to be mined further down the pyramid. Those diamonds rarely come undervalued, and of course there is an element of risk involved. But they also offer the possibility of far greater reward and of greater profits once that potential has been honed into tangible quality thanks to hard work on the training pitch.
David Nugent is one shining example of what can be done. Another is closer to home: a player who signed for Burnley from Irish League football almost 12 years ago but who ultimately walked away on a free transfer. The £100,000 which was undoubtedly risked on Glen Little remains one of the finest pieces of business ever done at Turf Moor; it bought us the hero that Andy Gray, Micah Hyde or Alan Mahon were never likely to become.
It is an approach which offers both the possibility of Premier League Football and the prospect of producing players who are capable of realising large transfer fees. And it is a policy which is only one step removed from the beliefs which were once the hallmark of this club: source young talent, nurture it and have sufficient faith to give players a chance.
This summer, Owen Coyle should be looking exclusively for players who have either been making some noises in the divisions below us, or who are growing impatient in the reserve teams of bigger clubs; in either case, they shouldn't be older than 25 unless the circumstances are exceptional. Derek Riordan, Nicky Maynard of Crewe and Leyton Orient defender Tamika Mkandiware fit the profile of player we should be targeting.
Whatever path we choose there will almost certainly be too much to do this summer for us to be genuine contenders in August, and so at least this way we can spend the next 12 months watching the components of a team improve both collectively and individually. At least it offers, for the first time in at least seven seasons, an intelligible strategy capable of delivering our ambitions.
Because without an injection of such purpose, Burnley Football Club will remain trapped in a spiral of negativity which must ultimately end in relegation to League One and perhaps beyond. It is time for this club to relocate a set of values with which supporters can identify and in doing so, it has to regain its appetite to trust the judgement of those who are paid to identify and recruit players. We must be prepared to take a calculated risk. Because otherwise, we risk losing everything.