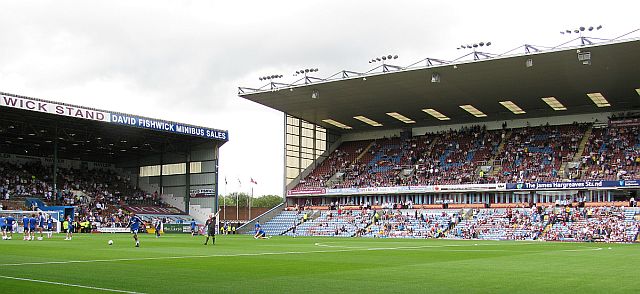 "This has been a superb evening and both sets of fans should be congratulated for their excellent behaviour. Whilst we have had more than the usual number of arrests than we would expect at this sort of match, we are really pleased with the way people have conducted themselves."
The comments of Chief Supt David Mallaby, Divisional Commander of Eastern division of Lancashire Constabulary, after Burnley's FA Cup replay at Blackburn in March 2005 . They are not words which suggest that the Constabulary's de-brief had concluded a radical change of police emphasis would be necessary for the next meeting between the two sides.
40 arrests were made that night. There had been 20 at Turf Moor, ten days previously, when despite some trouble inside the ground - one fan unforgivably ran onto the pitch to accost Robbie Savage – police again praised supporters of both clubs.
So, 60 arrests across two games. It scarcely needs saying that that is 60 too many. It would be better if everyone who wanted to attend a game of football did so in good humour, remembering how to behave. No right thinking football fan condones or makes light of any football related disorder or violence.
But over 50,000 people watched those contests. Given the unique atmosphere of a rarely played local derby, and considering that forty of those arrests came on a midweek evening, it is easy to see why police heralded their operations as a triumph.
And it is less easy to see how the Force were ever able to use that self-proclaimed success to justify the measures which were implemented when the clubs met in the Premier League three seasons ago – measures which will be replicated this weekend when Blackburn return to Turf Moor.
It is not as though the measures were a complete success last time. There were more than 40 arrests at Turf Moor when Rovers beat Burnley in March 2010 – twice the number at the equivalent game in 2005. And although the previous game at Ewood Park passed off with comparatively few arrests, police still made a number of arrests over the course of the day, including 20 in one pub away from the ground.
And so, on Sunday, Blackburn fans must turn up at Ewood or at a pick-up spot in Accrington several hours before kick off. From the moment they board their bus, they will forfeit their freedom to move independently until they complete their return journey well after the final whistle. When we go to Ewood next year, the same indignity will be forced upon any Burnley supporter wishing to make the trip. Previous good character is of no relevance.
It is an extraordinary imposition to place upon decent, upstanding citizens for simply choosing to pursue a hobby. But it is not the end of matter. Any Burnley supporter wanting a ticket for this game has had to pick it up in person from the ticket office. And so the Burnley supporter based far from Burnley has either to make a special trip to the town, or arrive sufficiently early on Sunday to collect their ticket in advance of kick off. To give themselves a bit of margin for error, the majority will no doubt choose to travel to Burnley the day before the game.
We have to assume this measure has been imposed at the behest of the police, because it is inconceivable that a football club would voluntarily impose such inconvenience upon its supporters. Presumably, the concern is that a postman will intercept the tickets and flog them to opposing supporters on the black market. It seems at face value a remote risk.
These measures, combined with the other steps being taken in the name of keeping the peace, have combined to make this derby the least attractive since the rivalry resumed in 2000. Other factors may have contributed to relatively slow ticket sales, but there is no doubt that decent, genuine football fans on both sides have been put off by the sheer hassle which now accompanies the fixture.
This game should be the best of East Lancashire. It is the oldest principal rivalry in league football, first contested in November 1888 when the Football League was barely a month old. And whilst football's popularity means that every town can now claim to be a football town, few places can match the fervour with which Burnley and Blackburn support their teams. It is a unique fixture: the showpiece event in a region which still sustains a remarkable number of town teams which compete in the top echelons of English football.
This is a game between two football clubs who are the most powerful, positive marketing tool that their towns can deploy.
A match between them should be viewed as a chance to promote that positive message. And yet the last month has seen the police and other authorities imply that this is a game which requires crowd control measures which go well beyond those used at similar derby matches across the country. That can only reinforce negative stereotypes that both towns are fighting hard to shake off.
Of course, supporters on both sides have a responsibility. We must all play our part in ensuring this is a hostile, passionate but ultimately peaceful game. But it is very difficult to discharge that responsibility when the default position of the authorities appears to be to assume that all supporters are intent on causing trouble.
That assumption risks creating frustration and resentment which can only undermine the ability of supporters and police to work together to ensure the match is trouble-free.
And more particularly, it is an implication which flies in the face of the praise given to supporters previously. And just in case you think Mr Mallaby was a lone voice in 2005, his colleague Supt Neil Smith, Pennine Division Operations Manager, said this after the original tie at Burnley:
"Overall we were pleased with the match policing operation. We made relatively few arrests for minor offences which, given the amount of people who watched the match, is a good result for us...I would like to take this opportunity to thank the fans and the officers who policed the match, for their support."
The policing operation which has confronted subsequent meetings is strange thanks indeed.
Let us hope Sunday is a peaceful occasion and a more low-key policing operation can follow. And obviously, let us hope Burnley can finally end the long, long wait for a victory over Blackburn – for the football should be the most important thing of all.