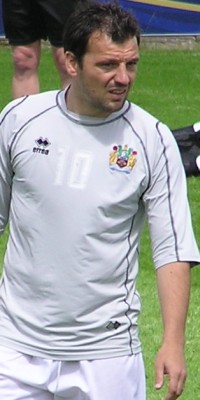 Robbie Blake - his signing has been part of the football debate
And intriguing a side show as the murky goings on between West Ham, South America and Manchester United, has been, that too is beginning to drag a little.
So too the on-going saga of bungs, bribes and backhanders which can be traced from a BBC expose, through an independent investigation and now to a City of London Police enquiry.
And the common thread with all of these football stories? They have absolutely nothing to do with football.
The summer months - especially in the alternate summers which are bereft of international competition - are a funny time, full of intrigue and speculation and theoretical discussion, to fill the void which exists when the season, with its endless examples of football in practice, comes to an end.
We spend our summers idly pontificating on who we'd like to see sign, what formation we'd like to see used, whether such-and-such a player will be worth whatever has been paid for his services. And, of course we have done exactly that this summer: we have debated whether Saganowski might have been a good signing; whether Blake is a good signing, whether Berisha has been bought to play right, left or centre; whether Djemba-Djemba is going to return, and if not, who we should be targeting to replace him.
But this year, there has been an endless cloud over these discussions, perhaps appropriately in this overcast, damp, summer. The discussions have not been exclusively about football; they have crossed over into questions of law, of regulation and of unease at their intrusion into the great game of football. Not, of course, that they haven't provided an additional distraction and stimulated plenty of debate - but all the while, there has been this nagging feeling that these are not topics which we ought to be discussing in the sporting context.
The messageboard on this site is as good a barometer of hot topics as any, and many of it's longest and most in-depth debates have been all about trying to understand and predict the many twists and turns of Leeds' administration. Indeed, it has been interesting to note the change in the tide of feelings towards that club and its fans. We started with hilarity and so far has the worm turned that it may now even be possible to detect an undercurrent of sympathy towards Leeds' supporters at Ken Bates' cynical handling of their club.
But there is a common undercurrent which links that saga and the two others referred to above. It all comes back to the question of governance in football - or rather, the lack of it.
If you want a scapegoat, then blame the lack of a proper independent regulator in the game, and lax regulations which have, over so many years, allowed many of the stalwart principles of the game to be corroded. For after all, it was the question of ownership which brought Carlos Tevez to West Ham as part of Kia Joorabchian's failed takeover plan, and the failure to properly investigate and apply the rules of the league that culminated in a confused, unholy mess.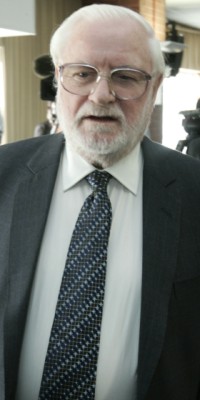 as has the cynical handling of Leeds by Ken Bates
It was this same desire to turn a blind eye to the indifference of most clubs to the question of bungs which ended in an enquiry that reached about as many public conclusions as a fake Sheik managed to extract from Sven Goran Eriksson in a single interview, before apparently handing on the task of getting to the bottom of the matter to the police.
And it was the authorities who allowed football clubs to hive off the assets essential to a club to anonymous offshore companies. The same authorities who allowed Ken Bates, who had come within a whisker of taking Chelsea into oblivion, to take over at Leeds whilst bent on doing exactly that.
If football had acted like a grown-up multi-million pound industry, then there would be no question of bungs in football now. Yet it allowed a network of double-agents, acting for club a and player simultaneously, to develop unchecked, scorning the need for governance. It has only now, belatedly, ended this practice, but there remain huge gaps in the rules of engagement.
And likewise, it did not require the wisdom of Solomon to realise that, having exposed football clubs to market forces 15 years ago, action was needed to prevent football clubs falling into the wrong hands. Yet we now see a transfer market inflated as a result of nameless, faceless investors acting as part of consortiums and investors with dubious records in the cash creation department. And that is before we deal with those who have disastrous records in the cash management department. How on earth was Peter Ridsdale allowed to hold another job in football, anyone?
Complex off-shore holdings might be appropriate in the city, but they are not appropriate in the world of sport, where people invest their emotions in the vehicle into which investors buy. And football is perfectly within its rights to demand that, as a condition of membership of its leagues, you must be owned in an appropriate and transparent manner and accordingly if you don't satisfy the test, you aren't coming in.
If football were to do that, it would be a start. But it wouldn't be the whole answer. For football already has a fit and proper persons test, designed to prevent football clubs falling into the wrong hands, but it's solution is inadequate, Manchester City may yet prove should their new owner find himself convicted of fraud in Thailand. Simply kicking the team out of the league is all football can do, but therein lies the flaw: who loses out most, when supporters find themselves without a team because of an owner they did not want in the first place?
Football - and indeed sport in general - needs help from above. These three different affairs demonstrate not only football's inability to look after itself, but also the uneasy relationship between questions of sporting nature and the law of the land. It is ironic that in the summer that complex legal questions bedevilled football, an EU report quietly watered down a British led proposal to find workable exceptions for sport from generally applicable laws in certain circumstances.
That is the wrong result, and it should not be allowed to wither quietly on the vine. Football, sport in general - these are different industries to most, and they need to be recognised as such. But if a quid pro-quo was that the game gets its own house in order so that, rather than reacting to the next big crisis after the horse has bolted it shuts the gate before the crisis escapes, then perhaps that would be the best solution all round.
And then, hopefully, we can get back to speculating on the football itself.