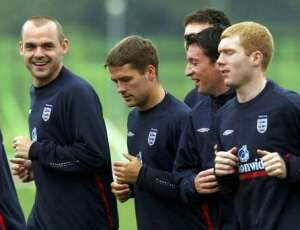 England squad training in South Korea
It's a close call, but I'd probably put Burnley ahead of England. Last autumn, when England played Sweden at Old Trafford, I toyed with the idea of getting tickets until I realised it clashed with our match with Portsmouth – so I went to Turf Moor instead. It was, after all, only a friendly, so I set the video and watched it when I got home.
This summer, however, for a period which will hopefully extend over nearly a month, all that will change.
Club loyalties will be set aside as everyone who loves football – and plenty of those who don't – indulges in a frenzy of football patriotism, as football's biggest party hits our screens. These days, the world cup is a truly global event, and so with the competition finding its way to the farthest flung corners of the world, that fervour may be slightly bleary-eyed.
More than almost anything else, a major international football tournament unites the country. Certainly, it does more to provoke an outpouring of national pride than any other sporting event, and although the monarchy is a symbol of britishness, there are plenty of people who feel no affinity whatsoever with that particular institution. We don't have a bank holiday designated as a celebration of our nationality, and in general, many of us – myself included – are fairly reserved about banging any sort of patriotic drum.
But sport has a unique ability to exploit emotions which would otherwise remain untapped, and given that football is far and away this country's most popular sport, it achieves the kind of emotional outpouring rarely seen at any other time. When England meet Argentina, you can be sure that, down the pub, grown men will be clad in St. Georges flags, singing the national anthem and, hopefully, celebrating England goals with anyone, without bothering to find out whether they support Rovers, Manchester United or anyone else - and in truth, not caring. If and when the national team lose, it hurts. But for the only time this side of the next similar occasion, that disappointment is shared by the entire nation.
England are not one of the favourites for this competition, and nor should they be. The team is too inexperienced - both in terms of international caps and in terms of the sapping conditions in the Far East - to be regarded as one of the teams to beat. We possess two or three world-class international performers – Beckham, Scholes, Owen – and a number of players who have the potential to be in that bracket, but who are not there yet. Throw in the cruellest of draws, and an injury list which is becoming more and more crippling by the day, and you do not have too many portents for a successful campaign. But football rarely has any respect for expectations, so although we start as outsiders, we might, just might, yet pull off a huge surprise.
And at least we haven't been hit by the kind of crisis that is facing Ireland at present. After a series of public disagreements with Republic boss Mick McCarthy, Roy Keane is heading home, after one transgression too far. McCarthy's decision has been backed by a number of Irish squad members, and it appears that Keane has simply opened a mouth which regularly says more than it should once too often. If that is the case, it is a sad reason for one of the world's finest midfielders to miss out on the greatest stage of all, and it is a sad reflection on Keane's arrogance that he deems himself so important that he can simply say what he likes without any restriction. A player of Keane's ability should play at the world cup, but it is to McCarthy's credit that he has taken such a firm stance with a player who clearly views himself as a superior being.
Hopefully, this years finals will be memorable for the right reasons. There has been a proliferation of programmes on TV recently airing gloomy predictions on the state of hooliganism in English football. The general consensus was that the problem has not gone away; it is to be hoped that this minority of mindless idiots – and make no mistake, it is only a minority – decide Japan is a little too far to travel just to cause a scrap with the local authorities. This is the first time that the government's anti-hooligan legislation, passed in response to violence in Belgium two years ago, will have been implemented at a major finals, and with luck it will serve its purpose.
Throughout the last twenty years, most ordinary, decent football fans who go and watch their country have been tarred with the same brush as those whose loutish behaviour makes the news headlines. The last thing football fans need are comments on football behaviour from political organisations, particularly those with far-right policies. In any free democracy, a party is entitled to stand on whatever principles it chooses, and although most of us might find those principles repellent, anyone who chooses to vote for that party has every right to do so, and we must live with that. But what we cannot accept is any party that seeks to make political mileage out from appointing itself as the protector of football fans' interests. When that party is essentially arguing that racist chanting and behaviour is a part of being a football fan (in this case, with particular reference to Burnley Football Club and it's supporters) then it not only becomes insulting to the vast majority of supporters who are fair-minded and moderate, he potentially damages the reputation of anyone who enjoys watching football and supporting that or any other team – and he has absolutely no right to do that.
However England end up performing in the world cup, it is surely more important that those England fans who do travel act as good ambassadors for the game in this country. Hopefully, they'll support the team and enjoy themselves, but without creating any of the scenes which have characterised past tournaments, in order to repair some of the damage the past has done to the game and to utterly refute the sentiments expressed by the BNP in Burnley. We may not win the tournament, but it will be wonderful entertainment - and who knows, the England team that is composed of a variety of ethnic backgrounds and which represents every person who professes to be English, may just make it even better.