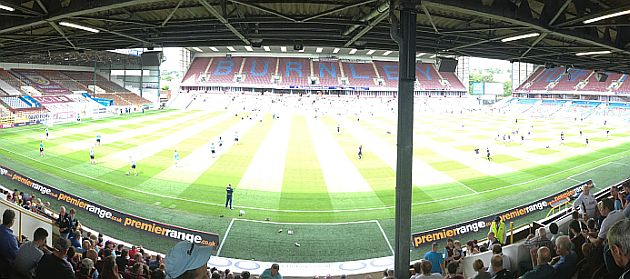 It takes place just as the tannoy signals the players are about to come out of the tunnel: a look across at the Bob Lord, a glance to my left to the Jimmy Mac, and a peer over the front to scan the length of the lower tier of the Longside.
The object of this exercise is, of course, to try and gauge the number of empty seats, and so the rough size of the crowd. It is an exercise which has been done this season with a certain anxiety, and a sneaking suspicion of disappointment.
On New Years' Day, I got my maths wrong. I thought there were more than 15,000 in the ground, bolstered by a big away following from Huddersfield. But I later learned it was barely more than 14,000 - less than the 14,489 who turned up to witness us beat Blackpool to go top of the league for Christmas.
Less, as well, than all of our home festive crowds during the last 5 seasons at which we have played at this level, except the 13,779 that watched last season's visit of Derby - and since Derby brought less than 1,000 travelling supporters, that game attracted a higher home gate than were tempted to pay through the turnstiles to watch the Huddersfield game. Even the visit of Scunthorpe United to witness Brian Laws' final act as Burnley manager on 28 December 2010 attracted more than 15,000. The Boxing Day visits of Doncaster and Barnsley in 2011 and 2008 respectively both saw crowds in excess of 16,500.
It is a desperate trend. There are mitigating factors, not least the continuing financial realities of most households in post-recession Britain and the cost of tickets. Plus, the damp and blustery conditions which greeted the dawn of 2014 - let alone the apocalyptic weather forecast in the days before the game - were hardly ideal to attract wavering supporters.
But relevant as these factors may be, with the Clarets still sitting proudly in second place in the table, they cannot explain the missing thousands.
Crowds have been disappointing all season, a legacy of the turgid end to the 2012/13 season which prompted many season tickets holders to lapse, and left most of those who did renew wondering whether they had done the right thing. Yet the performances of Sean Dyche's team have given those who voted with their feet every incentive to return.
Admittedly, football is a strange drug. At its best it is hopelessly intoxicating and addictive. And yet, almost uniquely, it has a strange ability to alienate. It is possible during a listless display on a cold, empty evening to discover that you are no longer hooked: that the game no longer holds any excitement or tension, that there was no anticipation on the drive over. Suddenly, paying north of £300 or £400 for a season ticket no longer seems like quite such a convincing idea.
I suspect that, like me, many of those who renewed season tickets last season did so despite a sneaking suspicion that we were no longer hooked, perhaps sharing season tickets to make it feel legitimate. It wasn't just the quality of the football last term, threadbare though it was. Perhaps - at least for me - it was also about meaning, and purpose. By the end of last season, after the bitter experience and squandered legacy of that single Premier League season, Burnley seemed to have become a club which had no ambitions beyond simply existing at Championship level.
And yet there is another remarkable thing about football: how quickly the old sensations can return. I think I knew they were back when the decisions made in the summer meant I wasn't present for the visit of QPR in late October - I was reliant on text updates as I watched England play Rugby League in Cardiff. The knot was there in the stomach, the delight there as each text arrived to confirm a goal or the full time whistle. When I was cajoled into a trip to Ipswich, and got home elated despite it being 1 o'clock in the morning after breaking down on the A14, there was no longer any doubt.
Its been there ever since. That isn't just because the team has won more often than not, although of course that helps. It isn't because the team has necessarily played Champagne football to make the purists drool with delight. But it seems to me that Sean Dyche has managed to style a team which plays in the manner that most Burnley fans would order if they had the chance.
Every club has a style of play, even style of player, with which best suits its character. Eddie Howe's preference for patient, possession football never quite sat right at Burnley – and despite his success, nor did the flamboyant excesses of Chris Eagles during his spell at the club. Nor though would the Burnley crowd ever accept the sort of football in which Stoke City supporters revelled for most of Tony Pullis' reign. We seem to fall somewhere in between.
It seems to me that what works at Burnley is a team which plays at a tempo, which harries opponents intensely when it doesn't have the ball, which tries to move the ball quickly and which contains well-rounded footballers who are willing to get stuck in but whose first thought in possession is to try and play constructive football. All of which is exactly what Sean Dyche and his players have delivered.
Perhaps, as the season draws on, this style combined with the sniff of success will begin to draw the crowds back, assuming that this side does not combust as Ternent's did 11 years ago. My guess is that a lingering scepticism about whether this team can stay the pace – mixed with the memory of how the Premier League dream went sour last time around – is a big factor in those subdued gates. That has surely been a factor in the edgy atmosphere which has existed at recent home games.
That cynicism may yet prove to be well-founded, but that is not the point. It is equally possible it will be misplaced. The team needs support from the boardroom, of course, to obtain the couple of recruits necessary to give it the strength in depth to survive the second half of the season and ensure that at the very least we take this opportunity to re-energise the club. But it needs it from supporters too: both in terms of sheer numbers, and in producing the bullish, defiant atmosphere which characterises Turf Moor at its best.
With that support, then anything is possible this season. The play-offs are well within our grasp. And given that we are currently second, there is no reason for that to be the limit of our ambitions. This is a fine Burnley team – a proper Burnley team. If we can support it now, then the future might take care of itself. The only warning is this: you could just find yourself hooked again.