Paul McVeigh - a player of his ilk should be a priority
Paul McVeigh's unavailability against Norwich allowed Akinbiyi back into the side, the decision to stick with him revealed much about Steve Cotterill's longer term plans. Akinbiyi was signed to play alongside Gray - and it is that combination, rather than one involving McVeigh, which is likely to be his first choice next season.
It is not a surprise. It is similar to those Cotterill has attempted to form between Gray and Jones, and Noel-Williams and Akinbiyi respectively: one man to hold the ball up; one man to run the channels. But it is a concern, despite two recent wins with both men in the side. One, because those previous partnerships were singularly unsuccessful, and the signs to date about this one have not been convincing. Two, because it is not a combination which holds rich promise of attractive football.
Steve Cotterill has stated that he wants 5 signings before next season, and he ought to be starting by attempting to tie down his current loanees, even if Eric Djemba-Djemba is probably a long shot. But McVeigh isn't necessarily, and a player of his ilk should be a priority.
Good football teams are rarely comprised of two players who wish to lead the line: if there are to be two forwards, then one must instinctively drop deeper to receive the ball- a link man, if you like. It is no coincidence that in our most fluent performances this year, either McVeigh or Noel-Williams has provided that option. It stands to reason: when the ball has less distance to travel, it is more likely to find its target and it is more likely to be played along the ground.
Yet Cotterill does not seem to have an instinctive affinity for such players, and in this he is far from alone amongst the FA qualified, English managers of his generation. West Ham pulled off a coup in the summer when they signed two of the brightest talents in world football. Yet whilst West Ham struggled, Javier Mascherano sat on the bench before being packed off to flourish at Liverpool. Meanwhile, Carlos Tevez flitted into the team as his team mates and successive English managers failed to understand and properly utilise him.
His current manager, Alan Curbishley, staggeringly admitted that he would have kept Tevez on the bench but for the demands of the supporters, who clearly know more than their manager. He went on to say that he did not really know what to do with Tevez. Well, give him the freedom to float, to drop deep and knit play together before making his run into the box, without asking him to play with his back to goal or to chase channel balls. And don't saddle him with the defensive duties of a midfielder either. Whether as the result of a managerial epiphany or simply because the Argentine took matters into his own hands, West Ham are now resurgent, and Curbishley has admitted that is almost solely down to Tevez.
The same disease afflicts Steve McClaren's England. They too are blessed with a link man with the gifts to prompt from behind the front man, but McClaren is equally befuddled as to how to get the best from him. When Wayne Rooney burst onto the scene, the abiding image was of him drifting deep to collect the ball before driving forwards, committing defenders whilst running with his head aloft, aware of others and looking for the pass, eliciting comparisons with a young Paul Gascoigne. Yet in recent England games, he has looked more like a squat version of Alan Shearer, playing up against defenders with his back to goal; alternatively, he has ended up too deep, in the congested battlegrounds of the central midfield, frustrated by the lack of opportunity to shine. Either way, he has proved ineffective, weighed down by the burden of an ill-fitting straightjacket.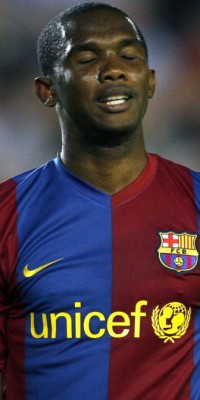 Samuel Eto'o - gets support from behind and wide at Barcelona
Meanwhile, despite some criticism, he has quietly gathered 20 goals for a Manchester United team who sit pretty atop the Premiership whilst still fighting on two other fronts. But, as his club manager at least recognises, he shouldn't be judged on goals alone, but on his movement, his awareness of timing and space and his creative gifts. Although he has occasionally played as a leading striker as he did against AC Milan this week, he has more frequently been deployed behind Louis Saha or Alan Smith - as he was two weeks ago, when Manchester United destroyed Roma whilst playing with only one man up front, supported by a liberated triumvirate including Rooney behind. It was a sophisticated approach to which all English managers should be aspiring.
Only in England do we instinctively demand that two out and out strikers occupy their matching centre halves. Barcelona, perhaps the most attacking team in Europe, have only Samuel Eto'o or Eidur Gudjohnsen, but never both: support comes from behind and wide, in the shape of Ronaldinho and Lionel Messi. What success Read Madrid have enjoyed in recent years has been founded on the subtle talents of Raul. As Old Trafford witnessed on Tuesday, Milan employ Kaka in the Italian "number 10" position, weaving his web from deep to devastating attacking effect.
It is noticeable that, amongst the pretenders to lead the attack for England, the ability to find space is an absent quality. Perhaps it is no coincidence that the leading three - Peter Crouch, Darren Bent and Andrew Johnson - all learnt their craft in the Championship, where strikers routinely take up their positions by reference to their opposing centre half before looking to either shield the ball or dart in behind. There is a suggestion that Arsene Wenger is reluctant to send Theo Walcott on loan to the Championship because, whilst Walcott might develop physically as a result, Wenger prizes higher the more cunning and intelligent skills which he does not believe will develop anywhere except the Arsenal training ground.
So Steve Cotterill is far from alone. but the lack of sleight of foot and speed of thought amongst Championship strike forces explains many things: the lack of really attractive football in the league as well as the lack of teams of genuine quality; perhaps even the fundamental failings of the England team at the highest level.
Just because teams have got out of this league before using a blueprint based upon two strong forwards and a bit of pace, it isn't the only way. Indeed, it may not even be the best way. To challenge the Championship hierarchy next season, Burnley will need to do something different to the others. And to do that, they need that cultured, intelligent forward who can bring out the best in everybody.