Had Danny Ings' slalom through the Leicester defence resulted in a more precise finish, Matt Taylor would not have taken a penalty 30 seconds later. That wouldn't have mattered had Taylor scored. But a slip in his final stride pushed that penalty agonisingly wide. Had it gone in, Burnley would have led 1-0, and Leicester would not have launched the counter-attack which ended in the unfortunate goal which probably sent Burnley down.
On such twists of fate do fortunes rest and are careers made and broken. Burnley did not deserve to lose to Leicester. A week later, Michael Duff was wrongly sent off to effectively condemn Burnley to another defeat. A week before, Kevin Mirallas wrongly stayed on the pitch; it meant Everton retained their one man advantage for 45 minutes and made their victory a formality.
But it is easy to let hard luck stories obscure the truth about a season. Burnley's play has lacked the finesse and precision that is the minimum requirement at this level. And so despite being solid, well organised and completely competitive in just about every game, Burnley have been rightly relegated.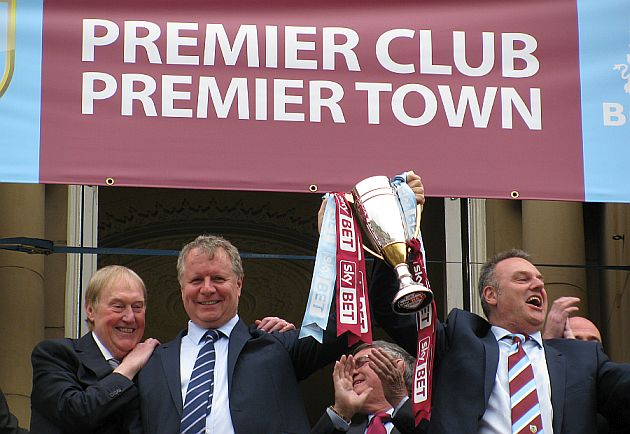 Burnley really were not far away this season. Teams that get 93 points in the Championship rarely are. The squad needed depth, which it got. But it also needed a little bit of quality – perhaps two players, one in the centre of midfield and one out wide – which it didn't get.
Those players cost money, of course. Was it money Burnley could afford, given the size of the Premier League TV deal and those 4 years of parachute payments? Almost certainly. The block grant of £60 million may not level the playing field at the bottom of the Premier League, but by making a club's own revenues a minor part of overall turnover it certainly eases the gradient. From the outset Burnley determined to cast itself as a beacon of common sense in what it considered an overheated market. The script was followed devoutly.
The ambition to invest in the future of the club rather than take risks in the market was laudable enough. But in the end, Burnley turned a reasonable aspiration into stubborn intransigence which looked less like a principled stand than a serious misreading of the market.
And what, exactly, is this future to look like? There is much talk of legacy, and the fine work done and planned at Gawthorpe will no doubt endure for years to come. But elsewhere, initial investment will only realise long-term returns if the club can afford it not only over 3-4 years, but at least 10.
The last time Burnley were promoted, there was talk of investing the Premier League cash in the infrastructure of the club: 3 years after relegation, that infrastructure had once again been cut to the bone as the pressures of sustaining a Championship club without outside investment bit hard. Without promotion last season, those cuts would have been savage by now.
The promise of a lasting legacy may be genuine – but there is a danger that it is used as a device to lower expectations in the present by selling people a future which never quite arrives.
And above all else, the money must not be simply banked and used to offset future losses. Because that isn't careful stewardship: it is an abdication of responsibility. It ensures that, once the money has run out, the club's finances would be as parlous as ever. The current directors might be gone by then, but someone else would have to pick up the tab or else oversee the slow decline of the club.
And that is why this season's failures were so galling. Promotion to the Premier League offers the opportunity for any club to transform its prospects: firstly, by building a team capable of staying there – or at least dominating the Championship in order to return swiftly – and secondly by using the prestige of the Premier League to help build a new fanbase to sustain it in the medium term.
The brutal truth is that Burnley passed up the first opportunity because it was not willing to pay the premium to bring in the necessary players, and turned its back on the second through policies dismally disconnected from the realities of Burnley as a club and a town.
The failure to use the platform of the Premier League to subsidise ticket prices and create an atmosphere to distinguish Burnley from its competition for new fans cannot be easily redeemed: that will probably take promotion and the chance to do better next time. But the chance to invest in the team is not yet gone. The money that was not spent still exists and a reasonable sum can be invested this summer in a squad capable of having a meaningful tilt at promotion.
It is no good doing these things by half measures, and it has been a Burnley trait for too long to do precisely that. Take the fate of the Cricket Field Stand: it was said last summer that the costs and hassle of splitting the stand made it impractical, yet in the end it was done for just two games, one a dead rubber. And after relegation 5 years ago, the club's promotion campaign was befuddled: backing Brian Laws in June only to sack him in December; spending funds on the likes of Grant and Wallace whilst replacing Steven Fletcher with Chris Iwelumo.
Even this season, keeping Danny Ings in January rather than banking an £8 million plus transfer fee was admirable – but by not supplementing his talents in January, a worthwhile punt was transformed into a futile gamble. Dean Marney's injury exposed that false economy, although in truth the insipid, crucial defeat at Sunderland a week earlier had already demonstrated the folly of allowing business to drift to the end of the window.
This time around, Burnley must be bold. Danny Ings must be properly replaced. Quality must be added to the midfield department. And yes, that may well require investment in the sorts of transfer fees Burnley have never paid before. But as long as those targets are carefully selected to ensure that they are not on wages the club cannot sustain – and the wages offered to Henri Lansbury in January ought to be as affordable now as then - then Burnley can afford it.
There will be some who see this as a plea for Burnley to gamble with its future. It is not. To say that Burnley ought to bravely invest a healthy chunk of their Premier League windfall in good footballers isn't the same as saying the club should act in the manner of a lottery winner who wakes up after a particularly hedonistic celebration to discover they have purchased a fleet of Reliant Robins and a flock of Llamas to graze a modest back garden. Players may cost money but if they return Burnley to the Premier League, they will repay it handsomely. Even if that doesn't happen, they may well return a profit if the scouting department does its job.
And this isn't a criticism of the motivation of our directors, who are good men and are in it for the right reasons. But just as it is often said it is easy to spend other people's money, so it can be hard to spend money that you feel is entrusted to you by an entire community - particularly when you are acutely aware of what the club means to so many.
But this is an appeal for Burnley to take its once-in-a-generation opportunity to grow outside its comfort zone. That sort of growth has to be built firstly on footballers and fans. And if the club can grow, even if just a little, then the rest of the infrastructure can be built more sustainably on the back of it. Now that really would be a legacy.