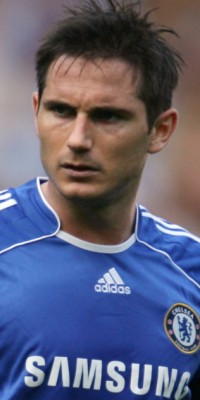 Frank Lampard - not in an ideal world
It's a terrible thing, to have uncertainty hanging over your job prospects, especially for a man with a young family. It should be easy to sympathise with someone whose current employment is up in the air, hanging by a thread, causing him to lose sleep with the worry of it all.
Except, not in this case. No way. Those words, laced with self-pity, are those of none other than Frank Lampard, of Chelsea and England fame. Not someone who seems likely to be faced with a financial straightjacket should the worst materialise, although admittedly I am not privy to Mr Lampard's personal finances.
The man who was able to utter, apparently with a straight face, the above words, is the man who reportedly felt able to turn down a pay offer of more than £121,000 - that is, for the avoidance of doubt, One Hundred and Twenty One Thousand Pounds - from his current employers, and whose current contract still has two years to run. A man who, according to some media, has engineered any uncertainty which surrounds his future by flirting surreptitiously with various top clubs around Europe.
Allow me to put that wage into context. It is upwards of 6 million pounds a year. According to those reports, it would make him top earner at Chelsea Football Club, a stable which includes a whole host of world-class internationals from around the globe, ahead of the likes of Shevchenko - who arrived last summer from AC Milan with a reputation as the finest striker in Europe - and Michael Ballack, captain of Germany as they reached the World Cup semi-finals 12 months ago.
Much is made of the sorts of wages shelled out for top players. People line up to take pot shots at top class footballers for taking home twice the national average yearly wage in a week. But, whilst I can understand that frustration, the fact is that no club is doing anything wrong by offering such salaries, and nor is any player to be blamed for getting the best deal he possibly can for himself.
Football is, and has been for a while now, a free market. Just as in the absence of legislation to the contrary, football clubs can charge whatever ticket prices they like, the same clubs are free to offer as much as they can afford in order to beat off competition for an in-demand player. Just like in any other industry, the market sets the going rate. It is the same way by which rock stars are free to make millions of pounds, and that top executives can command salaries which make your eyes water.
The fact is, there is nothing to keep those figures in check. It is certainly about time that action was taken to reduce ticket prices. But in truth it is not gate receipts which drive the football business these days - it is the riches offered by commercial partnerships and from TV revenues, or in the case of Lampard and Chelsea, the happy existence a backer of astonishing personal wealth.
The reality is that there is nothing anyone can really do about the wages paid to footballers. A salary cap would be unenforceable in law, so any such cap would have to be voluntary and there is no appetite amongst the big clubs, who would inevitably lose out as a result, for such an arrangement. They are neither altruistic enough nor stupid enough to wish to create a more level playing field.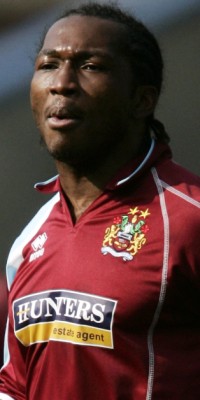 Eric Djemba-Djemba - Burnley cannot afford to sign him
So disproportionate though it may be, it is fact of life - a fact which equals inequality within the game, which manifests itself in the fact that Burnley cannot afford to sign out right a player, in Eric Djemba-Djemba, who has played almost no football for his Premiership club in two years because even Premier League reserves are on salaries which are way in excess of just about every wage paid out in the Championship. But a fact it remains, and there are few people who can honestly say that, if able to name their price, they turn down the big pay cheques for more 'reasonable' money.
Nor are there many amongst us who, if offered a new and different opportunity within our trade of choice, would sacrifice that chance of professional fulfilment out of misplaced loyalty. To reach the top in any walk of life, ambition must burn bright. The very best footballers must have a drive to achieve, to win things, to make a name and to prove themselves. The era of the one club footballer ended, roughly speaking, at the same time that the recognition of footballers rights meant that those players were no longer enslaved to their clubs, and instead had the right of self-determination to allow them to chase their aspirations like anyone else.
And so, whatever you may think about Lampard's talents - and a personal opinion is that, whilst he is undoubtedly an excellent athlete, his technical skills and tactical awareness are seriously overrated - his right to negotiate the best deal possible and to explore the possibility of moving abroad are beyond question. It is not that which irks me. No, it is the pleading, self-indulgent tenor of his comments to the press that are the problem. Hard done by? A less than ideal world you live in? You're having a bubble, Frank, as they say in your native East London.
Lampard's attempts to cast Chelsea in the wrong in all this are, bluntly, laughable. If he believes he can get more money elsewhere, then he should openly admit that he is keeping his options open. Or, better still, he should say nothing at all.
But, of course, if reports are to be believed, Lampard is making a habit of acting like a small child. We are told that he stomped off towards the airport when he was dropped by England in Andorra, after a string of sub-standard performances. And it is all part of the trend of egotistical, self-centred behaviour which dogs England's best players and holds back their performances as a representative side. The same trend which saw our finest commandeer a self-contained castle for last summer's world cup, whilst collecting an entourage the size of the Spanish Armada to attend to their every need.
Players without the ounces of humility required to turn a disparate group of individuals used to taking centre stage into a cohesive unit capable of supporting one another. Players who regard their status and wealth as some sort of birthright, rather than something to be grateful for, to cherish, and to be humble about. Players who, as Steve McClaren is finding out, are the lunatics demanding to run the asylum.
I suppose there is one obvious reason why he might conclude it would be better to say nothing at all: to avoid making himself look like a fool should the continental glamour clubs be unanimous in rebuffing his advances. Funnily enough, that appears to be the case. Not quite as good, or as desirable, as he thought, no doubt. Poetic justice it would be indeed, were he to sign on for Chelsea once more, for a mere, paltry, 100 grand a week.