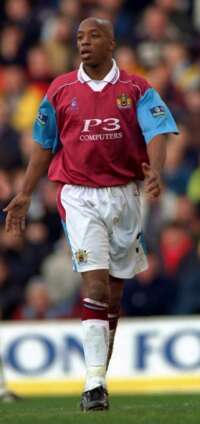 Ian Wright - successful high profile signing
The argument seems to be that a high profile, 'celebrity' signing could do for this campaign what Ian Wright achieved two years ago, and provide the spark to lift players and supporters alike in the promotion race.
However, there is no guarantee that such a move would have the desired effect. In fact, it could have the opposite effect.
Comparisons with the effect Wright had are inevitable, but not necessarily valid. The only problems Wright had ever had with commitment was the trouble that showing too much of it could leave him in with authority. Not only that, but although the news was a shock when it broke, Wright was signing for a manager who he respected deeply, and for the same club that already employed his best mate. There were never going to be questions over his commitment to the cause.
The first question that should be asked of any headline-grabbing signing the club makes now – and the name of David Ginola has been mentioned regularly this season – is to ask why the selling club are prepared to let him go, even if it is on loan. It could well relate to a lack of match fitness, or just as likely, to an attitude problem: Ginola has rarely shown any stomach for a battle in the Premiership – so he is unlikely to have any enthusiasm to the physical environment of division one, particularly as there doesn't appear to be any link between Ginola and Burnley as there was with Wright. In addition, Ginola is notorious for his disruptive personality away from the pitch.
In a recent interview, Steve Davis attributed a large proportion of the team's success to the togetherness of the squad. It takes very little to create friction and unrest within the squad; one player can often do enough to create serious damage to morale. For the sake of perhaps two moments of magic during 90 minutes, is it worth the baggage that comes as standard with a player like Ginola? And then there are the wages - Wright took a significant pay cut to come to Burnley, because he wanted to play, but it is unlikely that other players with less motivation would do the same. For any player to be worth the probable wages, they would have to have a dramatic effect on the club, either on or off the field. With the change in fortunes, and consequently attendances, of the club over the past two years, to be a comparable commercial success to Wright would require sell-out crowds and an unrealistically large merchandising operation.
With the notable exception of Wright, Burnley has never enjoyed success when a high-profile route has been taken. At the very suggestion, Bob Lord, the iron chairman of the glory days – a man who would ban journalists from Turf Moor virtually on a whim – would be turning in his grave. Since his death, there have been various ambitious attempts, without success: John Bond brought a host of attractive names to the club, who failed to gel and whose wages were unsustainable at a club Burnley's size; Bond remained unchallenged as the club's most disastrous manager until another celebrity, Chris Waddle, walked in to the job 13 years later with a distant and insensitive attitude to the supporters and traditions of the club. Perhaps the most obvious parallel to the present came between those two era's, when in 1995 under Jimmy Mullen, former England striker Paul Stewart strolled into Turf Moor for a relaxing break from reserve team football at Liverpool, and collected a handsome pay check for a minimum of effort. Stewart played six games for the club, failed to threaten a goal, and come the end of the season the Clarets were relegated to division two.
There is a reason for this. Whilst the supporters of Burnley Football Club like to see good football, they demand commitment. They want to see their players work hard, show desire and commitment, and show the pride the traditions expect. Stan Ternent has played to these strengths, and brought in players who are prepared to abide by those basic principles – and has reaped the rewards. None of the Burnley team of today came to the club as stars. They had either been rejected by other clubs, or were looking to make a career move – so they play with desire, and a loyalty to the club, which even Glen Little as the club's biggest asset shows in abundance. Ian Wright understood this; that is why the players accepted him.
Shefki Kuqi, Matthew Spring and Arik Benado – the three players reportedly interesting Stan - may not be household names, but you can guarantee that they are all good players, who will succeed with the club should they sign. They will give the dressing room a lift – any signing does that, whether he is a big name or not. As for filling the stadium, and giving the club a further lift, we don't need a big name to do that. There are more than enough Burnley fans out there to do that anyway. We just need to make sure we get them there, and those of us who already go have to try and persuade them.
The players have done their part, without needing a celebrity to help them – they are second in the first division; they've given us a chance of top-flight football. Now it's our turn. Let's fill Turf Moor and help keep them there, without needing a big name to help us.