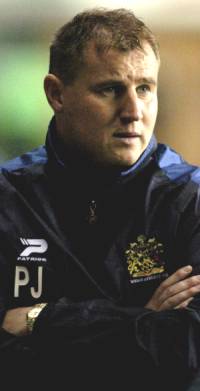 Paul Jewell - should not be overlooked by Burnley
Alan Curbishley, Steve Coppell and Paulo Sousa were names actively enjoying support on the Clarets Mad message board a year ago. All are out of work now, and yet none have received any sort of support this time around.
Admittedly, Sousa and Coppell have had short and unsuccessful spells at Leicester and Bristol City respectively in the meantime. Then again, Brendan Rodgers is arguably the Championship manager of the season to date and his success at Swansea was preceded by a brief, unhappy spell in charge of Reading. Brian Clough once failed at Leeds United but it wasn't because his genius had deserted him.
Indeed, most managers who ultimately succeed do not have an unblemished progression to the top. It is generally accepted that, had Sir Alex Ferguson joined Manchester United 20 years later, his initial struggles would have cost him his job. Arsene Wenger kicked off his career with a win percentage of less than 30% and a relegation to the second tier of French football after three years at Nancy. Indeed, Paul Lambert, this week's flavour of the month, was a failure in his first two jobs at Livingston and Wycombe Wanderers.
There are countless other managers who can also be used to prove the same point: just because someone's stock is currently low because their immediate achievements are modest, it does not mean they are not a talented football manager who could make a success of the Burnley job if appointed.
The prevailing consensus at Burnley is that the best appointment would be a young, up and coming manager with potential. It is a flawed ideal. Burnley would be much better served by a manager who has already gained experience in the top two divisions of English football, who has made their mistakes and learnt from them.
The problem with inexperienced contenders like Paul Tisdale, Andy Scott and Eddie Howe is that, whilst the success that they have enjoyed in lower division football indicates they have genuine ability, they have not had exposure to the game at a higher level and they do not have the track record to command instant respect in a sceptical dressing room. The differences between management in the bottom two divisions and the top two is increasingly stark.
With a few poor results at Burnley, up and coming managers with potential would rapidly find their reputations sullied not only in the world of football at large - but also amongst Burnley supporters under the same Sousa and Coppell principle.
Yet it is absurd that, after Lambert's apparent knock-back this week, supporters are panicking that there Burnley might not end up with a credible appointment.
There is Malky Mackay, whose background as a player, coach and a manager at this level makes him an attractive combination of relevant experience and promise. And even despite the above doubts, those inexperienced contenders remain plausible and - although Howe may now have been taken by Palace - they may be able satisfy Burnley's representatives that, with the right backroom team, they are capable of producing the early returns that Burnley require. But, more significantly, there remain a number of out-of-work candidates who despite limited supporter backing and records showing those inevitable blemishes of experience, could yet prove ideal candidates like Burnley.
Curbishley, for example, has a track record of taking Charlton out of this division, albeit several years ago, and has a career win-ratio of almost 40% - an exceptional performance for a career spent primarily swimming against the tide in the top flight. Coppell has doubts over his hunger after his spell at Bristol City but, if he can assuage such doubts in the boardroom, that doesn't prevent him being a highly qualified coach who has demonstrated his ability to bring success to similar clubs.
Gordon Strachan was a disaster at Middlesbrough, but he became the first man to win three successive SPL titles at Celtic. The perception that he is a big-club manager is another illusion: his previous success was in keeping underdogs Coventry and Southampton in the Premier League. Once again, he would appear to have precisely the sort of record which would make him an ideal candidate for Burnley given that he is unlikely to repeat the mistakes he made at Boro.
Gareth Southgate is also perceived as a failure at the Riverside - but his record there deserves further scrutiny. His first two seasons yielded respectable finishes, during the course of which he was described by Arsene Wenger as an England manager in waiting. And after leaving Boro on the fringes of the Championship play-offs following a relegation season in which he blooded an awful lot of kids, he has completed an enviable set of coaching qualifications.
Paul Jewell is another whose reputation has taken a significant knock - but again, his success in winning promotion at Bradford and Wigan in circumstances very similar to those now existing at Burnley should not be overlooked just because he failed in difficult circumstances at Derby County.
And then there are the coaches who might be interested in the job, of whom Steve Clarke has emerged as the leading contender. Clarke has coaching credentials to turn heads and, whilst he has not had the chance to learn from his mistakes in management just yet, he does at least have the benefit of having been an apprentice under one of the greatest managers of the modern era, which should help him avoid making those errors in the first place.
Two of Jose Mourinho's other students, Brendan Rodgers and Andre Villas Boas are - not withstanding Rodgers' brief blip at Reading - demonstrating the benefit of absorbing those lessons by pulling up trees at Swansea and Reading respectively. And there may be other contenders who have spent similar apprenticeships under top managers who can convince the board they have the human qualities to put these lessons of absolute best practice into practice at Burnley.
This is not to say that any of these individuals (or others like them) is necessarily Burnley's man. There may be personality defects which disqualify them from the final reckoning. But there have been plenty of successful managers who are not especially nice men. More particularly, without personal knowledge, supporters cannot make that judgement. They can form sensible judgements only by considering and drilling into the bare facts and statistics available to them.
The point is that what is superficially attractive now may not prove so attractive in 6 months time. Football - and its supporters - fluctuates too quickly for glib media caricatures and the instinctive allure of intriguing representatives of the future to be the foundation of Burnley's appointment process.
There are names out there whose breadth of experience as coaches and/or managers makes them well-rounded candidates, irrespective of the presence of the odd short-lived failure amongst the CVs. There are young candidates who represent enormous risks but who could also convince an interview panel that they are touched by stardust. This amounts to a good pool of names, even after Lambert's withdrawal. We can rest easy in that knowledge.