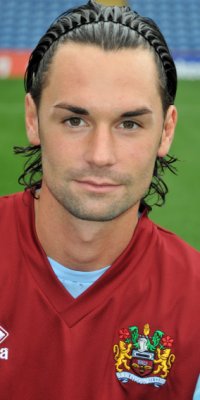 Chris Eagles - a footballer of real substance
At half time, most of us were preparing to exit the stratosphere after a first half of exhilarating and gloriously constructed football from Owen Coyle's men made the dream seem real. For perhaps the first time in this long cup run, thoughts had begun to shift to the possibility that Burnley might, actually, win through to the final: one nil to the good, there was a style and a collective purpose about the Burnley team which must have reminded the watching Ralph Coates of those he himself graced 40 years ago.
The collective crash landing took roughly twenty minutes; in truth, the team were knocked flat to the earth by Spurs' 5 minute salvo which transformed the game immediately after half time. Even though a couple of openings fell their way whilst the score remained two-one, you sensed that the Clarets had been bloodied and bowed by the suddenness of the turnaround.
There have been more important games in the recent history of this club, but for those of us in our twenties or younger, none of greater stature. This wasn't a day out, like previous big cup ties - this was a serious, grown up occasion. The exuberance of those earlier ties with Chelsea and Arsenal had been replaced with nervous anticipation before the game as supporters wondered whether they dared to believe.
We thought the players might freeze, but they didn't. They took the game to Spurs. Joey Gudjonsson, handed the vital holding role, rolled his sleeves up, protected his defenders and set Burnley playing with crisp, accurate distribution. Alongside him, Chris McCann and Wade Elliott harried, supported and drove forwards in possession to support Martin Paterson. Robbie Blake provided his trickery when he could. Graham Alexander, given the freedom of White Hart Lane by the accommodating David Bentley, was ever-available to prompt from right back. And ahead of him, nominally stationed on the right wing, was Chris Eagles.
The former Manchester United kid has taken his time to win some of the Burnley crowd over, but this performance ought to have convinced the few remaining doubters that below the flash, cocky exterior lies a footballer of real substance. No player who has pulled on a Claret jersey since the Orient game has been as graceful in possession or as instinctively capable of finding space as he; no-one has looked as capable of playing at a much, much higher level than that at which we ply our trade.
There is more to come from him: he has not yet lost the race enough times to accept that he will rarely beat an opponent for pace, and he could learn a thing or two from the way Robbie Blake holds possession under pressure and buys his team time when he needs to. But those are things which come with maturity and once he has added that to his armoury, he will swiftly outgrow Turf Moor.
For now though, we ought to savour his talent as he refines his game before us. White Hart Lane was his stage and for the first 45 minutes, with a platform established by those behind him, he was sensational. Gareth Bale, left to deal with him all alone, had no answer as he drifted inside and out, taunting him with the subtlety of his movement, his sleight of foot and his speed of thought. He might have crafted more than one goal in that first half - and had he done so, and had Burnley taken a two goal lead to the interval, Spurs could scarcely have raised a complaint.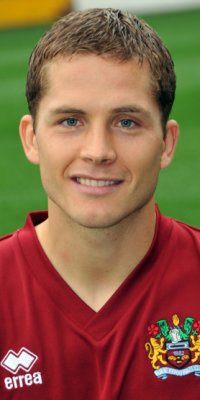 Joey Gudjonsson - his injury proved significant
The opening goal, scored on 15 minutes, was the piece de resistance. The move started with Jordan way back in front of the travelling faithful, and it swept the length of the field, from left to right and back again, before Paterson converted the opportunity thirty seconds later: through Gudjonsson, into McCann who swapped passes with Blake, clipped out to Alexander and then measured down the line to Eagles before he nipped between two defenders and laid it across the six yard box. The flowing, guileful combination of teamwork and individual flair typified Burnley's run in this competition.
Yet luck was not with Burnley. Joey Gudjonsson's injury before half time immediately appeared significant, and so it proved as the match wore on. With Elliott, a winger by trade, asked to step into Gudjonsson's role, we were ill-equipped to repel Tottenham's waves of attack.
Tottenham were now pressing high up the pitch and without Gudjonsson's efficient control and with Jamie O'Hara preventing Alexander from offering a calming outlet on the right, the platform which had been so strong in the first half crumbled: Paterson, Eagles and Blake were unable to make much of longer, less measured clearances, and so there was no outlet to offer respite for the fragile rearguard. After showcasing the qualities which have brought us success in the first half, the Achilles heel which has dragged us back was starkly highlighted in the second.
And so the belief which coursed around the away end at half time on Tuesday night dissipated as suddenly as it had become credible. It was harsh: we deserved to return to Turf Moor with the tie still burning brightly. But football is a cruel taskmaster. It held up a mirror to our players last night, and reflected both their qualities and their shortcomings.
In the absence of a protective screen, our back four were ill-equipped to deal with the pace and ruthlessness of Spurs' attackers. Clarke Carlisle and Michael Duff are good, honest Championship defenders, but they are no more than that and there is no shame in being shown up by players with the class of Luka Modric or Roman Pavlyuchenko. Yet it was basic errors which cost Burnley - a man lost too easily from a corner, a ball given away too cheaply in midfield, a goalkeeping error, an own goal.
It is those deficiencies which must be overcome if we are to ensure we do not undo all the hard work of 2008 as the Championship season winds towards its conclusion in 2009. But that is the negative angle. There is, of course, a positive: for 45 minutes that night, we were better than Spurs. Much better. They were up for it, but they couldn't handle us until injury robbed us of our shape and their manager intervened to tweak their line-up.
If that passing football could cut through Tottenham, then it can cut a swathe through the Championship. The Carling Cup campaign may now be on life-support, but this season, which has already yielded so much, most certainly is not.