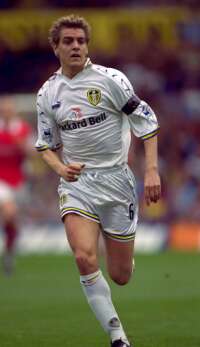 JOnathan Woodgate
We have had the trial of Lee Bowyer, Jonathan Woodgate and their co-defendants, which has been followed up by drunken antics at Chelsea - firstly in the aftermath of the September the eleventh attacks, and secondly following an incident in a London nightclub which has resulted in criminal charges for John Terry and Jody Morris.
Aside from the players, TV cameras have relayed to the nation pictures of hooliganism that embarrass every decent supporter of the game. Live matches at Cardiff City and Villa Park in the FA cup, and at the Aberdeen – Rangers game in Scotland, have seen everything from pitch invasions to missile throwing. Although the incident was less high-profile, it was sad to see the trend spread to Turf Moor, when a prostrate Marlon Broomes was struck by a coin as he was carried off whilst playing for Sheffield Wednesday last Saturday.
Broomes' only crime was to have spent his formative footballing years at Blackburn Rovers. As a result of his background, he might have expected a less than welcoming reception. But there can be no justification for a physical attack on the player. I, like, any supporter, enjoy the rivalry between Blackburn and ourselves; when that rivalry becomes vitriolic abuse against an individual, however, it becomes an altogether less enjoyable phenomenon. It is in the interests of every supporter to stamp out this sort of abuse, and given that it is almost impossible for stewards to identify coin-throwers, the responsibility lies with the supporters around the culprit to inform the club of his identity.
Since these events have, inevitably, dominated the headlines, a couple of more deserving stories have passed almost unnoticed.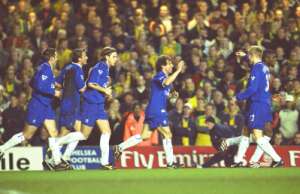 Gianfranco Zola celebrates his wonder goal
Firstly, Gianfranco Zola dedicated his FA cup wonder-goal against Norwich to a young Chelsea fan he had previously visited in hospital. The boy was battling cancer, but subsequently died before Zola had a chance to fulfil his promise to score a special goal for him – so Zola brought his name to national attention after the match.
Now it has emerged that a special testimonial match will be played to honour Niall Quinn, the Sunderland and Republic of Ireland forward, with those two teams in opposition. This will be a testimonial with a difference, however: Quinn has organised the match, with the support of his club, with the aim of benefiting children's hospitals in Sunderland and Dublin. The player himself will not gain anything from the match – except the satisfaction of knowing that he will have helped improve the lives of children in the two cities, and perhaps beyond.
Of course, with the money many footballers earn today, they might be expected to dedicate some time and money to good causes. And most footballers do – Burnley's players make a public visit to the local hospital at Christmas, and most of them do further good work within the community. The same is true of players at clubs all over the country.
Unfortunately, these stories are not regarded as newsworthy – certainly not in comparison to the scandals splashed across the back pages recently. But every now and again, when these stories surface, the nation is reminded that most footballers are not criminals, drinkers or arrogant, overpaid idiots. And you can guarantee that the Stadium of Light will be full for Niall Quinn's testimonial, and that there will be offers of donations from across the country – as Clarets Mad have suggested. Perhaps that shows that the hooligans are in a tiny minority, outnumbered by responsible supporters of both their club and the game in general. If nothing else, it is a welcome breath of fresh air after the disastrous press of recent weeks.