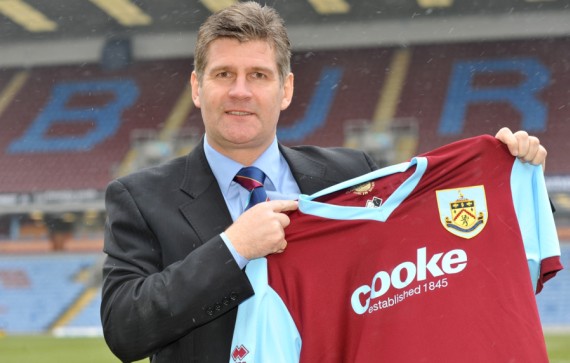 Brian Laws - not an especially attractive name in January
In bright sunshine, in front of a large, buoyant crowd, an enterprising team in Claret and Blue zipped the ball about with energy and attacking purpose. Playing in a fluid 4-3-3 system, Burnley scored four goals and their incisive attacking thrusts might have yielded more.
Of course, much has changed in the intervening year. Even the optimistic days of the early autumn now seem to belong to another lifetime. The intervening months have been hard: during the long fallow period which extended either side of Owen Coyle's duplicitous defection to Bolton, energy and belief drained from both players and supporters alike.
There was a period, in the final throes of winter, when even enthusiasm for the task in hand has seemed to wane and the togetherness of the club has been threatened. There have been scarcely hidden internal divisions since Brian Laws arrived as manager - and there were defeats and performances, most notably against Manchester City and Blackburn, when many of the players appeared restless and distracted from the cause for which they signed up.
We emerge, however, with pride intact. After the diabolical defeat to Manchester City at the beginning of April, we might have expected the team to end the season ignominiously. Yet the final five games of the season have yielded ten goals and six points and, with more care in front of goal, might have also yielded a positive result against Liverpool. The Turf Moor crowd has rallied behind the team and, once again, Turf Moor has become the noisy arena which inspires its own and intimidates opponents.
It is too early to say whether that positive final denouement will be enough to keep Laws in his job. In truth, it should have little bearing. Given reports of dwindling respect within the dressing room, it is impossible to say with conviction that he inspired those performances, or even that they were achieved as a result of his tactical instructions.
Laws wasn't an especially attractive name in January, but he was a logical choice from a meagre cast of candidates. After the loss of a totemic leader and an entire support staff, much of what has unfolded since Coyle's departure was probably inevitable from the outset. The likelihood of an ignominious relegation both made the post unattractive to potential applicants and made it senseless for the Burnley board to push the boat out too far in attracting and then backing their new manager.
But that outlook has changed. Now, whoever is in charge this summer will have the prospect of shaping a team in their own image to challenge for promotion to the Premier League. For anyone seeking to build a CV, it is a vastly more alluring prospect.
Few Burnley managers can have started with less credibility or support than Laws - indeed, you imagine the board have been taken aback by the ferocity of the backlash to his appointment - and Laws' impact upon the dressing room appears to have further undermined his position. With a substantial rebuilding job likely to be needed in the summer, retaining Brian Laws will involve an enormous vote of confidence in his abilities.
And, whilst his record either at Burnley or elsewhere is nowhere near as bad as many of his detractors would claim, it hardly suggests he deserves such support. As I write, the prospect of a change appears to be receding, with a club statement denying Laws' position is under threat. If it is true, it is a mistake and one that could cost Burnley, and Barry Kilby as chairman, enormously.
With the increases in parachute payments, Burnley's short term advantages and long disadvantages also increase in equal measure. These next two years, four at most, represent perhaps Burnley's last opportunity to entrench themselves as a top 30 club. After then, it will be almost impossible to achieve it without living far beyond our means. And as a result, this is a time for boldness and decisiveness - not hesitancy or caution.
If a decision is still to be taken, it must be done swiftly to ensure Burnley's chances of bouncing back immediately remain as positive as possible. The manager, whoever it may be, will start from a strong base. Whilst players including Robbie Blake, Steven Thompson, Tyrone Mears and Stephen Fletcher may yet leave, the core of a strong team will remain.
Andre Bikey, Danny Fox, Martin Paterson and Kevin McDonald are amongst the players who will comprise the nucleus of a team which should challenge for promotion. There should be money available for reinforcements and, where players who are in contract are sold, those funds ought to be ploughed back into a promotion bid.
If it is successful and Burnley return to the top flight 12 months from now, perhaps we will do so a little wiser. Like any club promoted after a long absence from the top flight, we were naïve last summer as a club.
We were told by supporters of other teams that we couldn't win: that either we would be comprehensively relegated, or we would find our threat neutered by the luring of our best assets to more established members of the elite. Our ambition to survive whilst playing open, attacking football was regarded as worthy yet unrealistic.
Those predictions were ultimately proved right, more comprehensively than we might ever have imagined. Without compromising our principles, there will inevitably be lessons to be learnt next time around.
And we shall not be as wide-eyed in our wonder next time around, either. The Premier League does not deserve it. It is home to many of the finest stadiums in the world and many of its best players. But it is not a great competition. It is too unbalanced, too beholden the false idols of finance which limit the right to win anything to a narrow few. There are too many games which only one team, the home team, can realistically win - games which are settled on the balance sheet long before a ball is ever kicked.
In August, Burnley, Hull and Portsmouth were the odds-on bets for relegation; Manchester United and Chelsea the overwhelming favourites to compete for the title. For several months, those early predictions have rarely seemed in danger of proving wrong.
Yet for all its failures, we would trade Championship football for Premier League football in a heartbeat. It has been marvellous to see Turf Moor full, loud and proud. We've witnessed some of the greatest players to grace Burnley in a generation, and some of them have been wearing our colours. The skill and intensity of home games against Arsenal and Manchester United in particular will be long in the memory. And that August night when United were toppled will live in the minds' eye forever.
Nights like that have gone for now, but there is no reason why they cannot return. Burnley must now get used to being a frontrunner in the Championship, a target for the aspiring rump of that division and the favourites for promotion. The prospect of winning promotion, scoring goals and winning games is an exciting challenge in its own right. And that is now the proposition that awaits us.