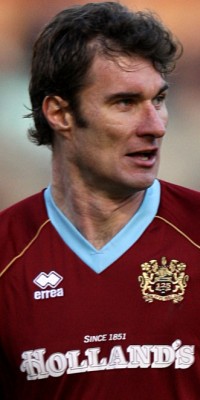 Stanislav Varga - one of three loan signings
After innumerable bold statements from our directors in recent months, we were treated to the highly unusual spectacle of ambitious transfer targets being openly announced - either by design or by improbable accident - in the national press.
The results of that bluster? Two loan signings in their mid-thirties, and another approximately half their age. That is not meant to disrespect any of those three - they may yet prove to be fine additions over the coming months - but they hardly dispel the notion, which has been voiced both amongst fans and elsewhere in the football world, that this public strategy was designed to create an aura of ambition which does not quite match the underlying reality. Now, that may be a cynical view - but unfortunately, football fans are a cynical bunch, and flirting with that cynicism is a dangerous tactic.
We had a golden opportunity, during this last month. We entered it on the cusp of the promotion race, and we ended it marginally better placed. We had a positive performance against Arsenal for all to see. We had a new manager, with his own ideas and transfer targets. And we had a window to exploit, to build on the positive rhetoric and to translate it into symbolic, powerful action. We could, should, have used it to make a statement. Yet, in the end, we squandered it.
I don't expect too much of Burnley Football Club. I don't expect us to shell out 3 million pounds for players, as West Brom had done for two of their substitutes on Saturday. I do not expect us to sustain a squad of 30 players or to pay Premier League wages to either attract players or to retain our best. I don't expect us to simply go out and buy a centre forward the minute our existing options are either misfiring or injured. I'm not daft. I know there are market forces to which this club is subject, and which it can do nothing about.
But I do expect this much. I expect that, eventually, we will translate grand promises into some semblance of reality, and not to allow them to crumble into false hopes. And I expect that when, once in a blue moon, the opportunity presents itself and the club finds itself with additional funds it did not expect to have - then I expect the club to seize the moment, be brave and to take a chance. I don't necessarily mind if it doesn't work out, and if that doesn't ultimately leave us better placed than we were before hand. It is better to have tried and failed than to have shied away from trying at all.
And I know that in the post Orient era, my Burnley era, this has been a football club sustained by an idea, and that idea is this: that despite the limitations of the town and its catchment, this was a club with a history and tradition which might, one day, be matched by Premier League status.
The one thing which sets Burnley apart from towns and their clubs of a similar size - Brighton, Darlington, Carlisle - has been that our club has a burning ambition to return. Remove that oxygen and it will cease to breathe; it will collapse in on itself once again, just as it did 25 years ago the last time that ambition and drive were subservient to a negative desire, to merely survive as a club of limited means.
I've heard much talk recently about our club refusing to be held to ransom. Fine, fighting words, but sometimes the pragmatic option is to pay the ransom if it is the only way to achieve the ultimate freedom and avoid a futile existence. It has already been observed elsewhere that for perhaps £350,000 - out of a total alleged pledge of £2 million - we might have been able to agree fees for our top three targets of the last transfer window. The suggestions are that Barry Robson wasn't keen to move south. But you would imagine, agents being what they are, that having courted Riordan and Whelan as long as we did, we had a decent idea that we could attract them if only we could agree a fee. If not, then we ought to have had alternatives scouted and ready to fall back upon.
Certainly, in Glenn Whelan's case, it would appear that, had we offered a measly £100,000 earlier in the piece, we might have got our man - and that for a player who, if Stoke should chose to cash in, would now be worth substantially more than the £500,000 they paid for him. Hardly, you would have to say, a kings ransom. And in the current climate, where we value Kyle Lafferty at over 3 million pounds, is a fee of less than a quarter of that really an extortion for someone who has 50-odd career goals at an impressive rate, in a league vaguely comparable to the English Championship?
If you are going to hold others to ransom, then you must accept that everyone else is going to attempt much the same and you should be wary of attempting to have your cake and eat it. I couldn't help but think, as Albion attacked us on Saturday, that with another sturdy midfielder and a little more pace down the lines, we might have been better able to live with the best side in the division. With a couple more players, we might be genuine play-off contenders. As it is, we aren't.
I know what some will say: that we are already in debt, servicing losses. Too true. But ask yourself this - how to break that cycle? Not by accepting our mid table lot, for that will end in a cycle of lower crowds, bigger losses, the sales of players…until we reach the bottom of the cycle, the days of crowds of five or six thousand and a crumbling club once again. If our custodians wish to offer us financial independence, to be able to hand on the club without scrabbling around for someone else to plug the financial gap, then the only way is up - even if that means the occasional deep breath and temporary outlay.
Because I'll tell you one more thing. History tells you that when winter gives way to spring and Burnley are in with a shout, with momentum going in their direction, then the whole dynamic of the club changes. There have, in this modern era, been perhaps four seasons when that has come to pass: 1992, 1994, 1997 and 2000. And what has happened on each occasion? The club comes alive; crowds have risen from relatively modest beginnings; revenues rise, and with that a sense of purpose and expectancy which can blossom into a powerful tide. You don't need me to tell you that three of those seasons ended in promotion.
But it is six years since there was last any sense of belief around the club, and it does not remain latent forever. If football fans are cynical, then Burnley fans - downtrodden and conditioned to disappointment over 30 years - are even more so. But below the thick layers of pessimism, it is also a club where the sense of a journey with a clear beginning and end is deeply ingrained. There are still supporters out there who simply need a sign, something upon which to hang their hat.
Barry Kilby knows this; he exploited it eight long years ago when he brought Ian Wright to Turf Moor. Yet the corollary is this: if you play on that mentality too flippantly, by building up promises and failing, then you over exploit it, and eventually kill those hopes for good.
We might not reach the Premier League this season (it isn't, realistically, even a 70/30 shout) nor even the play-offs; but by having a go, we would certainly recoup that £350,000, through higher attendances for our last 6 or 7 home matches - plus, of course, an extra home game if we were to make the play-offs. Not only that, but the feel good factor brings supporters out of the woodwork, and perhaps revitalises their interest for future campaigns.
And yet, to give Brendan Flood, Barry Kilby and Owen Coyle their due, the reason for this sense of frustration which has enveloped so many supporters this week, is because we do have a good bunch of players who promise enormous things, and who promise to do so in a pleasing manner. Kyle Lafferty is still with us, thanks to that bold decision to hold everyone else to ransom. Andrew Cole offered the possibility in his brief run out of Saturday that he could offer the hint of pace and the razor-sharp instincts that Andy Gray could not offer.
There is still yet a second chance. The loan window opens again this week. A couple of temp-to-perm signings to redress the balance, and it is not yet too late to make a charge. This division is wide open. We are a fine, promising team. But in a division which is gradually getting harder, wealthier and in which we are gradually swimming against the tide, we cannot afford to pass up the opportunity when it flaunts itself as blatantly as it does this year. It may never do so again.