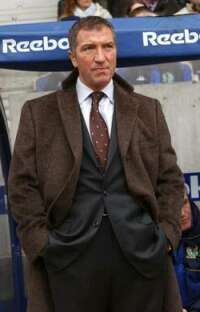 Souness - not happy last week at Bolton
The saying is, of course, a myth. After every round of matches played in this country (or quite possibly, anywhere else) managers are sure to complain about referees – and this has certainly been true of the last week, when decisions have been publicly questioned on Saturday, Sunday, Tuesday and Wednesday.
Furthermore, the rants on the subject of a certain Scottish whiner a becoming a weekly feature of Blackburn Rovers' after match press conferences.
Having spent the last month castigating every referee to take control of a Rovers match – often without any justification, and with the curious exception of the Worthington Cup final, where the nation saw Blackburn get lucky with a couple of big calls - Souness took his assault to new levels on Saturday. Not content with criticising Paul Durkin for failing to give a penalty (an incident which was, incidentally, far from clear-cut) and for failing to send off Mike Whitlow for the tackle which sparked Andy Cole's sending off, Souness turned his attack on the Bolton player – and by default, his manager and team-mates – for cheating and trying to ensure Cole was sent off, despite the damage Cole's stamp clearly inflicted on Whitlow.
Put simply, Souness was out of order. Even if he had a genuine complaint against Bolton, then he had no right to launch such a vitriolic outburst in their direction; the matter should have been discreetly referred to the FA. But with his team embroiled in an unexpected battle for survival, Souness appears to be an increasingly bitter, and perhaps worried, man. Like many managers at present, he seems prepared to use refereeing decisions as a smokescreen to deflect attention away from disappointing performances from his players.
If Blackburn go down, it will be because they weren't good enough to stay up. It will be that simple. It will be because their players failed to amass enough points and because their manager failed to spend his generous transfer budget wisely enough to overcome their existing deficiencies. Just as with the title race, referees will play little part in whether Blackburn are relegated – decisions tend to even themselves out over the season. That may be cliched, but it's true. And the constant carping of Mr Souness are becoming more than a little tiresome.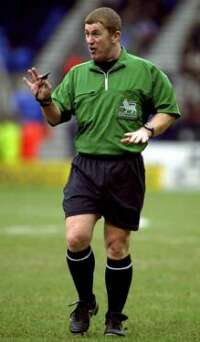 Referee Paul Durkin, the latest to upset Souness
And even if decisions are going against Blackburn, Souness must have a short memory. Last season his team played in the first division – where the standard of refereeing is much worse.
No-one would disagree with the principle that the best referees should take control of the biggest and most important matches. But just Blackburn have plenty to lose financially from relegation, so Burnley have perhaps more to gain from promotion, given the relative size of the clubs' operation. Similarly, a mid-table Premiership match between, say, Tottenham and Charlton, has less importance to the respective clubs than Burnley's mid-week clash with Walsall – we are going for a promotion which could transform our club, whilst the benefits of retaining a first division slot could secure Walsall's finances for the foreseeable future.
Yet that match was refereed by Paul Alcock, an official deemed not good enough to take control of a comparatively meaningless Premiership match. We all know that Tuesday's game hinged on a controversial goal; regardless of what the right decision would have been, Alcock did by definition have a greater chance of getting it wrong than one of his Premiership counterparts.
At this crucial stage in the season, decisions inevitably come under greater scrutiny in every division. Clubs at every level have plenty to lose or gain, but at the lower levels those decisions are less likely to be correct. But it is unlikely that Premiership managers will remember how relatively fortunate they are come five o'clock on Saturday, or that any of them will find it in their hearts to accept errors of judgement as integral to human nature.
You can be sure that on Saturday, referees will make genuine mistakes, and that up and down the country they will receive abuse for them. You can be sure that the best referees will control the biggest, but not necessarily the most important, games. And you can be sure that, along with a few others, Graeme Souness will be whining.
Some things, as they say, never change.