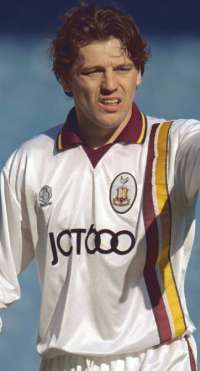 Robbie Blake - signed from Bradford

The backlash has already started: traitor, Judas, mercenary. Disloyal; backstabber. The knives are out, and should he return to the Turf as a Wigan player next week, no doubt the boo-boys will be out in force.



Loyalty. An often overused word in football. Frequently invoked by supporters, who expect players signed in an open market to wear the shirt with the same degree of passion you or I would show.



Sadly, it's an unrealistic expectation. Robbie Blake is from Middlesbrough. He was signed from Bradford after playing for Darlington. I have no way of knowing, but I don't imagine he has any Claret and Blue heritage. He is a footballer who plays for Burnley; a Burnley fan he isn't.



He came to Burnley at a time when we were damn near the top of the league, at a time when his dream of proving himself in the Premiership was being extinguished at Bradford and Turf Moor offered him an opportunity to rekindle that dream. Unfortunately for all of us, that dream remains a distant one for this club.



So like any professional worth his salt, Robbie wants to better himself again. We can argue for hours about whether or not Wigan are a desirable club, what with their meagre attendances and lack of history. But they are wealthy, buoyant, and for the time being, one of the favourites for promotion. They are, in other words, in a not dissimilar position to the one we found ourselves in three years ago. And that makes them a better prospect than Burnley for a professional with ambition like Robbie.



It shouldn't be forgotten without that desire, that determination to prove oneself at the top, then a player in the Championship, no matter how talented, would inevitably lose the spark that makes him so special in the first place. If Robbie Blake had resigned himself to playing for also ran sides in this division for the remainder of his career, contenting himself with 10 or 15 goals a season and a mid-table finish, then it is unlikely that he would have produced the form which have prompted Wigan's interest in the first place. Having retained that appetite, who are we to prevent him from profiting for it?



If I played for Burnley, I'd give everything I possibly could give, week in, week out. I'd run until my legs gave way from beneath me. I'd play for sod-all, give any win bonuses back to the club and never dream of leaving. But that's because I'm a fan, one of that breed of helpless individuals who aren't good enough to play professional football and emotionally attach ourselves to watching a particular club instead.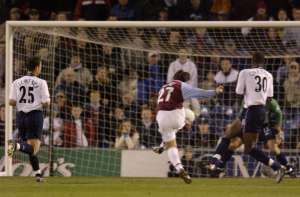 Scoring for Burnley against Tottenham two years ago

And I suspect that, if I were ever good enough to play professionally (and now, as anyone who has ever seen me in action will testify, we really are entering the realm of the hypothetical), my mindset would change. Steven Gerrard is a genuine Liverpool supporter. Yet he has admitted that the burning professional determination which has driven him to make the most of his abilities will overwhelm the desire to stay loyal to the club he loves in search of the fulfilment titles and success will bring. In time to come, Richard Chaplow may find himself in a similar position.



So to expect someone like Robbie Blake to forsake what may well prove his final tilt at the Premiership out of some sense of loyalty to a club he had no connection with before he joined as a player borders on the perverse. It was a similar situation when Glen Little left us to join Reading in the summer: after being employed by Burnley Football Club for eight years or so, he decided that it was in his own interests to move on.



Fair enough. Like anyone, in any job, he is well advised to look after himself first and foremost. Most people look for promotion, for job satisfaction and for the better pay, or better hours or a new challenge, whatever their line of work. Most people want employment which fits in with their priorities in life. Robbie Blake, Glen Little and others in their situation have a short career; they have to make the most of it whilst they can. That includes running after the cash sometimes, or backing the most likely horse to take you where you want to be.



None of this is to suggest that football fans shouldn't expect a player to give everything whilst he is picking up a pay packet from their club. Of course fans have a right to vent their fury at a lazy player who isn't prepared to put in the effort worthy of a professional in such a privileged position. But that isn't actually a criticism which can be levelled at Robbie Blake. He isn't a blood and thunder type of player – in our division, those types of players tend to be those for whom ability alone wouldn't have taken them very far – but he has remained committed to the Burnley cause even throughout this last month of speculation, and produced performances such as that against Preston into the bargain.



If he goes, good luck to him. He's a damn fine player, and he deserves another crack at the highest level. He's produced some wonderful performances for Burnley, and scored some wonderful goals. Against Tottenham, in the League Cup two years ago; those two free kicks in different games against North End; that memorable goal against Wolves earlier this season or any one of a multitude last campaign which were ultimately responsible for keeping us up.



He will take some replacing – he may prove irreplaceable, at least individually. Along with Glen, he's one of a handful of Burnley players in the past two decades capable of eliciting gasps of admiration from the Turf Moor faithful. But Burnley Football Club has reinvented itself before when star players have moved on to pastures new. It may even be that by bringing in a couple of players and ending the unhealthy situation in which the team is entirely reliant upon one man in attack, the team may, in the long run, end up stronger.



So good luck Robbie, wherever you end up, and wherever that may take you. I hope you get your chance to play in the Premiership, and I hope you take your opportunity this time around. And if it doesn't work out, you can always come back to Burnley. I, and I hope the majority of Burnley fans, would certainly take you back with open arms.