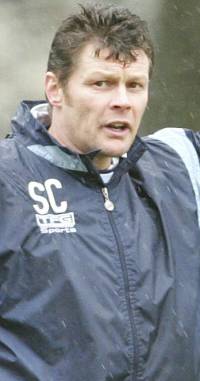 Steve Cotterill - has fashioned a disciplined, highly effective unit

What is more, football fans really are a funny old breed. Not so much those who follow Manchester United and the rest at the top of the tree, weaned on superstars, glitz and glamour, but certainly those of us further down the ladder who choose to watch an inferior product.



Cast your mind back to July, when our squad list would have fitted on a first-class stamp. Those days of summer might seem a long time ago, particularly the other week when Turf Moor was partially submerged, but back then, optimism was not high. Practice matches were barely five aside, and most of us had concluded that without a bit of investment on roughly doubling that existing eight man first team, we would be aiming for 21st place and survival.



By those standards, then, the season is a roaring success. A disciplined, highly effective unit has been fashioned by Steve Cotterill, which requires three wins and a draw to effectively achieve that with 19 games still remaining. Hell, we're tenth, and we are five points shy of the play-offs, with two games in hand. We're not going to get promoted, but even yours truly, a pessimist by instinct when it comes to this football club, was dangerously close to a touch of optimism looking forward at new year.



It hasn't been pretty. Organisation and defensive proficiency have been the buzzwords, rather than flair and attacking prowess. We've scored an average of less than a goal a game, although we've conceded even fewer. But most of us would prefer this to what we were expecting this season, and indeed what we have experienced over the previous two campaigns.



The foundations have been laid for a really quite decent team to emerge, built upon the reliability of our reconstructed back line, and the likes of Grant and Hyde in midfield. Yet the optimism that really ought to be engendering seems to have been pricked in recent times. Undoubtedly, the sale of Robbie Blake is in a large part to do with this, given that he was the lone source of goals. The fact that the Turf Moor PR department appears to be being run along the same lines as Fawlty Towers isn't helping.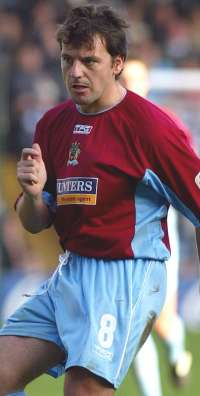 Robbie Blake - was the lone source of goals

I sense that, despite the results, there is a growing frustration that we are hamstrung in our attempts to kick on from this position. Particularly without Blake, there is nothing left to hope for this season already – we can't realistically hope for promotion, and there isn't even the desperate hope that we will stay up to fray nerve ends and keep the suspense alive.



What's more, without Blake, the side is even more bereft of inspiration. Since he left, Burnley games have yielded two goals in three games. They both happened to be for the Clarets, so we've gained seven points, but excitement has been at a premium.



All in all, supporters are hastily forgetting the doom and gloom of July, and newly raised expectations and aspirations are seemingly being dashed. Not entirely rational, you might say. But there you have it – football fans are a strange breed. No matter how well our team is doing, we always want more.



At the moment, Burnley fans largely want some of the Blake dosh investing on a couple more players, both to add a bit of dash to our play, and to revive those hopes for a couple more months that we might sneak in the back door of the play-offs. In many ways it might be prudent to wait, shop around and find the bargains, rather than paying over the odds for someone who might prove to be a flop. Certainly, I'd suggest that to be the most sensible route, at least in football terms.



Yet there is another dimension to consider – those football fans; you and I, thirsty for success. Go through to the summer with the current squad, and we will stay up, but we aren't going to attract too many admirers. As tedium sets in, so does ambivalence, causing gates to drop, and perhaps even season ticket sales as well.



For right or for wrong, fans will attribute the failure to bring in anyone in the near future to a lack of any sort of ambition. And that is a dangerous situation for the club to arrive at, with fans still reeling from the sale of the ground. Assertions of poverty aren't going to wash with a public who only begrudgingly accepted that deal on the basis that it would wipe out our debts. The negative vibes will only alienate a supporter basis already increasingly sceptical of what the club says.



So perhaps it's time for the club to be media savvy. Maybe it would be prudent for us to bring someone in – as much as anything else, to humour those fans before the optimism that Steve Cotterill's achievements should lead to is completely killed dead. Not to break the bank, but to throw fans a bone and keep them interested, both for this season and indeed for next.



Without those superstars and that yearly diet of success, supporters of clubs like Burnley need licence to dream. Being a football fan isn't necessarily about unadulterated pleasure, but it is about escapism, about imagining one of the current team hitting home that promotion clinching strike in a quiet moment. Without pleasure, and without hopes of anything more than mediocrity to sustain the dream, the wavers will vote with their feet.



That is something we really cannot afford.