It was an evening which dumfounded not only for the headline-making result, but for the glorious manner in which it was achieved. It was the launching pad for the most wonderful, extraordinary 12 months in the recent history of the football club.
That night, Owen Coyle's players served notice of their talent and potential upon their supporters, the football world at large and most importantly, upon themselves.
It came out of the blue. We were a goal down at half time and ambitions were limited to scoring a goal and restricting Chelsea to perhaps three. No-one expected Burnley to dominate the second half and equalise to push the game into extra-time, nor to remain resolute throughout the additional 30 minutes. But the accomplished manner in which the team did all those things germinated for the first time the notion that the nucleus of that team might be capable of growing into a team of modern Burnley greats.
We were on a decent run before that evening, but the team visibly grew in stature after that night. The following Saturday, QPR were beaten in imperious fashion at Loftus Road. Sheffield United and Bristol City were also despatched on their own patch in two of the next three away games, whilst Derby were stuffed 3-0 at Turf Moor; Arsenal were, of course, soundly beaten in the next round of the cup by a champagne display of flowing football as the Carling Cup fairytale grew wings.
It was those results, plus the remarkable if ultimately futile comeback against Spurs, which demonstrated to the Burnley players that they deserved to play Premier League opponents as equals this season and which fuelled the league form which ultimately earned success.
And, having used the springboard provided by the Chelsea result to its maximum last season by winning promotion, Owen Coyle's men having continued their remarkable upwards development this season.
There is a long, long way to go, and if the Clarets have conceded the 80 goals by May that current form suggests, then they will almost certainly be relegated. But the bulk of those goals have been leaked on difficult away trips to City, Spurs, Chelsea and Liverpool - and at the other end of the pitch, 10 goals in the past 6 games (the 6
th
best return in the division, with only one blank return) suggests that the team have worked out how to score goals at this level.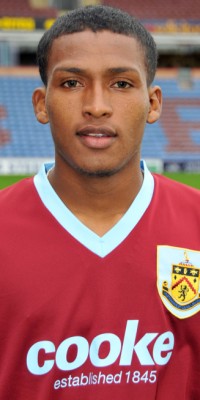 Fernando Guerrero - offers an exciting long-term option
Perhaps it is easy to underestimate the quality and potential of some of Burnley's attacking players. With respect to the old stagers, Robbie Blake and Graham Alexander - both of whom have had their moments of glory - it is what Burnley's attacking options could look like in a couple of years which ought to really excite.
Andre Bikey may revert to a centre half role in due course, but he has shown enough over the last month to suggest that, as maturity teaches him to concentrate for a full 90 minutes, he might prove an ideal, powerful foil for Chris McCann at the heart of Burnley's midfield. Ahead of them, Kevin McDonald should develop into an accomplished attacking midfielder. Chris Eagles, David Nugent, Steven Fletcher and the younger and rawer Jay Rodriguez and Fernando Guerrero offer exciting long-term options across the front three.
The oldest of those players is Bikey, who will reach the grand old age of 25 in January. And there are others in the squad who could be included in that bracket - most notably the hugely impressive Tyrone Mears, who is still only 26 and should have his best years ahead of him. The problem, of course, will always be warding off the overtures of bigger predators - but if that group of players can be retained to continue growing and gelling together as it has over the 12 months since Stamford Bridge then goodness knows what they can achieve.
For the time being they, and their more senior and still fundamental colleagues, are making a fine fist of adapting to life at the top table. Sure, mistakes have been made and tactics have needed to be adjusted along the way. Some personnel have found the step-up more shocking than others. But, as a team, they have continued to develop and improve before our very eyes. Just, in fact, as they have done almost every week since that unforgettable night in West London a year ago.