Jimmy Robson scores in the 1962 FA Cup Final
It very nearly didn't happen. He became a fan when he watched the '62 cup final on telly, and having backed the underdog that day, he supported them through the late 60's, the 70's and the early 80's, until the pressures of work and a young family meant that the increasingly depressing trip to Turf Moor was no longer justifiable. Then, like many at that time, he drifted away, became a distant follower, the type that check the score on teletext and maintain an interest, but never get to a game.
On the 9th of May 1987, he wasn't at Turf Moor. Although he was interested in what was happening in east Lancashire, he chose to play cricket somewhere in south Cumbria instead.
At about half past four, he wasn't involved in the game, and he decided to go over to the car and put the radio on. He only meant to go and check what the score was. But after a couple of minutes, with the score 2-1, he was too passionate, too involved, to switch it off and go back to the cricket. After several years absence, suddenly he cared again. With the emotion of events at Turf Moor conveyed to him over the airwaves, he came to feel he should have been there, sharing in the drama, the tension, and the ultimate feeling of relief.
The next season, he went to a game. And as soon as I was old enough, he took me, too. Inevitably, I was captivated – I've been going ever since. I don't know exactly how typical that story is, but I suspect that hundreds, maybe thousands of current Burnley supporters can relate to some aspect of that story, whether or not they got to Turf Moor that day.
It's no exaggeration, then, to say that the Orient Game marked the beginning of the re-birth of Burnley Football Club. Before hand, it was a club which, maybe mirroring the town it represented at a time of huge economic strife, no longer had any pride in itself; a club which had lost it's self-respect. Without a date to inspire such a dramatic re-awakening, the chances are that this great old club would have remained in a state of constant decline, playing to tiny crowds in a dilapidated old stadium stripped of the vestiges of its former glory. The worst case scenario is that the club would have eventually gone the way of Accrington Stanley, Maidstone and Aldershot. At best, we would probably have meandered along for a few years, maybe won a promotion and established ourselves as a second division club with an occasional shout at the play-offs and a more immediate threat of relegation, playing average second division crowds – and frightening though it may be, that represents a reasonable description of Blackpool.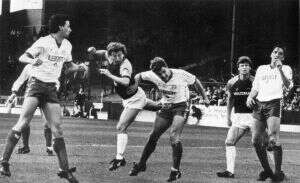 Ian Britton scores the goal that proved to be the winner against Orient
Every club, great or small, takes pride in its traditions. Ask any fan what things define his club, and the chances are that its history will be towards the top of that list. Yet Burnley seems to be a little bit more steeped in the past that most clubs I've come across. Maybe it's because there is so much from years gone by to be proud of, and because we've spent the best part of thirty years trying to recapture the glory days when we ruffled the feathers of the established elite on a regular basis. Or maybe it's because Burnley itself is such an introspective town; whatever, the echoes of years gone by are heard with a little more resonance at Burnley than elsewhere.
And we don't just remember the good times, we remember the whole lot, good and bad. The names of Grewcock and Britton rightly hold as important a place in our club's history as any of the marksmen of the sixties, names like Pointer, Lochhead or Irvine. I was too young to remember Orient, but I feel almost like I was there – you can't escape it.
But there's more to it than that. Supporters of Manchester United or Liverpool pretend they were never anything but one of English football's leading clubs. They choose to ignore the teams that turned around their personal fortunes, the teams which won the second division in 1975 and 1962 respectively, whilst we openly take a perverse sort of pride in our flirtation with oblivion. We celebrate both the team that beat Orient and the championship team of 1992 despite the fact that, in terms of quality at least, they rank among the worst to grace the Turf Moor stage.
I once read a poll conducted by a football magazine in which fans were asked to write in and nominate the finest goal ever scored by their team. Most clubs selected 30 yard thunderbolts or graceful free-kicks, goals of special beauty; Burnley's most popular choice was a goal scored by John Francis, from one yard out when the ball bounced of his shin, late on in a match with York City towards the end of the 1991-92 season. It was of course the goal that secured the fourth division championship, a championship that many clubs of our size and tradition might be a little more embarrassed about mentioning. But we openly talk about, and will happily tell anyone who will listen of where we have come from.
And it's important that we never lose that willingness to look back and remember. Like a recovering alcoholic, the day we forget what happened and why it happened will be the day we start back down the slippery slope we have spent so long climbing up. It gives us a sense of perspective: when things are bad today, they remain incomparable to the dark days of fifteen years ago; when we refuse to pay the transfer fees or wages splashed out by the big boys, we should remember the times when we had to beg, steal and borrow simply so we could put eleven players on the pitch. Fifteen years ago, this club started over. Seventeen thousand people turned up, and in the raw emotion of an overwhelming day, a small, tantalising glimpse of a better future re-invigorated a dying club. That vision has not yet quite yet been realised. But when it is, we should raise a glass to the day it started. The 9th of May is Orient day - and we should never, ever, forget it.