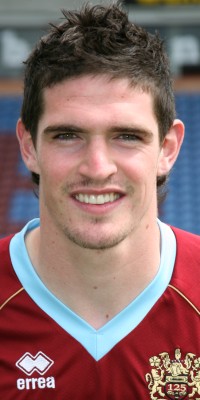 Kyle Lafferty - the best advertisement for youth development
The moment seemed to come as a surprise to both the commentators and pundits on BBC Northern Ireland. Quite clearly, they hadn't done their homework properly, because those of us who have seen Kyle play this season would have recognised that skill. It has been plenty in evidence this year whilst Kyle has begun to establish himself in the first team on the left side of the attack.
It was a wonderful moment for Burnley, and one of reflected glory to those who have played a role down at Gawthorpe in developing a raw but abundantly talented footballer.
There should be credit, of course to Steve Cotterill, who has handled him astutely since breaking him into the first team picture. In giving him freedom from a wide berth at times and limiting his first team action in the centre he has recognised that he has a fearsome combination on his hands; even at 6 foot four, he is very much dealing with a talented ball-player first and a target man second.
But there should be plenty of credit to spread around elsewhere. To Vince Overson and Terry Pashley and every other coach who has dealt with Lafferty, the scouts who watched him and the small army of others who have taken a role. Because that must be the nature of youth development: lots of hard work from lots of people which seems almost insignificant viewed in isolation, but which is essential to having a youth system at all.
For every Kyle, there are a hundred kids watched and discarded and so you can add to that oscar-style roll call even those who have had absolutely nothing to do with Lafferty at all but who have instead watched or coached the 99 who might just have proved to be Kyle. For all of those individuals, there is good news: their investment of time and energy and passion is beginning to flourish.
West Brom may have killed all talk of Richard Chaplow being available for transfer, there is little to suggest Burnley were interested in the first place, but the idea still gave rise to an interesting possibility. With Lafferty our best option on the left flank and Chris McCann impressing at the heart of midfield, the return of Chaplow would have left us with a trio of former youth players across our midfield. Only Wade Elliott - himself picked up from the lower leagues and improved - would break the home-grown hegemony.
That is a remarkable measure of the strides made in this department by the club in recent years. The 1990's spawned only one player who made it in the top two divisions - John Mullin, who swiftly returned to whence he came. The turn of the century brought serious debate about disbanding the system completely and relying on 19 year old cast-offs from the Premiership. But now, we can and are producing accomplished, reliable Championship footballers who have the potential to play in a higher league.
Those three players are enormously significant for Burnley. Not least because the two we have retained should be at the core of any Burnley side built to challenge in this league. But also because they represent the breakthrough - the first tangible fruits since youth development became a priority.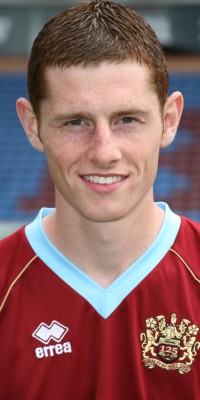 Chris McCann - an established first team player
McCann and Lafferty are established first-team players now, and that must make the transition from youth team to senior team easier for those who graduate after them. Jay Rodriguez might be a confident kid, but without feeling comfortable in his new surroundings, he wouldn't have demanded to take a penalty in the pre-season friendly at Wrexham. But he had friends in the camp to latch on to, to help break him in and to make him feel able to impose himself.
And so, hopefully, it will go on. Hopefully the age-groups still bubbling away down at Gawthorpe will find five, six even seven lads around the extended first team squad who they played with and looked up to as juniors. That is unquestionably the ambition at Burnley. It is also without doubt the best blueprint for success.
Most importantly, Kyle Lafferty, Chris McCann and Richard Chaplow demonstrate what is possible at Burnley. First team football, a platform to progress in an environment and at a club that cares for their young players. Hopefully, when good kids are deciding which club to throw in their lot with at 12 or 13, they will see those three and understand that, perhaps, they have a better chance at Burnley.
Kyle might be the one who gets the headlines this week; it's already almost forgotten that only three weeks ago it was a 14 year old on our books who was getting the attention. It's all gone quiet on that front now. Hopefully, we can keep hold of him and get the opportunity to see him travel down the same road that Kyle is gradually travelling. Hopefully, he too will watch Kyle's progression and see that learning his trade at Burnley might be a better bet than giving in to the false allure of the big city giants.
But for now, let Kyle enjoy the acclaim. Let's hope his form continues on Saturday. And let us hope that he proves to be the first of many. Indeed, the time may almost be upon us when we can expect that he will be.