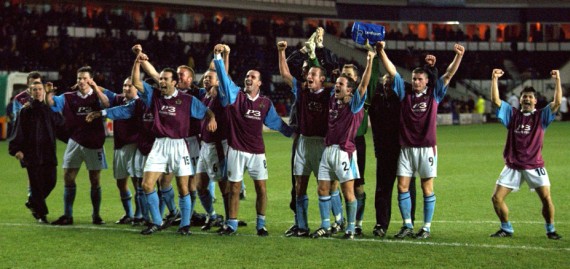 An 'I was there moment' - the cup win at Derby in 1999
If there is any truth in that, it is being sorely tested at Burnley Football Club right now. After 18 league games without a win, and four goals in 2007, it is difficult to see where the remotest pleasure can be found in our current plight.
I don't happen to believe that there is any truth in such a cliché anyway. True, it is sadly inevitable that for those of us who watch our football further down the ladder, there will be less success to cherish, and less skill and sophistication to enjoy.
True, that the years of famine mean that, when the feast arrives in the shape of one of those euphoric occasions which make it all worthwhile, they feel even more special. And true, there have of course been many games where, in the disappointment of defeat, there has been an 'I was there moment'; a moment which inspires pride and loyalty to the Burnley creed:
But no-one wakes up one morning and decides to follow Burnley - or any other club - because they will win and entertain less frequently than one of the glamour clubs. nor because we might make the best of a bad deal from time to time. It is often said that following Burnley isn't so much a choice you make as something you are given. Even then, though, you reserve the right to desire a certain level of entertainment, and to wish for ever greater success.
No-one enjoys watching their team lose. Christ, as a supporter who cares, it hurts deeply, every single time. No Burnley supporter I know doesn't ultimately want to see Burnley in the Premiership. We all want to live that dream: you know, the one in which we get promoted, and successfully mix it with the big clubs, win trophies and play champagne football.
And it is blatantly obvious amongst supporters right now that there is no enjoyment to be gained from going to games. It has been sapped, gradually, over the past three years - and now, with the football lacking any sort of spark, it is taking its toll.
It is impossible to escape the conclusion right now that Burnley Football Club is ebbing away, little by little. It is a feeling which has been growing over several seasons of standing still whilst others have moved on. With little by way of quality football, and even less by way of tension and drama, our collective senses have been dulled. People have got bored, and drifted away; others are reaching the end of their tether, stumbling away from the club whilst trying to shake themselves free of the torpor which surrounds it.
Steve Cotterill - his position must be up for review
Whether Steve Cotterill is going to be Burnley manager next year must be an open question. Whether or not he has turned down three jobs whilst he's been Burnley manager, however many hours he has put in, his position must be up for review. But his press interview this week was an odd time to be bringing up the subject. It is irrelevant, a distant second to saving, in just 8 games, both his career and for the fine old institution of which he is steward.
He can say for as long as he likes that his players will fight to the end, and he can say as loudly as he likes that he is hurting as much as anyone. At least he sounds like a man who is hurting, even though his players - ground down by going so long without a semblance of confidence - don't seem to have the energy to stir themselves for a fight. But he isn't talking like a leader right now. He is talking like a man running for cover from the bullets. The irony is, those bullets aren't raining down upon him.
Yet if there aren't bullets from the paying public, you would have thought there would be a sense of togetherness. But no. It hasn't sunk in yet, the fact that we are sliding towards the bottom of this league, whilst supporters drift away. Amongst those who do realise, there seems to be a sense of inevitability. There isn't even a discernible sense of frustration on the terraces. There isn't anything there at all.
And there should be - there must be. There has to be that "a roar of defiance", as John Sadler famously wrote of Jimmy Mullen's Claret and Blue Army, back in 1992 at Derby. That was one of those memorable days in defeat. I can remember another, on a dismal Boxing Day when we lost in a downpour at Bury. Stan was the manager, we were 4-0 down almost before we'd started, yet the three sides of Gigg Lane which turned out to hold the Burnley contingent stoked up one hell of a din. I had a mate with me who swore he'd never seen anything like it.
Sometimes, football is oversimplified by those who call for commitment and passion to the exclusion of all else. Yet this time, they might just be right. The rest of the equation is irrelevant unless that can be breathed back into this season. Without a rekindling of spirit and a slice of luck - a goalkeeping error, a refereeing mistake, something like that in our favour - then as it stands, the stark truth is that we are going down.
So what Steve Cotterill meant to say, when he was talking with a certain defiance about himself and his players, is that those players needed to be carried. Carried along by the Longside, by the Jimmy Mac - sod it, even by the Bob Lord. If you are going tonight night, or even thinking about it, read that article by
John Sadler
first. Get the hairs on your neck standing on end Read the section on the
Orient game
, and consider this: if we continue to stumble downwards, we might yet be there again, for the slide will not be easily arrested.
Remember the great Longside nights: There is a grand roll call of magical evening atmospheres down the years. And get there tonight night, shaken free of the pessimism which has come to surround the club in the depths of this abysmal run. Whatever you may think of the players, or the manager, leave it at the gate. Go determined that the players should be inspired.
This won't be fun. It won't be why we love watching football. But if we win - well. You don't need me to tell you it would be another of those euphoric moments. And if we can't have the pleasure of decent football right now, we might as well do everything possible to have one of those nights.