Learning Lessons
Well, we could all be forgiven for experiencing a sense of déjà vu.
Unfulfilling? Arguably worse than that, for autumn engendered legitimate hopes. Unlike in the previous two seasons, the football was attractive and penetrative and played with the swagger of a team who believed they belonged in the promotion pack. And worse, too because of what followed - the sheer awfulness of a 19 game winless run.


Andy Gray - no thoughts of promotion after his metatarsal injury
With a single kick to the metatarsal of Andy Gray, thoughts of promotion turned gradually to relegation. No-one should kid themselves that it was not a realistic possibility. If we had failed to beat Plymouth, then Easter fixtures against Birmingham and Cardiff would surely have proved different propositions; had 3 wins been turned to no wins, our cushion from the relegation dog fight would have been extinguished.
Thankfully, we got that long overdue triumph, and embarked upon a jolly if rather meaningless run of pleasingly enjoyable victories to finish with some credit. But that should not prevent the type of root and branch analysis of the previous 12 months that would have taken place had we been relegated. There are lessons to be learnt, and they should be heeded.


And that has to start with Steve Cotterill himself. He did a solid job in his first two seasons, under tight restraints. But the shackles came off in January, if they didn't last summer, and the aftermath could have seen him sacked by a less forgiving board. Cotterill is obviously bright, obviously a good coach about whom former charges like Frank Sinclair speak warmly. Yet he has still to prove himself as a builder of teams and as a leader of men in adversity.


I was away for much of that winless run, and I missed much of the awfulness. I arrived back in time for the Southend defeat and the away tie with Preston, and heard the radio interviews with a manager who seemed increasingly desperate - desperate to reassure, desperate to remind everyone of his credentials, desperate for a result but not entirely sure how to achieve it.


And it is worrying, too, that the rot was only stopped once Cotterill abandoned his preferred strategy. He said at one point that had he signed Joey Gudjonsson sooner, he would not have bothered with Eric Djemba-Djemba, and his persistence with the Icelandic's energy whilst Eric sat on the bench seemed to confirm this preference. He re-signed Akinbiyi to play alongside Andy Gray, and whilst a mutual lack of fitness has hardly helped, a partnership has yet to be born.


Had the two permanent signings not been binned in favour of Djemba-Djemba and Paul McVeigh, we might well have been relegated. This is not the first time such an about turn has been required - it was necessary early on in both previous seasons, when Gifton was dropped and recalled respectively - and it is a concerning trend.


Yet even if he has failed to heed some lessons to date, he is young enough to do so. That is surely part of the bargain when you appoint a young manager rather than a veteran: you accept the mistakes on the promise of the rewards his potential offers.


And there is already evidence that he has learnt one of the chief lessons of this campaign: if a midfielder with the presence and ball-playing quality of Djemba-Djemba was not previously in the game plan, Cotterill's public courting of him would indicate that policy has changed. Rightly so, for a midfielder of his type and quality - even if it may well end up being someone else - must be one of our top priorities this summer.


It is not, though, simply about Cotterill's strengths and weaknesses: the whole strategy which is underpinning this squad building must be evaluated. It is never nice to learn lessons from your neighbours, but we could take a leaf or two out of Preston's book. Perhaps they got lucky a few years back when they cashed in at the right time; but the fact remains that having done so, they have continued to invest wisely in players likely to turn in a profit such as David Nugent. Whilst Preston were selling Gregan and Macken, we were investing in our squad. Yet we squandered it on players who, with the honourable exception of Robbie Blake, bled the club of wages whilst their values wasted.


If it is true that we now have some money to spend, then it is vital that we follow the model that Preston chose, rather than the one implied by the misguided signing of Akinbiyi. Even if he scores a few goals next year, his transfer fee, £750,000, will never be recovered.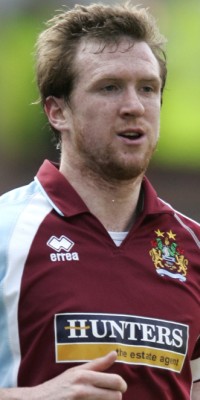 Steven Caldwell - fine addition in January
If we make an exception for the class of Eric Djemba-Djemba, then we should be looking for players who are young and promising, capable of holding their value or even in increasing it. If you are lucky enough to come into an inheritance, then you oughtn't blowing it on a job lot of lottery tickets for a one time shot at the Premiership. Please god, lets invest it in something where the returns are rather more reliable; use the funds to set this club up for the longer haul.
Is the team better now than it was last summer? Probably, yes. Steven Caldwell was a fine addition in that January spree, and he has brought the best out of Wayne Thomas alongside him. With the continuing development of Mike Duff, the centre back berths are not ones which need reinforcing. Wade Elliott has developed into a reliable operator down the right flank - although the feeling persists that in one of the best teams in the league he would not be an automatic pick - whilst McCann and Lafferty have both improved. Joey Gudjonsson still has plenty to prove, but his track record suggests he could yet develop into the pocket dynamo to compliment that classy operator we were talking about earlier. He has the potential to provide a better all round package than James O'Connor, who remains the perennial underdog, not quite good enough to cross into the favourites' corner.


But if this stated aim of a promotion push is to materialise into something more than fine words, then Cotterill is right to want 5 players. As well as strengthening the centre of the field, he will surely be after a right back, a goalkeeper, and then surely a winger - perhaps on the left, with real pace and the ability to score goals. Up front, there is that vacancy for a tricky player with the intelligence to make us play football I've mentioned previously. If there's still something left over from that little lot, then Jon Harley could certainly benefit from some competition for the left back berth.


Whether or not we have the funds to make that wish list come true, time will tell. But whatever we do have must be spent wisely. Steve Cotterill's original job description was to identify, sign and develop a squad with a youthful edge. And now that the excuses have been exhausted, it is up to him to go out and demonstrate that he is capable of that, to turn his undoubted managerial potential into tangible Championship achievement.


For the futures of Burnley Football Club and Steve Cotterill, this will be a significant summer.