And yet the news that an apparently bright, ambitious young manager has departed to a lower league club has come from left-field. Even Howe's detractors – an expanding bunch recently – have been caught on the hop by his sudden development of an irresistible homing instinct.
Any concerns for the future are not borne of Howe's record at Burnley. His tenure has been OK – a curious mixture of forgettable mediocrity, and unfettered, slapstick entertainment. His one full season in the job was inconsistent but ultimately fine, and this season was shaping up in a similar fashion.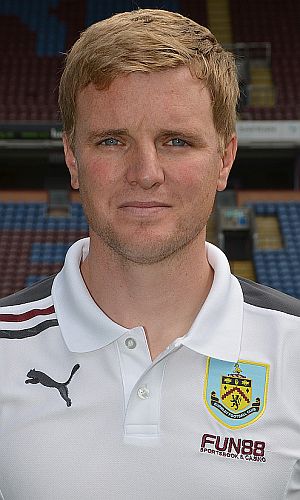 But there are fears. And perhaps the biggest of them is that Howe's departure will have a huge impact on the entire infrastructure of the club.
Howe brought in a whole staff to work with the first team, but his influence went much farther. He overhauled the scouting network. And perhaps most critically, he reconfigured the youth setup and brought in a host of new figures to work within it. In time, we can expect a sizeable number of these men to follow Howe to Dorset, whilst many of his projects remain unfinished.
Although the scale is now greater, this is not a new problem: each of the last three managers has changed the structure of the club. Owen Coyle introduced the concept of a development squad, and then cleared off to Bolton with an entire coaching staff, plus the chief scout. That forced Brian Laws to recruit a whole new backroom team, but he also made changes to the scouting and youth set-ups. And then came Howe, with his enormous entourage and far-reaching reforms.
That is just off the pitch. Each of those managers has also imposed a distinct playing philosophy. Coyle preached high-tempo, attacking football and individual creativity. Laws preferred a more rigid, disciplined and direct approach. Howe's style has appeared to emphasise patient possession above tempo, and tight teamwork above individual flair.
That confusion is reflected in a squad which remains a mishmash of all three influences – despite a vast turnover of playing personnel.
This constant state of revolution is simply unsustainable at a club like Burnley. For a start, we simply cannot afford the cost of a revolving-door of players and staff. But equally importantly, it robs us of the stability which was such a key advantage in developing a squad which could win promotion in 2009.
The solution is not to demand that managers stay in the post for longer. Burnley is not a big enough club to retain a successful manager for more than three or so years, and it would be absurd to shy away from appointing the best candidate out of a fear that they may move on.
And so there is only one answer: to re-think the role of the manager, so that they no longer control all football matters throughout the club. It means, in short, appointing a director of football – or technical director – to guide the overall strategy of the club.
It has worked at both Reading and West Brom, who have been arguably the most successful 'town' clubs in the country during the last ten years. Neither Dan Ashworth nor Nicky Hammond is well-known, but both are widely credited with implementing the structures which have made their clubs so successful.
The director of football should be an unobtrusive, background figure, happy to allow the manager to run the first team they see fit. That should include recruiting both coaches and players.
But it makes sense for a technical director, and not the manager, to manage scouting, youth development and matters beyond the first team. And the technical director should be responsible for appointing that manager and ensuring he fits into a long-term strategy based upon a consistent style of football. In a sense, it is an expanded version of the role that Martin Dobson held until recently as Director of Youth.
So Burnley should not only be looking to replace Eddie Howe, but for a technical director to work above that manager. That means our next manager should not be someone like Mick McCarthy or Billy Davies who would demand absolute authority. It should be someone whose strength lies in coaching and developing players and teams – and who is also comfortable embracing the philosophy and personnel that Howe leaves behind.
That leaves a list of candidates which divides into two categories. There are those who are currently coaching: a list which might include Warren Joyce and Mike Phelan of Manchester United, Sam Allardyce's assistant Neil McDonald, and Kevin Ball, currently managing Sunderland's reserve team. Brendan Rodgers and Steve Clarke are two current managers who have demonstrated that there is no reason why the transition from coach to manager should not be successful.
And there are those like Micky Mellon, Mark Yates and Steve Davis – all ex-clarets – who, after first serving apprenticeships as coaches, have started well in management in the lower divisions.
Then there is one possible candidate who offers a little bit of both. Michael Appleton won plaudits for his work as a coach at West Brom, and is now cutting his teeth amid the chaos and instability of Portsmouth. Those who know his work reckon he is a little bit special. And, with his background at West Brom, he might just be willing to embrace the same model at Burnley.
Identifying the right man to fill that behind-the-scenes, strategic role will take longer. It might be someone none of us have heard of; perhaps that would be best, because it is a role for someone who does not seek the limelight. The front man can take the glory, and make the headlines when he moves on – just as Owen Coyle and Eddie Howe have done. But when the next one moves on, that man in the background should help us to face the future with more continuity, and more certainty, than we do right now.