Again I was at the Old Trafford test match. But on that occasion a radio was required because Burnley were playing Bolton Wanderers in the curtain raiser to the 2013/14 Football League season.

Had someone told me that day that our start to the 2014/15 season would be delayed as a result of promotion to the Premier League, I wouldn't have believed them. A 1-1 draw with Bolton seemed like an encouraging start for a relatively threadbare squad which it was assumed would have no aspirations beyond mid-table security.
After a magical season that exceeded all of our wildest dreams, it is worth recalling the doubts that abounded 12 months ago. The summer of 2013 was not judged by many supporters a roaring success given the decision to sell and not replace Charlie Austin. And our transfer activity in the summer of 2014 might be politely described as understated. New arrivals have been limited to two strikers who were surplus to requirements at their Championship-level clubs and three free transfers, even if Matt Taylor looks an astute addition which adds Premier League pedigree to a squad short of proven performers at the top level.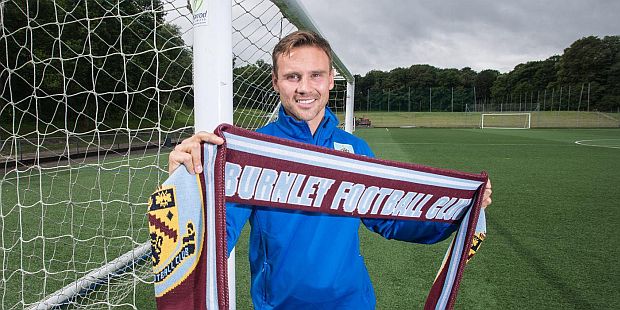 Matt Taylor looks an astute addition
Attempts to bring in additional reinforcements seem to have foundered largely on the reluctance of the club to pay asking prices inflated by the influx of TV cash and the astonishing £11 million transfer of Ross McCormack to Fulham. Whatever the exact reasons it leaves the squad looking thin: the first eleven looks short of a couple of players down its spine, notably at centre back, whilst the bench is short of options in wide areas in particular. Even if there are late arrivals, it is a blow that they have missed pre-season.
Together with the club's ill-conceived and badly executed ticketing initiatives for the new season - the solution to the perceived problem of fans drifting away after relegation 4 years ago being to vastly inflate season ticket and match-day prices whilst reducing home capacity, thereby discouraging or preventing those occasional fans from attending in the first place in what is either a cynical financial calculation or a cunning plan worthy of Blackadder's Baldrick - it has, at least in the mind of this supporter, contributed to a slightly flat sensation in the build up to what should by any logic be an eagerly anticipated kick-off.

Perhaps there is also a nagging memory of what happened last time around, when a thrilling start to the season gave way to a bleak winter and spring during which satisfying performances and positive results became increasingly rare - culminating in the nadir of a 6-1 home humiliation by Manchester City.
I once read a comment from a fan of another small-town club to endure immediate relegation from the top-flight that whilst the prospect of games against the major clubs is initially one to savour, the novelty rapidly wears off if those games are not competitive. Or to put it another way, Burnley fans pay primarily because they want to watch Burnley win, rather than to watch exhibition performances by their opponents: the season in which promotion is won lives more fondly in the memory than a season of relegation that follows it. Perhaps directors and officials, seduced into price-hikes by the prospect of big-name opponents, can overlook that. It is why it feels so important that the squad is strengthened before September arrives.
But to get too downhearted would be to forget how the uncertainties that preceded last season were confounded. The bones of this squad are solid: teams do not win 93 points in the Championship often, and never by accident. Taylor and Reid supplement a midfield in which Marney and David Jones already know what it is like to play in the Premier League and to fight relegation from it. These are players toughened to the fallow spells which any team battling to establish itself is likely to suffer. Gilks, Duff, Kightly and Wallace will also have some insight of what is to be expected this season.

Meanwhile, the likes of Heaton, Ings, Mee, Trippier and Arfield are all young enough to establish careers at this level - and provide a mix of fearlessness and quality to the squad.
And then of course there is the priceless ingredient that perhaps we all underestimated a year ago: the value of a balanced, hungry team comprised of harmonious partnerships all over the pitch, fitter than their opponents, and in which each player knows their role and executes it precisely. Teamwork, workrate, togetherness and understanding may not in themselves be exciting, but even at this rarefied level they can carry a squad well beyond its natural station.

Finally, there is the reassuring thought that the last time we played at this level, we did so with a squad which - at least on paper - had more glaring deficiencies than this, yet it came close to surviving despite that winter of desperate turmoil and dissatisfaction. Indeed, there is a suspicion that even at the beginning of that season results were being achieved as a consequence of the inspirational optimism of Owen Coyle's personality, rather than the sort of diligent coaching and forensic detail required to implement Dyche's mantras of 'relentlessness' and 'framework'. Better players and more rigorous coaching ought to create a more solid base for survival; not losing a manager at about Christmas time might also help.
Perhaps this is the ultimate root of any frustration: this squad needs supplementing, not overhauling in order to stand a fighting chance. Without a little help, it may be destined for a difficult season - but with a handful of belated reinforcements it is capable of eclipsing the achievements of last May by staying up.

So there are plenty of reasons to get excited as the visit of Chelsea approaches. A game at Turf Moor under lights with a big crowd is always an occasion to relish – particularly when Burnley are the underdog, as Arsenal and Manchester United both found on our last foray into the Premier League. And this team proved last season that it is capable of going head to head with anyone on a one off occasion.
Anyway, perhaps it is better to avoid looking too far ahead and instead enjoy every game for the occasion it is. After all, we've been written off plenty of times before.