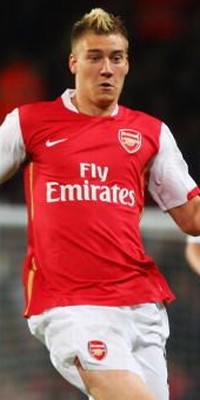 Nicklas Bendtner - sealed the win for Arsenal with the second goal
The generous words of Arsene Wenger, broadcast to the nation in the aftermath of his side's victory over Burnley. Generous, but also accurate, and replicated in the comments of neutrals across the land. Arsenal may have won the day, but the day belonged to Burnley: the day we were able to take on the high-priests of pure football at their own game, and prove worthy opponents.
This was, in every sense, a fine football match. It was a fine occasion, despite a crowd hit by the foolish decision of the powers-that-be to force people to buy two tickets when they only wanted one. Unusually in this day and age most of the crowd were in place early, perhaps to witness Arsenal warm up, or maybe to savour the occasion; either way, it was reflected in a crackling pre-match atmosphere. The match, fair spirited and open, lived up to that billing.
Indeed, it was probably the most attractive and sophisticated game of football played on this famous old ground since the days over which our elder fans become misty eyed, when the club lauded throughout the land for its purposeful passing and team ethic heralded not from North London, but from our unassuming Lancashire mill town. You could almost sense the ghosts of Bob Lord and Harry Potts sagely nodding their approval.
Arsenal were glorious. They are not a team of perfectionists; rather, they are virtuoso improvisers, prepared to give and receive imperfect passes instead of taking the touch which measures the pass at the cost of a crucial second. Theirs is a philosophy based on insatiable teamwork and on trust: trust in their techniques and those of their teammates, trust of their instincts and trust of their colleagues to embrace the movement and energy which must be ingrained in them everyday.
Yet they did not outclass Burnley. Yes, there was a clear gulf; a discernible difference of speed and awareness and straightforward skill. But Arsenal's first chance brought their first goal, and until Nicklas Bendtner sealed the win with 10 minutes to go, they had only a couple more. Meanwhile, that glorious opportunity fell to Kyle, his cannonball header Burnley's 'if only' moment, and McCann and Blake snatched at openings when they arrived. Then, just as the Clarets were beginning to believe in themselves, they were reduced to 10 men, yet it still took the second Arsenal goal to quell the gathering momentum.
Robbie Blake could learn a thing or two about the swiftness with which the Arsenal forwards released their colleagues, but he produced a string of fabulous cross-field passes and was the focus of most of Burnley's best attacks. Jon Harley did not neglect his defensive duties, but he attacked with an abandon rarely seen in a Burnley full back in recent times. Alexander and Caldwell called on all their experience to produce countless timely interceptions, whilst in front of them O'Connor proved a constant and tenacious thorn in the Gunners' side.
Together with the rest of the XI, they produced the type of football which had Wenger purring after the game. For Lafferty and McCann, the two prodigies of the Turf Moor staff, it was an education that will stay with them forever. His early header apart, Lafferty, like McCann, started slowly as though uncertain and hesitant in such exulted company. Yet as time passed, both found their place, grasped the tempo and pattern of the game and learnt on their feet - even if Lafferty's afternoon was brought to an abrupt end when he became the latest victim of the current trend to clamping down on over-exuberant tackles.
Owen Coyle deserves enormous credit for sending out his team with clear instructions not to kick Arsenal, but to engage them in a football match. Though he said before the game he wanted his team to pass the ball and attack Arsenal, it would have been easy to hide behind the proviso with which he qualified those bold words, and allow Arsenal's superiority to excuse wildly thrashed clearances to no-one in particular.
If Coyle's Burnley is to look like this, then there will be no complaints from anyone. Because what Arsenal demonstrated yesterday, as they do every week in the Premier League, is that pass and move football teams need not cost the earth and they can be disproportionately successful. Arsene Wenger holds the blueprint for success against the odds for clubs like Burnley; on Sunday, the team in Claret and Blue showed that they have the rudiments of the alchemy at the heart of that method.
But now for the hard part. As the alarm clocks awakened us on Monday morning to a working week after the magical escapism of the one-off cup tie, so it returned the playing and coaching staff of Burnley Football Club to the real world. Plymouth provide Coyle's next test, his next opportunity to win at home and the chance to replicate that performance which, if not quite good enough for Arsenal, should certainly prove sufficient to dispose of Argyle.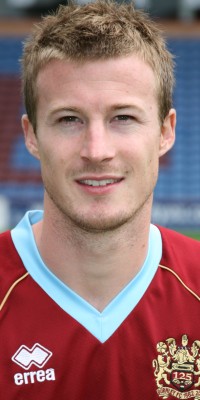 Wade Elliott - afforded space down the flank
Admittedly, Arsenal were prepared to offer Burnley the chance to play, and on Saturday Blake will once again find himself crowded by the two deep lying midfielders typical of Championship visitors. Nor are Lafferty, Elliott and Harley likely to find themselves afforded the space on the flanks that Arsenal were willing to offer. Once again, we will find ourselves seeking to breakdown a team intent on casting shackles over Turf Moor.
But the lesson is there, for all to see. Keep passing, keep shifting the ball with speed and purpose and with trust. And before this month is out, for gods sake find the capital from somewhere, anywhere, to add the necessary additions to a skeleton which proved itself capable on Sunday of football worthy of better than the Championship. Hyperbole? Nah. Arsene said it himself.
We haven't got long, as the likes of QPR, Ipswich Coventry et al begin their cash-inspired march, to capitalise on what we have here, before it drifts away from us and becomes a nigh-on impossible dream. And now, with the cup over but the memories and presumably the belief remaining, we have 20 league games to make something of our season; 20 games to live up to the promise which Sunday showed us.
We are nine points off the relegation zone. But we are also just four off the play-offs, despite streaks of disappointing results and only one win at home since the opening day of the season. It is rather like the football philosophy on show yesterday: you can either go forwards, believe in yourselves and have a go, or you can sit back and wait, take no risks and hope for a lucky break.
I could go back through the catalogue of these articles and pin-point any number of occasions on which I've been prompted to write about the potential of the Burnley side of the moment. On every occasion it was there, yet it went unfulfilled: a player was sold, or the opportunity to bring in the missing pieces was squandered.
And now we find ourselves at that same point again. Except this time, we didn't demonstrate our potential against a Championship side. We did it against Arsenal, and we did it with style. Whether it is to be a fine but ultimately meaningless one-off or the start of the fulfilment of stated ambitions and promises - well, that is the question. But our lads can play. Now a whole nation knows it. And so does Arsene Wenger.