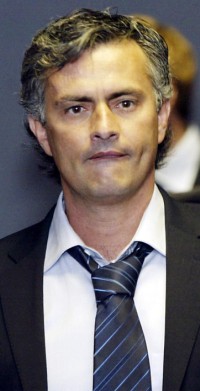 Jose Mourinho - his departure is a curious episode
Personally, I won't miss Mourinho. No doubt he was flamboyant and had that entertaining streak of arrogance and an eye for a good story. But there was a cynicism about him too which pervaded all aspects of his approach to football: his approach to the media could be manipulative, underhand and even bullying on occasions. Take the episode which forced Anders Frisk to retire as a referee, or his tirade against Reading after Peter Cech's injury last season as just two examples, and there are many more that could be cited. The fine line between endearing arrogance and gracelessness was one which Jose all too often crossed.
Despite all that, he managed to retain a place in the public's affection. But his team did not. For the cynicism which was indulged whenever Jose played his games in the media was never indulged when it was practiced by his team on the pitch. Given the possibilities allowed by the funds available to Mourinho, there was always a feeling that there was something deeply unfulfilling about his Chelsea team, regardless of how many trophies they won.
Trophies won do not show the whole story. It is like the man who sets out to measure his career solely in terms of the money he has made - his bank balance, the size of his house, his retreats in France and the like. He may have that, but without a reputation nor the admiration, if not friendship, of others then it is a fairly hollow success. And the same applies to Mourinho's Chelsea, formidable unit of athleticism and power though it undoubtedly was or is.
The relentless, military machinations of Mourinho's outfit did not beat teams so much as sap them of energy and life. They did not bewilder them with artistry and flair, as Arsenal or Manchester United might. They were rigid, drilled and devoid of sentiment - in stark contrast to the antics of their maker on the touchline. Mourinho's football is motivated by the end to the exclusion of the means, and whilst the multiple trophies which were that end might justify the approach to some, it is hardly the beautiful game at it's finest.
It's worth pondering the criticism occasionally levelled at Steve Cotterill at Burnley. Perhaps Cotterill is a manager of relatively rigid tactical principles. Perhaps. But consider this: if Robbie Blake were talented enough to grace that level of football, would he find a home at Mourinho's Chelsea? The answer is no - because players of sleight, rather than speed, of foot had little place in the grand design. And if Chelsea's blueprint of success, rather than that of Alex Ferguson or Arsene Wenger, informs the thinking of a generation of English coaches, as it may well do, then the legacy of Mourinho will be a bleak one for English football.
Had that been the reason why Roman Abramovich pushed him aside, then he would have deserved no criticism. And as far as it was the reason, he should be praised and understood, for if the rest of us can sense that he ought to have got more out of his investment than a few pots, then it must be all the more acute for him. Yet there was of course more to it than that - but the irony at the heart of the matter is that the dissent and derision matter not a jot to him.
The uneasy truth is that Mourinho left Chelsea because he dared to disagree with the owner of his club. Not because of results, nor, I suspect because he had lost the dressing room. To judge by their reaction to his passing, he had certainly not lost the fans.
Yet there was one man with whom he did disagree: and Roman Abramovich is the only man who matters at Chelsea. Abramovich has bought Chelsea, and has earned his right to play real-life Championship manager. In one sense you cannot blame him, for which of us would not take the chance if we had it to stride into Turf Moor and correct the mistakes which each of us perceive Steve Cotterill to be making?
That is a different topic for a different day. But the point is that Abramovich employed Mourinho rather like a medieval king employed a court jester: for his entertainment and amusement. When he did not like what he saw, he discarded him. He exercised the right he no doubt feels he earned when he bought Chelsea and rescued them from the brink of administration, and embarked upon a spending spree to bring the best and his favourite players to the club. Next to that investment, that of the supporters of Chelsea football club is negligible.
Contrast that to even the custodians of United and Liverpool, where at least the commercial value of the fans is central to their strategy. And, once again, compare and contrast with the more sedate, custodial approach of Brendan Flood and Barry Kilby, supporters doing their bit to put something back, rather than trying to live the dream themselves.
What supporters of Chelsea have realised this last week, after enjoying the ride for three years, is that they no longer matter in the slightest. They serve only to create an atmospheric backdrop to his real-life game; they could be replaced by extras, bussed in from around London, and Stamford Bridge would still serve its purpose as a place their owner can indulge a fantasy and entertain his high-rolling friends for an afternoon or an evening.
There is no place in Roman's world for anyone but Roman. Money cannot buy you everything, but it can buy you most things. And that includes the right to ignore anyone who dares to intrude upon Roman's Football Fantasy.
I made my season bow at the Turf last night, for the game against Portsmouth, and I couldn't let this week slip without sharing it with you.
I arrived just a little late, at 7.40; too late, it seemed, to get a programme, for there were none to be seen. Too late, it transpired, to see the first five minutes, after we'd spend the better part of 10 minutes queuing to get in. We were lucky, to be fair: those without tickets might well have missed 20 or even 25 minutes of the first half.
To close parts of the ground for a low-draw game makes sense; but to only open half the turnstiles for those parts of the ground that are open is plain cheap. And having made that crass economy in the first place, there was a straightforward remedy; acknowledge the problem and delay kick off to accommodate those fans. Everton managed it a week ago, so why could we not last night?
So well done, Burnley Football Club, on letting the poor sods who bothered to turn up suffer. I suppose it is worth hoping the same trick is pulled on Saturday when we play Palace. At least then as few people as possible will be present for the horrible, horrible debacle that is 'Chico time'.