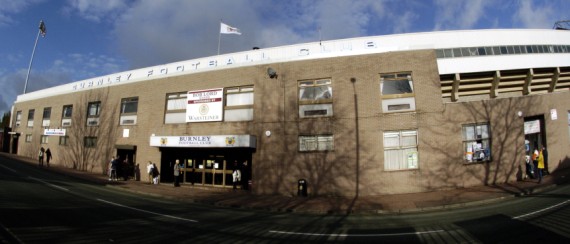 Turf Moor - from where all Burnley fans must travel to Ewood Park by bus
The first top flight meeting between Burnley and Blackburn for over 40 years ought to be a moment to savour, for supporters of both clubs. These are two clubs who, for all their geographical familiarity, were in danger of becoming strangers to one another. On several occasions over the past few years, it would not have been too outlandish to suggest the two would never meet on equal terms again, let alone that this was a derby match in danger of being lost to the top tier of English football forever.
Burnley and Blackburn are, in many respects, two clubs divided by a shared character. This is as old a rivalry as exists in football, dating back to the birth of league football, when the towns and valleys of Lancashire played host to a revolution in sporting competition. Despite the protestations of supporters on either side, the clubs are of similar size, with similar support: after experiencing vastly differing fortunes over the past twenty years, both now find their ambitions stymied by the cosmopolitan might of the Premier League. And the towns themselves have more similarities than many would care to admit.
Burnley versus Blackburn in the Premier League should be a passionate, fiercely fought encounter. But it should also be an occasion, a defiant reminder of the spirit upon which the game is founded.
Yet it is in danger of becoming no such thing. The news this week that Burnley supporters would be subjected to mandatory coach travel when we visit Ewood Park in October was one of the most depressing announcements that I can remember. It was, to be frank, an admission of defeat: an acknowledgement that both clubs and the authorities in East Lancashire do not believe they are capable of staging this game as a normal football match.
To that end, those of us who live outside Burnley, with no criminal record, and no history of football or other disorder, will be forced to add about 2 hours to our journey to Ewood Park to ensure we cannot possibly come into contact with any supporter wearing Blackburn Rovers colours on the day of the match. That is how long it will take for us to drive down the M65, past junction 4 of the M65, down to Burnley, in order to board a bus which will herd us, like cattle, back down the M65 before depositing us within inches of the turnstiles.
Given those aforementioned unblemished records, I have absolutely no idea what this breathtaking lack of trust is based upon. It cannot be based on the evidence in the matches in 2001 or 2005 because on both occasions, when coach travel was recommended but not mandatory, those fans who did arrive in the Darwen End under their own steam did not become embroiled in discernible trouble.
Indeed, given that only Burnley supporters with a significant number of loyalty points stand any chance whatsoever of being allocated tickets, it cannot be based on any other evidence from the last few years, either. These people will have previously purchased tickets for away games across the country. All will be season ticket holders. They are known to Burnley Football Club and the chances of them giving those precious tickets away so infinitesimally small as to be irrelevant.
What, then, can have prompted such a draconian measure? Have Blackburn Rovers supporters developed such a reputation that it is positively unsafe for away supporters to even be given the choice of running whatever gauntlet lies in wait? I am assured by those that I know that no such reputation exists.
For all the hype that goes with the game, for all the incendiary language used to describe the nature of the Burnley-Blackburn rivalry, the fact is that there is no meaningful history of violence between rival supporters attending games between the two clubs. There might be a history of violence between supporters away from the ground, in towns like Accrington where support is split. But that, of course, should have no bearing on the arrangements surrounding the game itself.
Interestingly, Lancashire Constabulary's statement on the match emphasised their intention to foster a family atmosphere on the day of the match. A family atmosphere? How? In an ideal world, friends of both creeds would be free to meet before the game, to enjoy an early lunch and a pint in one of the pubs of the Ribble Valley. That might sound a touch naïve, but it remains a good deal more plausible than the notion that those buses which will process down the M65 will be the sort of place to spend a family day out.
If Lancashire Police have good reason for demanding that law abiding grown men and women are incarcerated and ferried to and from Blackburn like errant children, then fine. Let them explain it to us. But in many respects, the most alarming aspect of this issue is the nature of the announcement itself: a simple statement that fans would be required to travel on the convoy of coaches, as though this ought to be the standard response to such a fixture.
The risk is that by choosing to treat this football match akin to a military operation in Beirut, the authorities will drive greater wedges between football supporters in East Lancashire and create an environment in which minor trouble is legitimised, because the perception will take root that a football match between Blackburn and Burnley which passes off without a major incident between rival supporters is a significant success - when it ought to be regarded as no such thing.
Of course there is a risk of trouble. There is at any event which draws a large crowd, and only a fool would suggest that this encounter does not carry a heightened risk. We allow large crowds to gather in this country, to protest or watch live events. We do so knowing that a minority of participants will be tempted to bring the event into disrepute. We accept that risk because we consider it a lesser evil than denying the majority their freedom.
Almost all of those attending Ewood Park on 18 October 2009 will be doing so because they want to be a part of one of the great occasions in English football. They want to soak up the banter, the build-up and all the other components of a derby day atmosphere which extend beyond the mere 90 minutes.
But instead of allowing supporters to savour the traditions of football in this corner of the world, the match will be overshadowed by the threat of widespread disorder. That, in itself, is a terrible shame. But it is not half as tragic as giving in to that threat. Nor, indeed, as the fact that the very authorities who are supposed to maintain order are as responsible as anyone else for allowing paranoia to take root.