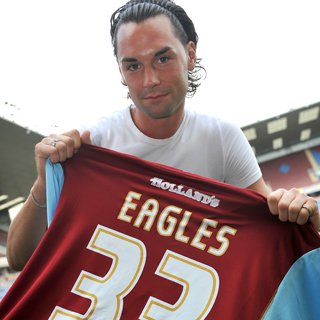 Picture kindly supplied by Burnley FC
Ladies and Gentleman, that direction would appear to have been chosen.
The same article stated that,
"the underlying intention should be to sign young, hungry players who have the as yet unrealised potential to be ultimately too good for this level of football"
. The signing of Chris Eagles, coming as it does on the heels of the arrivals of Kevin McDonald, Martin Paterson and Diego Penny, indicates that Burnley Football Club has taken the brave decision to move to such a policy. And, for that, it should be applauded.
Analysis of the balance and merits of the squad is for another day, but there is something about that quartet of signings which feels right. Penny? Plucked from a different culture but eager to prove himself in England. McDonald? 19 years old, raw and unproven, but with the power, poise and desire to go on to bigger things. Paterson: 21 years old, dynamic, and keen to prove that 14 Championship goals last time round was not just a flash in the pan.
And Eagles? 22 years old, with plenty of talent which is yet unproven. But if he does realise it, he can make that butterfly-inducing price tag appear paltry - just as the other three can.
All are young. All ambitious. All risks, because they cost substantial transfer fees, and there is never a guarantee that those will be recouped. But all come with the possibility of rich rewards - on the balance sheet and on the football pitch - in the years to come. These are not just good football deals. These are good business decisions, too.
With all respect to the first three, Eagles is the one Owen Coyle and Brendan Flood really needed, because his profile as a graduate of Sir Alex Ferguson's academy at Manchester United brings with it a certain star quality. This is the signing which ought to send out waves to borderline Burnley fans with the message that a spirit of enterprise and positive thinking is alive and well at Turf Moor.
Suddenly, supporters are tilting their chins upwards and seeing previously unsighted horizons beyond the mid-table wastes of the Championship. You only have to view the threads on this message board, and speak to supporters out and about. There is a sense of tingling excitement at what the nucleus of players now in the squad could achieve for the club in the future.
It needs to be held in check of course, because these players are not the finished articles, and there are other gaps in the squad. For this season at least, our expectations should be limited to some free rolling, entertaining football and the development of at least three of those players, plus the still maturing Chris McCann, into consistent Championship performers.
But the point is this: the oft-repeated mantra that we are a small club punching above our weight has always been correct. Yet it has never been a barrier to our success. It is an excuse. It merely provides an easy reason to set our targets lower than we should.
Once you remove that glass ceiling you soon discover that, with a bit of bravery and a bit of pizzazz, there is nothing to fear in this division. There is nothing to prevent a youthful team with vim and desire from prospering. And whether you simply produce that team with a view to ultimately selling its constituent parts to reinvest in the club, or whether you seek to keep it together and add to it with a view to challenging for promotion, the very fact there is a clearly defined purpose provides a raison d'etre to a previously drifting operation.
And what facilitated the arrival of each of these players? The sale, for over 3 million pounds, of a young player who caught the eye of the aristocracy of British Football. It may not have been an ideal departure, but Kyle Lafferty's exit has opened up the stage to a refreshed cast of young performers who could, with careful nurturing, provide us with the sort of drama and artistry and sense of hope which has, for too many years, been strangely absent from a Saturday afternoon at Turf Moor.
Positive energy is a remarkable thing. No-one should be getting carried away, or expecting too much too soon, but everyone, critic or sceptic or blind-loyal fan, should applaud the pathway down which the club has clearly and consciously decided to proceed. Roll on, the 9
th
of August.