Sam Allardyce - fielded a reserve team in the FA Cup
Forty eight hours later, Harry Redknapp and Martin O'Neill sent out similarly sub-strength sides as Tottenham Hotspur and Aston Villa exited the UEFA cup with barely a whimper.
And on Sunday, Arsene Wenger will almost certainly rest key players for our trip to Arsenal in order to concentrate on the Premier League.
Redknapp, perhaps, can argue that he had a cup final three days later which gave Spurs a better chance of winning something than a European campaign with 4 rounds still to run. But O'Neill cannot. His team are now 10 points behind Manchester United and are out of both domestic cups.
Neither he nor Wenger are motivated by winning trophies this season. Both are motivated by finishing fourth in the Premier League, or amongst the also-rans as it used to be known before the Champions League imbued that spot with a false status. Neither man, you sense, has the mere prestige of top-level European football at the forefront of their minds.
Both men, in short, are being driven almost exclusively by financial considerations.
Money has long been important in football. But where once it enabled clubs like Blackburn to realise their ambitions, now serves only to ensure that clubs without cash cannot and to ensure that those that have it are paralysed by the fear of losing it.
The problem is not so much that there is money in football these days; it is that those rewards are not spread evenly enough.
That is why Villa and Arsenal pursue this unseemly obsession with an otherwise mediocre league position. It is the reason that almost every team in the bottom of the Premier League has tossed cup football aside without a second thought this season, just as Bolton did last season when an appearance in the last 16 of the UEFA cup was deemed an inconvenience to be taken lightly; why Redknapp was so prepared to do likewise last Thursday night and why he was still talking about Spurs' relegation rivals immediately after losing the Carling Cup final.
And a brief look at the wreckage of the bottom half of the Championship demonstrates that Blackburn and Tottenham are right to be fearful. Charlton, Southampton, Watford and Sheffield Wednesday all bear testimony to the pain of the re-adjustment to life without the handouts on offer in the Premier League.
With the top-flight having just signed a new, still more lucrative television deal to help cushion the worst effects of the recession, the gap between the Premier League and the rest will get even wider. The Football League derives the majority of its income from gate receipts, topped up modestly by advertising and commercial revenues, and these are liable to plummet as fans and corporate sponsors alike find times hard.
That is bad news for every club in the Football League, particularly those who, like Burnley, rely upon handouts from wealthy directors whose own interests have been hit. But it has the potential to wreak particular havoc upon those clubs who are relegated from the Premiership, who must suddenly have to cope with an even greater fall in their income. And so it is difficult to blame clubs haunted by the spectre of relegation - which is just about every top-flight club not involved in the Champions League scrap - for treating everything else as an irrelevance.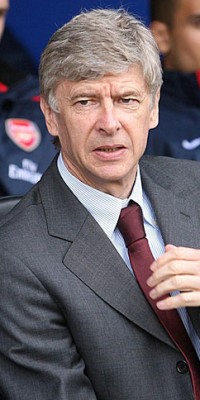 Arsene Wenger - revitalising Arsenal will be more difficult if they miss out on the Champions League
At the top end, it is the ghost of Leeds United which stalks the hallways of those four clubs who are have feasted on the fat of the Champions League in recent seasons: at the very least for Wenger, the consequences of missing out on the competition would make revitalising his Arsenal team ever-more difficult. O'Neill, on the other hand, knows the financial rewards of Champions League qualification offer the only means to develop his squad further.
Yet this is a sport we are talking about. The UEFA cup is undoubtedly a devalued competition which is far too long-winded and stacked full of third rate teams because any one half decent is in the Champions League. The FA cup may be a little battered these days. But these are trophies, senior competitions, the winning of which should in any rational system be prized higher than finishing four fifths of the way up the league table.
In every football club across the land, there is a room which contains a trophy cabinet. And in these shrines to past achievements are mementos of competitions won. Trophies, replicas, pennants of great occasions: not copies of cheques written by UEFA following qualification for the group stage of the Champions League.
Sport should be about achievement; about winning things and pursuing glory. It should be an escape from the relentless pursuit of financial gain in the real world; an alternative world in which success is not measured by the bottom line. Wealth should define the means within which a club must live, but it should not become the end itself.
Football has become a hostage to the fortunes vested in league competition; clubs have become addicted to that cash, paralysed by the knowledge that they might be unable to exist without it. Until such time as the FA and UEFA begin to rebalance resources throughout the game, football will continue to retreat to an elite league and a flagship European tournament, with other competitions such as the FA Cup cast aside as an irrelevant, energy sapping irritation.
If the FA cup or the UEFA suffers from an image problem, then this is the fundamental cause: they are fighting for space in a hostile environment, one in which it is no longer the winning which counts, but the financial consequences of taking part - the consequence of a terrible betrayal of the very essence of a sport.