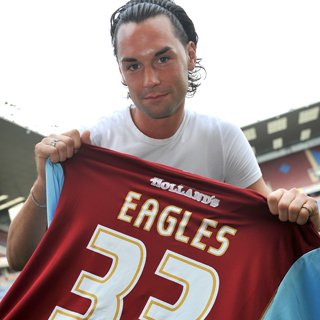 Chris Eagles - will add pace and mobility
Coyle ended last season stating that he intended to add youth, athleticism, power and pace to the squad, and he should reflect on a job well started. It is by no means done - there remain at least a couple of big, gaping holes to be filled before this squad can be considered complete - but those attributes are very much in evidence amongst most of those who have arrived.
Martin Paterson should add pace to the forward line, whilst the flagship capture of the summer, Chris Eagles, will add pace and mobility in the attacking third. He is also six feet tall - as are the central midfield arrivals, Remco van der Schaaf and Kevin McDonald. Christian Kalvenes and Diego Penny, meanwhile, fill situations left vacant by the departure of Jon Harley and Coyle's lack of faith in either of his inherited goalkeepers respectively.
As I wrote last week, the four cash signings offer the sort of youthful potential which ought to be at the heart of the strategy of this football club. But wisely, Coyle has also sourced a couple of more experienced Bosman transfers, and van der Schaaf in particular looks an astute signing which will add substance and no little nous to the centre of our midfield. Quite aside from influencing games in his own right, his presence ought to assist the development of the young tyros, McCann and McDonald, who will presumably vie for the right to partner him in the centre of midfield.
I say presumably because as I write this, no-one can be sure what Owen Coyle regards as his strongest team; indeed, that may include Coyle himself. We can probably start with a few certainties: Penny will start between the sticks, whilst Kalvenes will slot in at left back and van der Schaaf will sit at the base of midfield. When fit, Clarke Carlisle is likely to take the right-sided centre back slot, and Martin Paterson will presumably be the furthest man forwards.
Beyond that, the permutations are endless. Eagles will start somewhere, but that could be on the left or on the right or in an attacking, central role. McCann seems most likely to start the season along side van der Schaaf, but Alan Mahon and Joey Gudjonsson, as well as McDonald, enter that equation - indeed, Coyle may opt to play a third man in the centre of the park. Yet if he were to do that, then he would be unable to play both Robbie Blake and Wade Elliott, whilst Aleksandrs Solovjovs, should negotiations following his trial end successfully, will make a case for a left wing berth. If Coyle wants a natural left footer to add balance to the side, then one of Blake or Elliott will have to make way.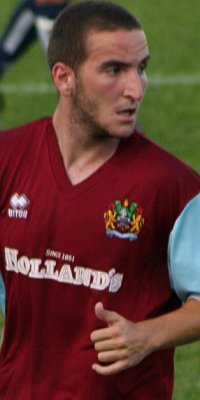 Martin Paterson - to play in front of Eagles, Blake & Elliott
But one suspects that, at least initially, the loose trio of Eagles, Blake and Elliott will start behind Paterson in a modern, continental style 4-2-3-1 system which has rarely been spotted in the Football League Championship. It is certainly ambitious and enterprising, and if it works, it will win us many friends this season as a counterpoint to the functional 4-4-2 which characterises the majority of teams in this league.
Yet Coyle will know that the job is not yet done and that pre-season optimism must be tempered with a dose of realism. He has 24 senior players now: too many for a club like ours. Teams which win promotion rarely use more than 20 players in any event, and economic and football sense suggests that Coyle will soon need to allow 2 or 3 of his squad to leave in order to free up space for the further reinforcements needed to make this team a real force.
Six central midfielders, in particular, looks something of an extravagance and if neither feature prominently early on, both Mahon and Gudjonsson will begin to look like luxury items. At least one ought to move on, particularly if Solovjovs does indeed arrive.
Similarly, Steven Caldwell looks vulnerable if Coyle looks to free up cash to invest in the new, more athletic centre half which must be the next priority. On the outside, neither Michael Duff or Graham Alexander possess the mobility at right back which is so important to making a success of the fluid attacking formation preferred by Coyle; time will tell whether Kalvenes can provide it on the left.
After that, for all the height we now possess in midfield, there is only Ade Akinbiyi amongst the forward options who might be expected to weigh in with many headed goals, and he, by his own admission, is coming to the end of his shelf life. Arguably, a greater aerial presence is required, either from the left flank or as an alternative to Paterson down the centre, if the opportunities we ought to create are not to be squandered.
But, given that Stoke won promotion last season with Richard Cresswell masquerading as a left winger, we can safely say that a complete squad is not a pre-requisite of a drive at the top of this division.
Coyle's team is a work in progress, but the picture which is emerging is an attractive one, with flair, dash and youthful vim and vigour. This is a squad which, even without further surgery, looks capable of finishing in a creditable position in the division, with plenty of goals scored and a few less conceded.
If it gels especially well and a miracle cure is found for lapses of defensive organisation and concentration, then it could break through the glass ceiling which has constrained this club for too many fallow years. If it doesn't, then we can console ourselves by watching a team entertain and grow together in the best traditions of this football club. There will be next season for these boys. That, you see, is the priceless beauty of placing your faith in youth.