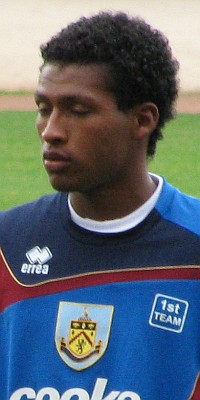 Fernando Guerrero - the unheard of exotic 19 year old
As soon as the ball moves in The Potteries, the significance of May's Wembley fairytale should finally dawn on most of us. If it doesn't, then it may do later in the evening, when Gary Lineker introduces highlights of the Premier League clash between Stoke and Burnley from the Britannia Stadium.
For the first time since Harold Wilson was Prime Minister, Burnley will have started a season in the top flight of English football.
None of us, really, are quite ready for this return, because the faint air of surrealism has been tangible throughout pre-season. Suddenly, we've been engulfed in a pleasing haze of £2 million transfer fees for unheard of, exotic, 19 year olds and club record outlays for Scottish international centre forwards. We've been high on heady optimism, hoping we'll spend seven figures once or twice more to bring in previously unobtainable names who might suddenly be within our means, but I don't think many of us have truly grasped that within a fortnight Everton and Manchester United will have visited Turf Moor as our equals.
The close season seems to have gone quicker than ever, perhaps because since the glorious climax to the last campaign was just two months ago it has, in fact, been about as short as ever. And it's not helped by the fact we've barely had a summer, or the fact the Ashes are still in full swing, or the sense that Owen Coyle's team building is still incomplete, a race against time which has not quite been completed before the deadline.
Coyle has been busy, bringing in five permanent signings, including 4 defenders, and last week capturing Fernando Guerrero on a season long loan.
They are a good mix: all, with the arguable exception of Tyrone Mears, are young; all, without exception, are hungry to prove themselves at the top level. All will inject the priceless and previously lacking commodity of pace to the side. But there is precious little pedigree at this level.
Coyle has rightly calculated that both the long and short term interests of the club are best served by placing an emphasis on youth, and is no doubt banking on the enthusiasm and fearlessness of technically gifted youngsters overcoming the inevitable shortcomings of naivety.
But common sense suggests that a calm, confident counterpoint to that exuberance is needed - and for that, we must look again to Graham Alexander and Steven Caldwell, both reassuring in the Championship last season but no doubt fighting their own insecurities about stepping outside their comfort zones.
You sense, then, that in the absence of a keynote signing to bolster either the heart of defence or midfield, those two hold the key to Burnley's fortunes this season. If they each rise to the challenge, then the Clarets may hold their own. If they do not, then there is no plan B and Coyle could find himself trying to hold back a relentless tide with all the success of King Knut.
Whilst pre-season form rarely has too much of a bearing once the season starts in earnest, performances and results against supposedly inferior opposition have been a little unsettling and there has been little pattern to Coyle's selections from which discern the starting eleven or formation he intends to favour come next Saturday. In more negative moments, it is tempting to wonder whether the batteries really are recharged from last season, or whether the physical and emotional toll of a 61-game season dragging on until the end of May has had a residual impact which could handicap the Clarets all year.
But enough of those doubts. Owen Coyle would not tolerate such negativity. He would remind us that, although we should be respectful of our opponents, we too have good players who can live at this level.
And he is right: we do. The thing that most promoted sides find especially difficult is fashioning opportunities to score goals, yet in Eagles, Elliott, McCann and Blake, Burnley have an attacking quartet - now supplemented by Guerrero - which possesses the quality to create those chances against Premier League defences.
Steven Fletcher has been brought in to capitalise upon a decent proportion of those openings and the verdict from north of the border is that we have a fine player on our hands. If he can score between eight and ten goals this season, then Coyle's team will have taken an enormous step towards survival. With the likes of Paterson and the fast-improving Rodriguez in reserve and those attacking midfielders capable of contributing, Burnley ought to be capable of finding the remaining 30 goals necessary to make survival a realistic proposition.
The example of West Bromwich Albion last season has been used to support the claim that sides such as Burnley who seek to pass the ball are destined to fail. But that ignores the example of Reading, who finished 8th in their first season in the league with an enterprising style of play, despite making relatively few additions to their squad. They relied upon homespun successes such Kevin Doyle, Nicky Hunt and Steve Sidwell - and, like Coyle's Burnley, placed great emphasis on teamwork, tempo and denying opponents time on the ball.
Much will inevitably depend on home form, and no top flight ground will be a less appealing proposition for away teams than Turf Moor next season. Spartan, outdated facilities are unlikely to appeal to the cosseted folk of the Premier League circuit, whilst the visits of Arsenal and Spurs last season demonstrated that, when Turf Moor is packed with bodies and passion, it is a bullring which can inspire its own and browbeat opponents in equal measure.
The return of home fans to the Cricket Field Stand should enhance that advantage by enabling home support to reverberate between all four stands this season. And the awkward journey to Turf Moor - up beyond Manchester, beyond even Blackburn before the coach leaves the motorway and picks its way across the town to the ground - is one that few visitors will relish. By contrast, with the town having reconnected with its football club in spectacular fashion in recent months, Coyle's men ought to be lifted every time they drive into town for a match or for training.
And so, 33 years on, perhaps not that much has really changed. The game might be largely transformed and the numbers might be greater now, but Burnley was always the small town team which no-one enjoyed visiting and which made heroes out of its players. The bond between town, supporters and football club and the emphasis on youthful endeavour and teamwork sustained top-flight football once before until the formula ran out in 1976.
Whether it will be enough to keep Burnley up in 2010, it is hard to say. There are reasons to be optimistic and there are reasons to be cautious. But there is nothing to fear from the next nine months. Burnley will once again be enterprising and adventurous, tightly bound and determined. There are stories to be written between now and next May, and no-one who has watched Owen Coyle's Burnley over the last year should believe that anything is impossible.