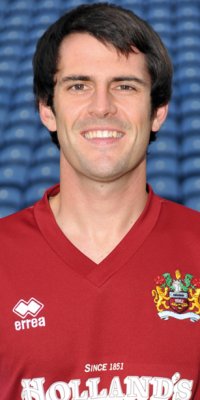 Steven Thompson - scored the late, late winner against Charlton last season to end the run of five successive defeats
Glen Little's penalty miss at Manchester City in December 2001 is one easily identifiable example in Burnley's recent history; Steven Thompson's late, late winner against Charlton last season which ended that run of 5 successive defeats is another, happier, instance - as is Ian Wright's last gasp equaliser in deepest Kent at Gillingham, scored just as Radio Lancashire's live commentary disappeared from the airwaves, which opened his Burnley account and kick-started the Clarets' charge towards automatic promotion.
It is debateable whether they are really as significant as popular legend would have us believe. Perhaps even without Little's penalty miss, Burnley would have lost at Maine Road, or at least begun to fall away from the summit of the league sooner rather than later. Equally, perhaps class would have told eventually last season regardless of whether a home game against Charlton yielded one point or three.
But so important is momentum in football - indeed, in sport in general - that you doubt it. Each of those events created or punctured momentum, so that events which might have been comparatively insignificant when viewed in isolation come to assume a disproportionate importance.
Perhaps, in time, supporters of West Ham United will come to view the soft free kick which ultimately resulted in a goal on Sunday as such a line in the sand: Arsenal were cruising at 2-0, but with the arrears halved, West Ham's equaliser became practically inevitable. Upton Park celebrated one point as though it were three.
Burnley's fate will not be sealed either way this Saturday when Hull City visit Turf Moor, but already it has the look of a match which might ultimately prove pivotal. It might not be the most alluring game on the Turf Moor agenda this season, but it will almost certainly prove one the most crucial.
Win it, and Burnley will be seven points clear of Hull, which is more than it sounds at the bottom of the Premier League. Lose it, however, and Burnley will find themselves just a point above their opponents. That is the old six-pointer equation. But more troublingly, a loss would be a third successive defeat, with subsequent fixtures away to Manchester City and at home to Villa looking ever more daunting.
And we go into the game with cracks beginning to appear in the facade of fortress Turf Moor. Not only did the fabled unbeaten record end to Wigan on Saturday, but the final minutes of the match were played out against a soundtrack of quiet grumbles around Turf Moor. The frailties of our team have been largely masked at home by the intensity of their teamwork, but at times Wigan laid them bare.
So Saturday will be an enormous test for Burnley. Not just for the players, of course. For everyone: for the players, the management and yes, the supporters. The Clarets will not necessarily play well against Hull. The visitors will be powerful and well-organised. They will aim to disrupt Burnley's flow just as Wigan did, by conceding cheap free-kicks and slowing the game down to prevent Burnley exploiting spaces. It may be a game when patience is a virtue and frustration around Turf Moor Hull's greatest weapon.
The Premier League season is still barely formed, but already it is abundantly clear that to compete, the Burnley team need adrenalin to be coursing through their veins. Without it, they think too much. Thought makes them slow down the speed of their passing in attack and it makes them hesitate to commit to the tackle or the block in the defensive third of the pitch.
At home, adrenalin has provided the shot of confidence and intensity necessary to compete with and overcome apparently superior sides. And generally, the atmosphere of an almost-full Turf Moor has been conducive to producing that magic ingredient - which is why it must be hoped that no-one takes the view this weekend that Hull at home is a good one to miss, and that those who do turn up arrive in hope and nervous anticipation rather than in expectation.
Inevitably, certain players have adapted better than others to Premier League football. Others have flickered intermittently, perfectly at home one moment and lost the next. But importantly, all have suggested that they have a role to play in the team this season, even if some formerly integral members of the first XI may ultimately have to accept cameo roles changing or shoring up matches from the bench.
Tough choices eventually await Owen Coyle. He may decide to be ruthless ahead of Hull's visit. But more likely, he will decide that this is not the game for experimentation and opt to entrust once more the players who have served him well in four of our five home games thus far.
And those players will once again need to take a healthy shot of adrenalin with them when they cross the white line at 3 o'clock on Saturday. Perhaps we all ought to add a few drops to our pre-match pint. The outcome of our season may just depend upon it.