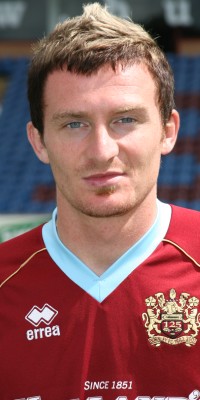 Besart Berisha - the pacy winger we required
In the end it was a busy summer at Turf Moor - seven faces have arrived, with a couple being sold on - but one which will in the end leave supporters a little under whelmed.
We needed a new goalkeeper, and we have got one. We needed two new full backs, and we've got them. We wanted a creative forward, and Robbie Blake fits that bill. We've improved our cover at centre back, and signed the pacy winger we required, albeit that our young Albanian is not yet deemed ready for the first team.
But still. At the heart of most fans' summer hopes was a new heart to the team, the central midfielder who would pipe the tune. He may still arrive, as a free agent or a loanee, but getting him has proved a struggle. So too has been finding the elusive right back - And although we have found a good 'un for the short term in Graham Alexander, a wise old veteran of several promotion challenges and still good enough for the PFA team of the year last spring at 35, he cannot be described as either a long term or exciting addition.
The fact is that this summer has been a frustrating one for supporters, licking their lips after Brendan Flood's interviews of early summer at the possibility of eye-catching signings to come. Yet none of our arrivals fit into that category. Flood shouldn't be blamed for raising expectations: money has been spent, and the funds which were apparently made available to fund a move for Marek Saganowski indicates that our new managing director was prepared to put further funds where his mouth is.
Nor should Cotterill be shot at from all angles. As well as Saganowski, there have been well documented moves for Stuart Parnaby - released by Middlesbrough and now plying his trade in the Premiership with Birmingham - and for a man named Eric. Place those three in the current squad, and the picture becomes rather different, even if Saganowski's arrival might have ruled out the return of Robbie Blake.
And no doubt there are a host of other players Steve Cotterill has courted, only to be turned down. According to Cotterill, there was one in the final week of the window, from a Premiership club, "in a position we know we need to strengthen".
Steve Cotterill's work ethic and commitment are certainly not in doubt; his net has been cast far and wide this summer. And it is impossible to criticise Cotterill for the quality of the players he has been pursuing. But the trouble has come in trying to fill the positions where there are the fewest available options, where proven options with established reputations have several suitors eyeing them up.
And the concern is that for Cotterill and Burnley, a pattern is emerging when it comes to these attractive, yet hard-to-get propositions: a bit of eye contact, even a bit of flirting, yet ultimately railroaded when the more macho, better looking and more fashionable suitors decide that they want to move in and pick up.
That is, of course, the nature of Burnley Football Club. 'Twas ever thus. A small town club, at the top of a valley, somewhere north of Manchester; a middle-league club with a supporter base that is respectable yet too modest to sustain loftier ambitions. That is the perception that, no doubt, any footballer whom Steve Cotterill gets as far as talking to will have of Burnley. To then sell a three year contract at Burnley to a professional footballer is a hard job.
Money may well talk, and it may well overcome many obstacles. But we are now trying to compete with the biggest clubs in this division for the players capable of winning promotion, rather than settling for the cast-offs and the unwanted. And, whilst we can perhaps compete on an even playing field for wages - although that might be naive, even with Brendan Flood's money - we cannot compete on scale and on image.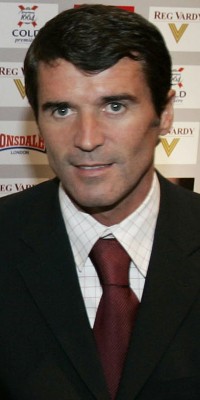 Roy Keane - frustrated with the rejections
This is not just a problem which afflicts Burnley Football Club. It has long forced Newcastle United to pay inflated wages to attract the players who might bring success to St James' Park. And it is less than a month since Roy Keane, frustrated by the unfamiliar sensation of serial rejection, railed against the failure of players to commit the best years of their careers to unfashionable outposts of the English game, pointing the finger at the influence of WAGS and the lure of a fashionable city life.
The city clubs at all levels - especially the London clubs, but also those of any city of status - start with an advantage. They have the capital allure when it comes to securing investment, as the takeover of QPR, a club of rough comparison to Burnley, by two magnates from the glamorous and super-wealthy world of Formula One, amply demonstrates. They are well placed to attract footloose and often well-off fans from the metropolis to boost their gates - and especially to attract flush twenty-something blokes flush with the promise of champagne bars and glamorous pads. They can offer a Championship footballer a lifestyle on their doorstep that Burnley cannot; just as the likes of Manchester City and West Ham can blow Sunderland out of the water with a ride into town, even if they do not do so first at the negotiating table.
Yet if we are to fulfil that stated ambition of pushing for promotion, we must bridge that gap at our level. And that means that Steve Cotterill, if he is to spearhead that push, must find a way to do it. Cotterill's credentials as a coach have always been supported here, and that remains the case. Yet he is not a name who attracts players on reputation alone, by dint of a high-profile playing career or a coaching reputation stoked at the highest echelons of the game. The growing suspicion is that, through no fault of his own, he may struggle to overcome the image gap he faces in selling Burnley around the country to players who do not already know him or the club personally.
But if that is the case, he must make a name out of filling his vacancies elsewhere. There are players at Premiership clubs who are unlikely to ever make the break through. Tyrone Mears made just one substitute appearance for Manchester City, but made the grade when Preston signed him for £200,000.
There are good players available in the lower divisions, just as there have always been. Mick McCarthy, operating under financial constraints at Sunderland three years ago, moulded a team from players signed from the lower reaches of the football league: one of those players was Dean Whitehead, a talented but unfulfilled midfielder signed from League 2 Oxford United for £150,000; he is now their captain, an ever present performer in the heart of midfield or at right back.
Cotterill has fished in the lower divisions before of course, for the likes of Elliott, Duff and Spicer. But with the budget apparently healthier than when those boys arrived, the better known and more expensive gambles with even greater potential ought to be within our grasp. It is with these players that our best chance of securing the tools to challenge lie.
Perhaps one big name might crack it and make the football world sit up and take notice of the fact that we mean business. Flood has talked at length of improving the image of the club at all levels. But the stark reality is that, amongst Championship football clubs, we are an ugly ducking, however much cash we may have sitting in an untapped bank account.
Still, if that sounds bleak, take heart from one thing. Brendan Flood never promised a magic wand, but he did say he wanted to finish above Preston this season. Thanks to our own good start and North End's failings, we are, at least, on course to fulfil that ambition.