For 10 years, mass migrations from Turf Moor seemed to be regular events. The most obvious is the decampment to Wembley in 1994, and the two which created the legend were in 1992, when we went to Derby for that FA cup third round tie before the crowning glory at York. But there were others: cup ties at Sheffield United, Liverpool and at Derby, again, at the end of the decade; league games at Bury on a torrential Boxing Day in that same Stan Ternent promotion season; Oldham under Waddle; Huddersfield on the day Nik the Greek made his Clarets debut in front of 5,000 and more Burnley supporters - and a host of other occasions upon which the number of travelling faithful far outstripped that expected by our hosts.
Those games took place in my formative decade and I was present at some of them, but not all. Those that I missed I listened to on the radio with the commentator of the moment conjuring images of the clarets packing into the away end. I remember, clearly, Guy Havord's description of Jimmy Mullen's "claret and blue armada", setting sail for Wembley from Plymouth in 1994.
The descriptions and the images of those occasions are among my most powerful memories of growing up a Burnley supporter. They were the stuff of fable and had a certain magical quality to them which underpinned my wide-eyed impression of the Football Club. Burnley travelled, and its people moved with it.
The club has rarely generated that frisson in the past 6 or 7 years, and it may not be entirely coincidental that the past seven or eight years have rarely seen such remarkable followings. The FA cup quarter final at Watford in 2003 perhaps, the annual substantial following to Preston and creditable appearances at almost all away fixtures. But that, like the sell-out for the 2005 cup replay with Blackburn, is practically taken as read.
And so it is that this tie with Chelsea has generated a sense of anticipation unmatched in years. Never mind that tickets sold quicker than anyone should have dared to hope; the sale of 6,100 tickets with many left disappointed is itself a return to the happy incredulity of times past. This, you see, is what Burnley supporters can claim to do with the best. We are capable of supporting our team away from home in numbers disproportionate to both the town and our home support.
At home, our attendances have been left behind. They are not so dissimilar to those at the same level fourteen years ago, but what was sufficient for the middle of the attendance averages now ranks us amongst the bottom four or five. Despite the increasing cost, Championship football has become evermore popular: clubs such as Reading, Norwich and Ipswich have comprehensively increased their gates whilst Burnley have proved unable to keep pace. The crowds which were once enough to sustain the notion that Burnley was a sleeping giant now betray the myth behind that belief.
But kids, you can tell your Manchester United supporting mates that your team has taken more supporters to Stamford Bridge than theirs is likely to this season. No doubt they will respond by claiming that for their team, big-game away days are ten a penny. Correct, but therein lies the folly in supporting one of the big four and the whole point of the gloriously misguided pastime that is supporting a club like Burnley.
The comfortable familiarity of the Premier League's big clubs is no doubt enjoyable for their supporters, but it comes at the cost of the soaring anticipation of genuinely one-off occasions experienced by those of us who support clubs like Burnley.
Supporters of United, Liverpool Arsenal or Chelsea can probably point to a host memorable days or nights in the last ten years. Yet few can be illuminated in their minds as those times upon which supporting Burnley exceeds my expectations are in my own. A Champions League triumph, perhaps, for United or Liverpool; the culmination of a season unbeaten for Arsenal. Beyond that, what can possibly stand in stark contrast to all the other European or Premier League events?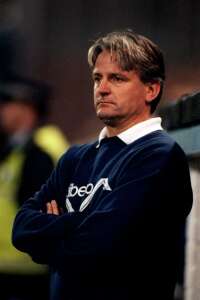 Jimmy Mullen - manager for that Derby away-day in 1992
Nights like next Wednesday shine in stark contrast to the mediocrity which have characterised the life of a Burnley supporter for the last six or seven years and make sense of those interminable frustrations. And it is on these rare occasions that momentum is forged, and alliances between players and supporters created. Burnley are highly unlikely to turn Chelsea over in their own backyard, but the game can be a seminal moment in the development of this already promising Burnley team.
In 1992, that Derby away-day produced the mutual bond between Jimmy Mullen's players and his army of supporters which fuelled Mullen's two promotions: it is when football clubs engineer a confluence of interests between players and supporters that they are at their most powerful. It is the nuclear moment, the fusion of belief and trust which is the secret of success without riches.
When Burnley Football Club, any football club, is at the heart of its own force field - either because the team is playing as though destined to succeed or because, like next Wednesday, the occasion inspires such anticipation - then it is a remarkable cathedral to which to belong.
All football supporters know that, but not all supporters can appreciate it equally. And momentum or not, an away game at Chelsea in front of 6,100 Burnley Supporters is special. It could produce that alchemic spark. Whether it does or not only next Wednesday will tell, but that is why we have all been looking forward to it from the moment the draw was made.