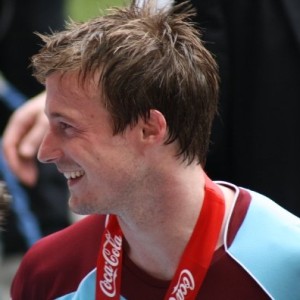 Wade Elliott - his name is indelibly printed upon the history of Burnley Football Club
With a subtly measured clip of his right boot at 3.12 pm last Monday, Elliott secured his status as an enduring idol in the town of Burnley and ensured a glorious conclusion to one of the most remarkable seasons in the history of this club.
In the end, Burnley were deserved winners. The gut-churning anxiety which lasted 90 minutes, barely abating to celebrate Elliott's goal, was misplaced. A few minor skirmishes aside, Sheffield United did not threaten Brian Jensen's goal, whilst the Clarets passed up a host of chances to press home their unquestionable superiority in the basic arts of retaining and using the ball.
Owen Coyle's team did not show their nerves on Monday, yet perhaps it would not have mattered if they had. Over the past month, there has been a gathering sense that this was a side travelling with inexorable momentum towards the Premier League.
Generous penalties yielded crucial goals against both Bristol City on the final day of the regular season and Reading on the first day of the play-offs and the second leg of that semi-final was won by a pair of strikes of inconceivable brilliance. At Wembley, clouds appeared from nowhere at half time to screen a brilliant blue sky and shield Brian Jensen from a second half gazing into a glaring sun whilst Mike Dean waved away a couple of passable penalty claims.
It felt as though the gods had decided it was Burnley's turn, thrown off their cloak of impartiality and thrown their weight behind the Burnley bandwagon.
But Burnley's play-off victory owed nothing to fortune. You make your own luck, they say, and no team in English Football have played with greater belief or panache this season. None have shown a greater focus or will to win. After scoring on Monday, Elliott allowed himself a brief moment of delight before telling his team mates to calm down until the game was won. It was typical of the sense of purpose which has defined this team even more than the crisp, passing football they have played.
That determination has been characteristic of this squad from the start of the season, but perhaps we all owe Roman Pavlyuchenko a pint. His late goal in the League Cup semi-final left the squad with an all-consuming desire to achieve redemption for that disappointment - and that has underpinned the bloody-minded focus on promotion for the last 4 months.
And so it was that they stoked the fervour which took tens of thousands onto the streets of Burnley on Tuesday evening, a day after most of those present had been amongst the masses who decamped to Wembley.
The town has once again learnt to be proud of its greatest ambassador in the past few weeks. Twelve months ago, there were suggestions that Burnley was no longer interested in supporting a Championship football team; now, those thoughts can be well and truly banished and the town will relish the prospect of welcoming Premier League opponents and sending them home with their tails between their legs.
For those of us who have supported Burnley without ever living in the town, the relationship between the club and the town has always been part of the attraction because it is unique. There may be no other town in the country which becomes so consumed with its football club when it gets on a roll. The momentum generated by the passion and belief within the town is a powerful tool and when the club manoeuvres itself into a promotion challenge it is no coincidence that it rarely fails.
Last week, the national press cottoned on to both the extraordinary exodus from the town itself and the remarkable affection retained for the club by supporters who have long been exiled from the town. There were fears before the game much of Burnley's allocation had been snapped up by neutrals: if so, then they learnt their lines fast because by 3 o'clock on Monday they were word perfect.
They were part of the emotional roar which swept away 33 years of frustration as the final whistle blew: a remarkable sight to any neutral inside the ground, as 36,000 clarets - perhaps more, if the few thousand in the posh seats are included - acclaimed our team.
Steve Davis, quietly drinking in the occasion as others exploded around him, must have been reminded of the previous decampment from Lancashire to London in 1994, when he was part of Jimmy Mullen's team which swept the crest of a similar wave to reclaim their place in the second tier of English football by beating Stockport.
Wembley has been demolished and rebuilt since then, but so have the hopes and aspirations of Burnley Football Club.
Davis is one of those men who have become sons of Burnley whilst riding the rollercoaster with the rest of us both before and after 1994. He joined on loan in 1989; played at York in 1992; captained a relegated side in 1995 and led Stan Ternent's team to promotion in 2000.
Having been present at just about every significant occasion since 1987, Davis' name should be written in gold letters when the story of Burnley Football Club from Orient to Premier League is written.
Yet there are other names which deserve a mention for their contribution: managers such as Miller, Mullen, Ternent and Cotterill. Players like Deary, Conroy, Parkinson, Heath, Little, Thomas, Cooke and Payton.
None of those names should be forgotten. Nor should the contribution of just about every other player who has pulled on the claret and blue shirt in the years since we started on the long road to the promised land. Nor, indeed, that of the men who have never worn the shirt, but who have lived their dreams vicariously by pouring money into the club without any expectation of a return.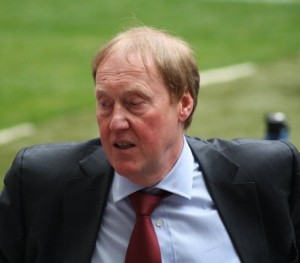 Barry Kilby - without him and his colleagues we arguably would not exist at all
Frank Teasdale, Barry Kilby, Brendan Flood and your colleagues: you made this happen. It isn't just that the club wouldn't be a Premier Club without you - arguably, it would not exist at all.
They put their cash - indeed, their lives - into this club because they held on to the idea that Burnley could be a top-flight football team. That is a dream which we have all shared, but whilst realising it has been sweet for every supporter, one can only imagine the sense of fulfilment and vindication felt by Barry Kilby and successive partners in the Burnley boardroom.
But finally there must be plaudits for Owen Coyle, the man of the present who has reinvigorated the Clarets by taking a decent raw material and teaching each and every player to understand the possibilities offered by their talents. He has forged a side so tightly bound that you would struggle to squeeze a cigarette paper between them and which has reminded the football world that the greatest underdogs do not launch long balls or scrap for second balls but succeed via slick, instinctive passing borne of a well honed understanding and by supporting and trusting one another implicitly.
The only blot on the serene horizon this week was the prospect that his project might be derailed by the advances of Celtic. It seems we may be able to breathe again on this occasion, but progressive coaches with intelligence and charisma are sought after commodities and it seems we will have to get used to fending off the advances of bigger predators.
But that is a bridge to be crossed on another day. For now, there is a fixture list to anticipate. In time, there will transfer targets to be signed and then there will be giants to be slain.
And so ends part one of my life as a Burnley supporter, the journey to the top flight which has consumed us all for so long. Now, the challenge is to establish ourselves as a top flight club. Make no mistake it can be done: if judicious signings are added to the existing group of talented players then the gap in quality between ourselves and the likes of Bolton Wanderers is insignificant.
The Premier League is ready for Burnley, bursting with pride and passion and tradition, to offer a reminder that football clubs should exist for their supporters and their communities and not for shareholders, sponsors or the egos of megalomaniac owners. Burnley is ready to carry that message. We have reached the top of the mountain, but the journey to the next summit stretches out before us.