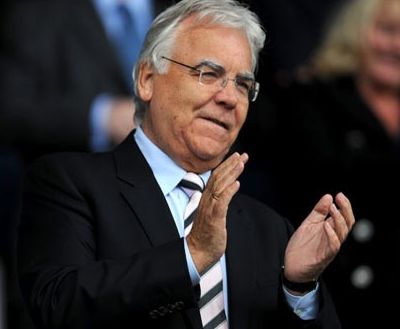 Everton chairman Bill Kenwright
He knows about the chairman's credentials as a lifelong supporter. But he is angry at seeing the board plead poverty and become ever more remote from the punters. And ultimately, he is watching on in frustration as the club, one of the game's traditional names, is overwhelmed by rivals carried on a tide of money from overseas.
But anyway, I shouldn't be talking about Everton's woes on a Burnley website. Yet, although they exist on different scales, there is a striking parallel between the two clubs. And it may well be that both clubs will see out this season, a division apart, in lower mid-table obscurity surrounded by increasingly visible discontent.
Barry Kilby, just like Bill Kenwright, is threatened by an inglorious end to a chairmanship which deserves better. He has come in for some fearful criticism in recent months, and some harsh allegations have been levelled at him. But I've had the chance to meet Kilby, and to talk to him about his affair with Burnley Football Club. I've heard him describe his father's obsession with the club, and his own journey from the Longside to the board room via the 100 club. I've witnessed him explain why he agreed to become chairman.
And I cannot reconcile that person with the calculating, profiteering businessman of internet message board myth, desperately trying to withdraw every last penny out of the club whilst using the rent on Turf Moor to top up his pension fund.
Being on the board of Burnley may well have some benefits to offer its directors – the football community offers access to an invaluable contacts book if nothing else – but there are better business propositions for any millionaires seeking to top up their fortunes.
The same logic applies to each member of the Burnley board – which makes it a big and unsubstantiated leap to suggest that any of them have become involved for personal gain.
But that will do nothing to diminish the frustrations currently felt by supporters. Nor should it. Being a well-intentioned supporter does not relieve any board member of the need to communicate. And it seems to me that a good deal of the present unrest is a consequence of the board to explain, clearly and directly, precisely what the club's position is – and how it came to be so.
Of course, the realities of business make it impossible for every question to be answered comprehensively. Supporters are often eager for information to which they are not entitled, because it concerns the livelihoods of people for whom Burnley is not a pastime but a job. To provide some of the information which is demanded would risk prejudicing the club's position in the transfer market, or its ability to achieve its commercial objectives. To some extent, its fans must simply trust the board, as custodians, to get it right.
But the simple question asked by supporters – "where has the money gone" – is a fair one. To the outsider, it is almost impossible to square a presumed income of close to £30 million last season with the significant losses the accounts will reportedly show. The partial answers given to date have been inadequate: Brendan Flood's claim this week that the wage bill is in the top 10 of the Championship is a diverting soundbite, but even if it is supported by evidence, it cannot be a complete answer and begs the further question of how and when such extraordinary expenditure was sanctioned.
Other answers have been similarly eye-catching but equally incomplete – and in the process, those concerned risk appearing glib, and to blithely underestimate the capacity and desire of supporters drill into the detail.
Whilst this may well be unintended, the consequence is that supporters, unable to identify satisfactory answers, will assume the worst of the club and its directors.
Which is why the club must use the upcoming opportunity provided by its annual general meeting and the publication of its accounts to set the record straight. The accounts themselves will no doubt retain their usual mystique, but there will be plenty of the opportunity for the directors to provide a full breakdown of exactly how the club has ended up with a squad of only 17 senior players – and to flesh out their plan for the next three years.
Those answers may not be popular with supporters; it is hard to escape the suspicion that that the club's Premier League inheritance has been squandered primarily as a consequence of decisions which hindsight does not treat kindly. With parachute payments three times greater than every previous club, it seems reasonable to expect that a tangible legacy would have been established – just as Watford managed to use their windfall to fund one of the best academies in the country, Blackpool managed to complete a stadium and West Brom managed to establish itself as a as a yo-yo club.
But even if the worst fears are confirmed – that the wage bill will be progressively wound down over the next couple of years until it is at a level which is virtually incapable of producing a squad capable of surviving at this level – supporters simply need to understand. Allowing us that opportunity is essential to re-establishing unity between the boardroom and the terraces.
The sense of frustration is compounded by the fact that this team is close to being pretty good. Add a ball-playing midfielder, a left back and a rugged, experienced defender with the communication skills of a captain, and the raw materials of a team to challenge the top 6 would be in place.
Yet that is roughly as far away as we were at the start of the summer. Eddie Howe may well take some of the blame for a summer of inertia, but despite his natural restraint he has dropped enough hints to give the impression that his squad-building was severely curtailed by a lack of funds – and that the departure of Danny Fox in particular was driven by financial imperatives beyond his control.
And inevitably, there is a fear that this will set the tone for many more summers and seasons to come – and that the hope of a return to the top flight, which sustains the interest of many supporters, will be extinguished for good.
But these frustrations are not unique to Burnley. There are many other clubs, like Everton, who are experiencing similar tribulations. And many of these clubs are based on old traditions which appear increasingly anachronistic; constrained by the modest wealth of their communities, the inability of their stadia to compete with the corporate revenues of competitors with smartly configured newer venues, and their continued stewardship by wealthy supporters rather than mega-rich outsiders.
There is a temptation to envy those clubs who have found themselves in the hands of remote strangers who make grand promises. Whether or not being in the hands those of our own who have made it good is a better position than taking a gamble on an unknown quantity is a well worn debate. But to the extent that it is worth reprising when there is no suitor on the horizon, that discussion should never lose sight of the fact that the current incumbents should be assumed to be in it for all the right reasons.
It may well be that at Burnley, as at Everton, supporters will soon have to accept that lamenting the missing of golden opportunities is a futile game, and face up to a new world of more modest ambitions. That will taken patience – but before that is on offer from the terraces, frank, sensitively handled explanations will be required from the boardroom, irrespective of whether they are delivered by lifelong supporters.