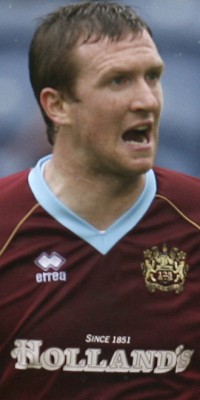 Steven Caldwell - won promotion with Sunderland
Good news, then, that Owen Coyle's Burnley team passed that test with flying colours between the 85th and 90th minutes of Saturday's encounter with Watford. Finding themselves 2-1 down and facing the prospect of defeat from a game which they had done enough to win, the battling spirit and unyielding belief that enabled those in Claret and Blue to salvage a point might be considered a heartening pointer for the rest of the season.
Even before Saturday's performance. The first key hurdle of the season had been overcome: we entered March in touch with the promotion picture. No matter that we have dropped points that we might have felt we should have taken at home earlier in the season. No matter that many of us, myself included, felt we should have strengthened the squad in January, and no matter that there may still be failings in the squad. How we have emerged, blinking, into this position, is irrelevant. We have qualified for the end of season race to the finish and it is now anyone's game.
There is, of course, too long to go for anyone to start getting carried away. Charlton are currently 4 points better off than the Clarets but have two winnable home games this week, and by the time they come to Turf Moor a week on Tuesday that gap could conceivably have widened to 10. Indeed, should we come off second best in this week's challenging awayday double header, we could be relegated to the periphery of the chasing pack.
Yet our form, as well as that terrific, battling performance on Saturday, should ensure that we go to Hull in good heart. Since the nadir of the season, at Blackpool on Boxing Day, we have won five and drawn two of nine games. 17 points from 9 games roughly translates to 20 points from the last 11 - which means that, if we sustain our form over the remaining games, we will end up with 71 points, and a 50/50 chance of a play-off berth.
Yes, there are teams who on paper, have greater and better options than we do. But aside from that spirit, the other thing we demonstrated on Saturday was that we have got players on the bench who can offer a different method by which to break a defence. On Saturday, it was Robbie Blake who offered that transformation - ten days earlier, at QPR, it was Ade Akinbiyi who had that effect.
And anyway, to use another cliché, football is not played on paper. It is played on grass, by human beings, and requires qualities which extend beyond the sheer ability to control a football or see a pass. Alex Ferguson once said that, at this time in the season it was mental strength and experience, rather than those football attributes, which mattered most. He should know, having been in that position once or twice.
So too, rather helpfully, have several of the Burnley squad. In fact, even though we as a club may be inexperienced promotion chasers, no fewer than 10 of our number have won promotion from this division: all four centre halves - Caldwell, Carlisle, Varga and Unsworth - plus James O'Connor and Alan Mahon, Brian Jensen between the sticks (albeit that he rarely played whilst part of WBA's promoted outfit) and Ade Akinbiyi and Robbie Blake up front. The 10
th
is Andrew Cole, who might regard two second tier promotions as something of a footnote next to league championships, European Cups and FA Cups.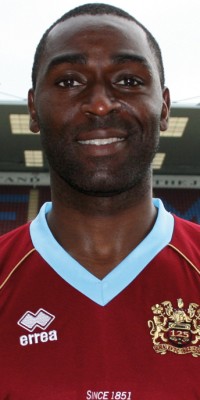 Andrew Cole - a promotion winner with both Newcastle and Birmingham
If Graham Alexander is granted an honourable inclusion on the basis of his vast experience of making the play-offs with Preston, then that is a complete team, albeit one unlikely to ever start a game. This isn't a squad of wide eyed chancers who are liable to be fazed by pressure and expectation. Rather, it is a squad with the experience to simply roll its sleeves up and go to work at the business end of the campaign.
It is an enormous and powerful tool, experience. Cross to a different sport for a second, and consider the recent parable of the England rugby team and the 2007 World Cup. England reached the final of that competition, after plumbing the depths in the group stages and succumbing to a battering by a wildly superior South Africa team.
They dragged their way to that final, round by round, not by suddenly discovering a new dimension of sheer quality which had gone hidden for the previous four years. They did it because many of their number, in their prime, had won the competition four years earlier. Those players had the street instinct to calculate what was required, and had just enough quality to put it into practice on each occasion en route to the final.
Whatever the likes of Charlton, Ipswich, Hull et al might have in their locker, none can claim the same level of knowledge of what it takes to get into the play-offs and out of this division. And this season especially, with the division so tight, it may well be that the team which refuses to blink drags itself over the finishing line and into 6
th
place.
It is easy now, with 11 games to go, to think up reasons why this season should be no different to any other. It becomes a reflex, as a Burnley fan, to see the half empty glass. There have been too many false dawns, too many reminders that we face bigger opposition. We have become conditioned to mediocrity, indoctrinated with the mantra that to achieve nothing is somehow to punch above our weight.
It is an ironic inversion of footballs laws of nature, but the optimism and belief which is fuelling Burnley's outside drive for the play-offs is coming not from the normally fickle and hyperbolic world of the terraces, but is emanating from inside the dressing room populated by achievers and is gradually spreading outwards. For the first time on Saturday, I got the sense from the stands that the penny was beginning to drop for others as it was for me. We are in the mix, and we have qualities of our own to champion and to believe in.
Quite aside from anything else, the very fact of winning promotion means, to a greater or lesser extent, that those players are pretty accomplished performers at this level. So too are Jon Harley and Wade Elliott, Kyle Lafferty, Joey Gudjonsson and Chris McCann. In fact, Christ, this isn't a bad squad at all.
No getting carried away, remember. Hull tonight, then Stoke after that. Let's reassess where we are after those games.
But - if you missed the Watford game, you have my commiserations. You missed a cracker. And if we get through this week's big tests without too much damage to our challenge, then next Tuesday, when Charlton are in town, should be an unmissable, box office occasion at a reinvigorated Turf Moor. One more test, and there will be no excuse for not being swept up in the possibilities that the final two months of the season may hold.