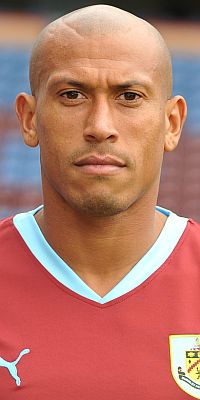 Chris Iwelumo - decisively dismissed any doubts
Almost two months in, the evidence before the jury has been inconclusive. But the next week may tip the balance either way.
Burnley sit eighth, four points adrift of the second spot in the league which remains the target. It's unremarkable but, for the time being, acceptable - even if QPR are in danger of disappearing out of sight at the very top of the division, having already amassed a ten point cushion over Laws' men.
But look beneath the Clarets, and the picture begins to look less rosy. One point separates the club from Tuesday's visitors, Hull, in 15
th
position; two from Sheffield United in 18
th
position. They, like a number of other clubs in that mid-table gaggle, are perceived as having started the season poorly, such is fine line between success and failure in this most competitive of divisions.
Hull and Millwall - also part of that group - represent tricky opposition this week. But if Laws is to meet his objectives this season, it is a brace of winnable fixtures from which points must be taken: at least four, and arguably six.
Any less, and with a quarter of the season gone, then for all the constructive football and promise, Laws will have guided Burnley to mid-table obscurity at best.
This column has defended Laws' appointment, credentials, and record in the past. And in fairness, he has lacked a bit of luck in recent games. The Clarets have missed presentable chances at both Crystal Palace and in Saturday's fixture with Bristol City, including a penalty. The woodwork has been hit four times. They have done so whilst playing, patient, controlled and at times entertaining football which has promised much more than it has delivered.
But the balance is not yet quite right. For long periods of Saturday's game, Burnley drifted: their passing too slow and their attacking play hamstrung by the unhappy combination of a periodic lack of width and the absence of an incisive, mobile threat down the centre.
If Brian Laws is to win over his remaining doubters and satisfy the reasonable expectation that the Clarets challenge for automatic promotion as the season matures, then he must address these limitations quickly and decisively.
He must inject energy into the centre of midfield and identify an alternative method of chiselling out chances which does not entirely rely upon the physical threat offered by Chris Iwelumo. To get results this week, he may need to utilise the extensive options he has within his existing squad. But once this week is out of the way, regardless of results, he must address some underlying weaknesses in the talent at his disposal.
In the summer, many questioned whether Laws' squad had an adequate range of attacking options. Iwelumo has decisively dismissed any doubts surrounding his arrival, and Jay Rodriguez has indicated that he is maturing into a genuine option at Championship level. But Rodriguez has not yet indicated that he is ready to challenge Iwelumo for the role of central striker. Of the other options, Thompson scores too few goals, whilst Paterson is not strong enough and does not possess a good enough touch to link play effectively against the deep lying, double-banked defences the Clarets are encountering on their return to the Championship.
This, presumably, is why Iwelumo is continuing to play despite being visibly hampered by injury - and it all leads to the conclusion that Burnley erred in not recruiting a more mobile alternative to Iwelumo in the summer.
In addition, with the apparently self-inflicted demise of Kevin McDonald, Laws is now light of an attacking and creatively minded central midfielder, capable of finding clever angles, switching play from side to side quickly and effectively, and getting beyond the striker on occasions to score goals.
For all his numerous attributes, Wade Elliott is not that player. If Laws is going to persevere with his basic template for passing football based around an old-fashioned target man as a lone striker, he must recruit such a player sooner rather than later.
These are the marquee additions that supporters rightly expected in the summer. They would also take the squad up to the 24 men that Laws himself stated to be ideal in July. And, as Laws has acknowledged that it was his decision to keep funds in reserve, it is he who must take responsibility for their continued absence. Had such an options been available to throw into the fray on Saturday, they might have proved the difference between frustration and victory.
After the exhilarating win over Bolton last week, Laws' stock is probably as high as it has ever been around Turf Moor. Given the unfair and bilious criticism he endured last season, this is a welcome change. But as a veteran of so many games as a manager, Laws must know how quickly his fortunes can switch once more.
He needs two good results this week to ensure a satisfactory start is converted into a genuinely promising campaign. And after that, he must resolve the conundrums which threaten to undermine that undoubted promise. For the sake of a decent man and for the sake of realising Burnley's Premier League inheritance, it is to be hoped he identifies the answers.