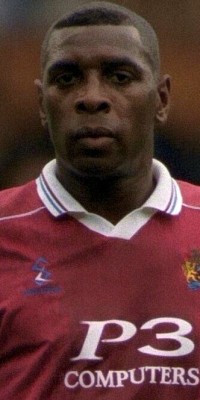 Mitchell Thomas - reliable old pro
But of all the summers through which I have followed Burnley, the sluggishness of this summer has been rivalled by only a handful.
One of those was the summer of 1999, when Stan Ternent's efforts to reshape his squad were, at the time at least, underwhelming. Turf Moor appeared to be shut for most of that summer. A rookie reserve from Aston Villa was the only player signed for a fee. The rest of Ternent's signings virtually arrived in one day, all free transfers and including cast offs from Stockport County and Luton Town.
The way that season turned out may offer a glimmer of light in what is currently a pretty unsettled outlook. Eddie Howe's squad has been blitzed over the summer, and neither the welcome arrival of Keith Treacy can disguise the fact that at the time of writing, it remains threadbare – particularly for a club supported by over fourteen million pounds in parachute payments.
Not only that, but it is currently too callow to be realistically expected to mount the promotion challenge the club led supporters to believe it could expect when it launched its season ticket promotion last March.
Howe has conducted himself impressively this summer, but has cut a frustrated figure at times. A recurring theme has been the re-writing of his deadlines for bringing in players. Where once he hoped to finalise his squad prior to pre-season, now we must assume it will not be complete before the start of the season. With funds apparently restricted, Howe will presumably need to source one or two undervalued gems if he is to shape a squad capable of meeting expectations.
A closer look at that quartet of Stan Ternent signings during that 1999 close-season reveals at least a couple of such masterstrokes, and they are worth dwelling on for a moment. Paul Cook and Mitchell Thomas were the notable cast-offs, and their experience proved to be the foundation of Ternent's Burnley side – just as the experience of Adrian Heath and Ted McMinn had been five years earlier, and as that of Blake and Alexander was a decade later.
Obviously, where Howe clearly enjoys working with young, malleable players, Ternent preferred to surround himself with the reliability of gnarled old pros. But it seems to me that, just as Ternent's experienced and reliable promotion winning team was illuminated by the mercurial talents of Glen Little, now Howe's youthful outfit requires a sprinkling of the know-how which can only come with age.
The trouble is that finding a latter-day equivalent of Mitchell Thomas or Adrian Heath is not easy. For starters, we now play at a higher level with loftier ambitions and so the quality of those senior players must be higher – which means the pool of available players is inevitably smaller.
And irrespective of that, there has been a decline in the number of decorated players who elect to play out their twilight years in the lower leagues, partly because there have been less decorated players who have their roots in the British game and partly because the financial rewards available mean fewer top players need to keep playing beyond their prime. Perhaps the development of sports science, which has extended the longevity of top sportsmen, is another factor. Whatever the reason, the consequence is that players like Abdoulaye Faye, who has a modest top flight playing record and whose best days are long gone, are now signed by clubs like West Ham on wages widely way beyond the average Championship budget.
But such players do exist, and it may be that finding at least one holds the key to a challenge this season. Chris McCann has not appeared obvious captaincy material during his five years as a first team player, and his elevation at the relatively young age of 24 seems, from a supporter's distance, to reflect a lack of other credible options. This is not a squad strong on the skills that the likes of Cook and Thomas brought to Ternent's Burnley: qualities like calmness under pressure, responsibility, streetwise savvy and leadership.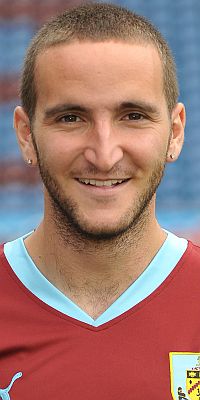 Fit again Martin Paterson
But in highlighting the obvious flaws in the team, it is easy to forget there is plenty of room for optimism. Jay Rodriguez was the star of last season, and if his pace of improvement continues, he will be one of the best players in the division next season. If McCann can avoid the niggles which often afflict players returning from long lay-offs and regain his old form, then we will have a Premier League player in the centre of midfield. And perhaps entering the final year of his contract will maintain Andre Amougou's focus. If it does, then no team in the division will have a better centre half at their disposal.
There are three big ifs there, but if they all materialise, then Burnley will have a spine to rival anyone in the division. And there are more. If Martin Paterson stays fit; if loanees Mee and Trippier fulfil their apparent promise; if Bartley and Austin can benefit from a pre-season and step up to the standard of the Championship; if Wallace can throw off the shackles and produce the form he produced at Preston and Sunderland: if these things happen, Howe will have the core of a team which can challenge.
And if it does, it appears that it will do so playing a sophisticated brand of passing, possession football which should be well worth watching. Howe's team are mobile – the back four may be the quickest the club has fielded in the modern era - and there is some quality on the ball in the ranks.
There are vacancies for a physical centre forward to replace the combined qualities of Thompson and Iwelumo and a central midfielder to partner McCann; a pacy winger and perhaps more cover at centre half might also be on the shopping list. But I suppose it is indicative of the existing quality that perhaps only one of these players – the midfielder – would be automatically expected to slot straight into Howe's first eleven.
Nonetheless, whether that quality and promise is converted into a credible challenge remains dependent on Howe's success in sourcing those players before the transfer window shuts, as well as on whether those ifs come true. By the end of August, we may have more answers – but for now, the questions remain.