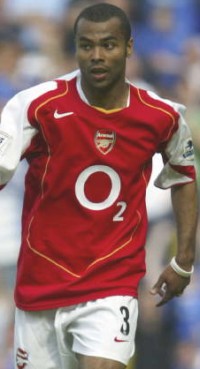 Ashley Cole - signed a new contract with Arsenal

Dwell for a second on the remarkable turn around which sees so many bridges rebuilt so quickly. Just a few weeks ago, Cole was found guilty of disloyalty on a crass scale. Arsenal opened contract negotiations with their left-back, who insisted, via his agent, that he wanted 60 grand a week.

Arsenal only offered a miserly 55 thousand, and an impasse ensued; so Cole – or his agent - being the thoroughly decent chap that he is, decided to arrange a meeting with Chelsea to discuss the possibility of a move.



At least, this is what the commission decided. Cole and his agent, Jonathan Barnett, continued to insist they had simply bumped into Peter Kenyon, Jose Mourinho and Pini Zahavi at the time of the alleged approach – a remarkable coincidence if ever there was.



Bizarrely, Cole then concluded via the tabloid press that he was the innocent victim, that David Dein had forced him out, and that Arsene Wenger had been unsupportive. Yet despite all this, Cole has now signed a one year extension to his contract at Highbury. All will live happily ever after.



Aww, bless. As if in some cherished fairytale, after all the bad blood, Ashley and Arsenal can be photographed, smiling and holding hands at the gate in the garden. All is suddenly sweetness and light; misdemeanours are forgotten, dismissed generously as 'misunderstandings'.



What has prompted the turnaround we can only guess at – perhaps Cole didn't find himself as popular a target as he first thought – but there is something hard to swallow about this renewed alliance. It smacks of convenience, and for Cole to suddenly and unashamedly declare loyalty to Arsenal flies in the face of everything he has said and done before. For Arsenal to take back a player who has shown such disregard for the club says everything about the need to keep winning in football above more lofty principles. Cole has ended up with a 70,000 a week contract, for an additional year – so has ultimately done particularly well from the whole saga. Almost, you might say, a reward for disloyalty.



Loyalty is a curious concept in football, cherished by fans to a perhaps unrealistic extent. We boo players who opt to sign for another club when given the chance, for family reasons, financial reward or simply to advance their careers. Thanks to the Bosman ruling, players can mostly do as they please once their contract is at an end – they are free agents. When the likes of Glen Little exercise their right to move on, it shatters the lingering illusion that players care for their clubs as we, the supporters, do.



The fact is that players are professionals with ambitions to fulfil just like anyone else. You can't blame them for wanting to make the most of what is a short career, to give themselves as much security as possible and to reach as high as they can. Although it hasn't worked out for him, you can't blame Robbie Blake for wanting to try his luck in the Premiership. Perhaps you can't blame Steven Gerrard either for being tempted when Chelsea came calling.



Once upon a time, players would come to a club and stay there till the end of time. That was back in an earlier era, in which footballers plied their trade for little reward. Thankfully, we've moved beyond that era, and football clubs do not own players as master and servant as once they did. More normal rules of employment now exist.



But there are limits. Football is not like any other profession. It is a sport. Its appeal depends on the unpredictability and competitive nature of the game, and upon supporters identifying with a club and its players. That, fundamentally, is the reason a transfer system exists in football: it provides a natural barrier to player movement. Players need the permission of their club to talk to another whilst in contract – and that is only likely to be forthcoming once the selling club believes it is being fairly compensated for losing the player.



Unfortunately, this is the world of agents and the huge imbalance between the poor, the rich and the very rich: and the system is struggling to cope. That is the true story of the Ashley Cole incident, and perhaps of the Steven Gerrard's strange u-turn too. Certainly, in Cole's case, it was agents who were found to be the chief movers and shakers in setting up the infamous meeting.



And it is hardly surprising, given the shadowy places many agents seem to inhabit, and a system which encourages transfer activity. Whilst agents gain the bulk of their earnings in the form a cut of any signing-on fee or even transfer fee, there will remain an incentive to operate in the kind of manner revealed in Cole's case.



Perhaps it's time the practice was stopped, for good. Players should only be allowed to engage agents on a standard hourly rate, monitored independently. One-off payments by either a club or player to an agent should be banned. And agents found guilty of flouting the laws should be banned for a substantial period of time.



And whilst we're on the subject of those rules, they exist for a good reason: precisely because sport is different. It is time the legal authorities, especially in Europe, recognised that essential fact. Yet past form suggests they have difficulty with this: the Bosman ruling, and the attitudes of the European Commission to TV negotiations, are indicative of a desire to straightjacket sport within normal high street principles.



Whatever the merits or otherwise of Bosman, it is here to stay; yet it should remain the high-watermark of legal intervention into the rules of sport. As the tribunal in the Cole case recognised, preventing a player in contract contacting another club is almost certainly a technical restraint of trade. Yet the tribunal was surely correct to conclude that it is justified in a sporting context. Should Cole have the bare-faced cheek to argue on appeal that this was wrong, the Appeal Tribunal should not hesitate to reject the submission. It should set a positive precedent for granting sport the leeway it needs.



Ultimately, players are rewarded well for their talents. Especially at the top level, they enjoy riches beyond the wildest dreams of most of us. They cannot be made redundant in the manner many of us can. Their value as assets means that they will not be dismissed, even when their conduct indisputably warrants it. If they want the rewards, then they should accept the odd area in which their actions are restricted. It is worth remembering Cole's actions were illegal under rules agreed by the PFA on behalf of its members.



Yet Cole seems destined to pursue his appeal regardless. All the while, he will run out for the club he professes to love and be handsomely rewarded for his efforts. Which, he might be reminded, remains a rather fortunate position to be in.