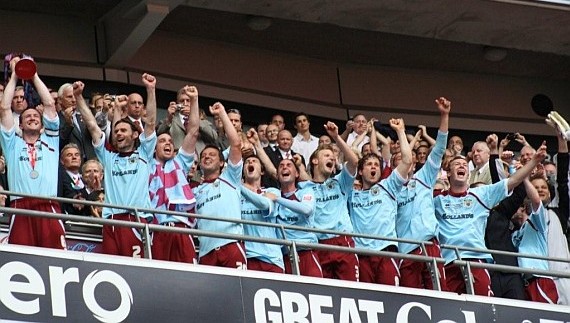 Wembley - the pinnacle of achievement
That, though, is where the similarities end. Last year, Burnley were beaten by Doncaster Rovers in the Championship on 28 December- and this year, the Clarets lost to Everton, at a packed Goodison Park, in the Premier League.
It has been an exhilarating, meteoric year for the club and its supporters; arguably, it has been the most memorable since the halcyon days of the 1960s. It started badly, with that disappointing festive period merging into a bleak run of January results, including a bitterly disappointing 4-1 reverse at White Hart Lane in the first leg of our cup semi-final with Tottenham.
But thereafter, it became quite sensational.
Picking a defining match of the year is tough, because there are a host of days and nights to choose from. There was, of course, Wembley, the pinnacle of achievement; then there was the night Manchester United were beaten at Turf Moor to cap it all off.
There was a thrilling, gritty win at Reading lit up by a couple of wonder strikes to win through to the play-off final. As the year drew to a close, Burnley and Arsenal combined to proffer a festival of flowing football to supporters of both teams on a night which underlined everything which has gained Burnley the respect of the football world.
But to this mind, the defining night of the year was also the catalyst for all of the above. The tumultuous night that Spurs came to Turf Moor for the return leg of that semi-final encapsulated everything that Coyle's Burnley then were, and demonstrated everything that they had the potential to become. The class, the grit and the togetherness evident that night, were the foundations upon which the successes of the year were built.
It was a night when everything we love about football was on show: great goals, great play, atmosphere, tension and rapidly fluctuating fortunes. And the ultimate heartbreak of that night provided the spur Coyle's players needed to go and win promotion.
Since achieving that ambition, Coyle's men have produced as good a start to life in the Premier League as anyone could have expected. Defeats on the road, such as that at Goodison, have been all too common, but the Clarets will enter the New Year on 20 points, and outside the relegation zone.
Even allowing for a recent run of four successive 1-1 draws, it has been exceptional home form which has provided the platform for Burnley's shot at survival and it will remain crucial to the outcome of the campaign. The next couple of months include winnable fixtures against Stoke, Portsmouth, West Ham, Wolves and Blackburn and it is from those games, plus fixtures at Bolton, Hull and Wigan, that the majority of the points needed to survive must be garnered.
Yet we can close 2009 in a positive frame of mind. It is easy to gauge the Premier League these days, with live matches complimented by a vast array of televised matches: the conclusion must be that Burnley have nothing to fear from any of the teams in the bottom half - perhaps two thirds - of the division. And, over the course of this calendar year, the team have shown themselves to be made of strong stuff and capable of rising to the occasion when those seminal matches come around.
We cannot say for sure that Burnley will gain the 17 or 18 points which are likely to be needed to ensure survival but, like last season when our sights were on promotion, we can be sure that they will not fail for want of endeavour or courage.
There has been the odd murmuring of surrender at recent matches, as though this current run of one win in ten matches is fatal. But all bottom-half teams at this level have bad runs during the season and Burnley were never going to be any different. Even during this run, there have been sufficient good performances to justify the conviction that, if Turf Moor retains its boisterous atmosphere, there is no reason why survival cannot be achieved.
There is plenty for us to look forward to. There are eight home fixtures to anticipate, all of which are likely to be important, all of which are likely to be close to sold out. They include a derby against Blackburn for which there will be an almighty clamour for tickets.
There will be great grounds to visit and fine football - from both Burnley and their opponents - to be savoured. There will undoubtedly be a relegation scrap to provoke a surge of nervous adrenalin come match-day.
All of this is why we wanted to be in the Premier League in this first place and we should enjoy it even whilst we fight to extend our stay.
Should we succeed, it will not only be Burnley supporters who will have cause to celebrate. The Premier League is a curious competition, with Wolves' recent surrender at Manchester United indicative that, for all the talk of closing gulfs, the league is on the verge of competitive bankruptcy. Too many clubs have sought to mask that chasm by overspending and the league is littered with clubs who continue to spend brazenly despite their financial ill-health.
The league needs clubs like Burnley who refuse to live beyond their means but who are game to have a go in every game despite their resources. It knows it, too. So do supporters.
Which is why we are winning new friends at every turn who are impressed by both our financial philosophy and our style or play. And if the promise of 2009 is built upon, there is no reason why those friends should not smile as we celebrate come the beginning of May 2010.