The sort that appears every Christmas and floods the market, along with Bradley Wiggins, Clare Balding and Victoria Pendleton, chasing the dwindling band of elusive book buyers looking for Christmas presents.
The publishing business is shrinking. They get their fingers burned regularly like Penguin who paid Pippa Middleton an advance of £400,000 for her book of catering and party planning, described as "banal" by one review. It's full of good advice such as, "A Turkey is ideal for feeding a large group."
Not a football book of course (although there might be the occasional football WAG with more money than sense who dips into it to find out how to present the sausage rolls nicely), but a classic of its kind where a celebrity book is expected to sell tens of thousands. Well hers didn't and I must say I was quite amused. The only time I ever got an advance (pitifully small) for the first book I ever did, the publisher asked within days could he have it back as he discovered he was about to go bankrupt. Which he duly did and I never got another penny. Another chum who writes horror stories wrote: "Welcome to writing."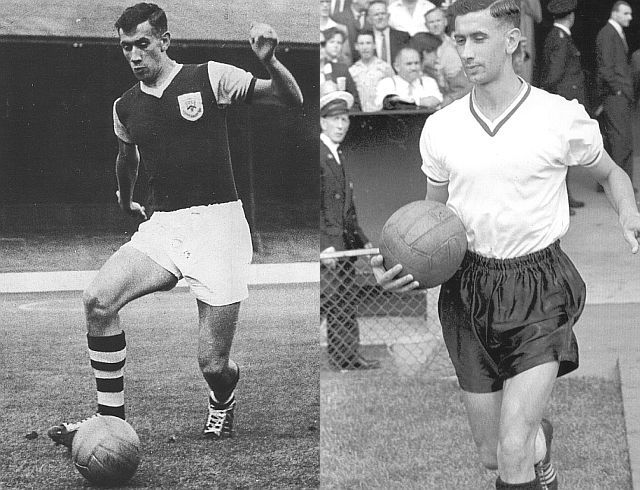 Budgets are tight for the 'small' publisher like the ones I work with. The asking copyright price for a chunk of Peter Lorimer's book that I wanted to use for the Jimmy Adamson book I'm gathering material for was £400 plus VAT but very kindly this was reduced in the same sentence "for a book of this kind" to £120. Quite what she meant by "a book of this kind" I didn't know; presumably one that wouldn't sit on Tesco bookshelves and sell thousands. But even the new reduced £120 was too much so I wrote back, said we couldn't afford that, and would they take £50 – which I would have paid by the way, not the publisher. I still haven't heard.
Shame: the Lorimer take on the Adamson spell at Leeds is powerful stuff. In short, he had no time for him. Anyway: my friend wrote me a long email explaining that to be a proper book there has to be lots and lots of research, burning the midnight oil, making library visits, slaving away over references, old newspapers, documents, source-material and the like such as dozens of other books in order to find one short useable quote from some of them, or a chunk of four pages from the Lorimer book. For the Adamson book I've had to do all that as well as driving miles and miles to do all the interviews, and there's still more to do including one trip to see a guy in Newcastle, and then another one to Ashington. Having done all this, surely it must fulfil the criteria; it must therefore be a 'proper' football book.
What makes it very difficult of course is the fact that both Jimmy and his wife May have passed away. How easy it makes it when you can sit with someone and ask the questions, and nudge and prompt and get the stories from them that bring a book to life. The happiest afternoons I had were sitting with Jimmy Mac a few years ago in front of a computer looking at all the pictures onscreen and listening to him tell a story about each one. Jimmy Adamson I only met once several years ago when I sort of blagged my way into the house. I knew that he and May did not exactly relish having 'football' visitors at that time. They had become very private people and so driving by one day I thought, on the spot, if I don't call now and try to speak to Jimmy, I never will.
They were in and it was May who answered the door. With complete truthfulness I smiled and said, "Hello I'm Dave Thomas, is Jimmy in?" May beamed and immediately thought I was THE Dave Thomas, the one who had played for Jimmy in the early 70s.
"Ah Dave," May exclaimed. "Jimmy will be so pleased, come in, come in."
I knew straightway the mistake she had made but kept quiet until I was in the house and she had closed the door and had one foot in the sitting room where Jimmy was in an armchair. Only then did I say that I should explain that I was not THAT Dave Thomas but only the one who had written a couple of Burnley books. Fortunately I was not asked to leave but made welcome and we sat and talked for a couple of hours. On leaving I asked Jimmy if I could come back and told him I had plans for a book about the team of the seventies. Yes he would be delighted to help he said and I left that house well pleased. Alas that was in something like 2005 and it was the last time I saw them. Subsequent phone calls always received the same answers that Jimmy was unwell and they could not receive visitors. It's something I have long regretted, that I was unable to ask face to face all the questions that I wanted to ask.
The Jimmy Adamson story is all about relationships and the changes that took place over many years; the relationships between him and Harry Potts, between him and Bob Lord. It's all about how relationships that were once so intertwined, so strong and seemingly unbreakable, once the bedrock of the club, over time became estranged and acrimonious. The three of them were once so utterly integral to the story of Burnley Football Club.
The mud then flew back and forth while Adamson was manager of Sunderland; the 'Battle of Burnley' between the two clubs at Turf Moor ended in outright hostility and in the main Stand there was a slanging match between Lord and Adamson. As the years went by, Adamson didn't speak to Lord or Potts; Lord and Adamson were filled with bitterness; Potts a man who never knew the meaning of the word bitter was just deeply hurt. It was his wife Margaret who felt the anger, forever convinced that Harry had been manoeuvred out of the manager's job by the things that went on behind his back.
One of the biggest questions in my head, and still is, was just when did Adamson and Lord talk about Jimmy taking over from Potts. He became coach in 1965, three years after turning down the England job. It is reasonable to assume that when Lord and Adamson talked about the England job, Lord would have intimated then that Adamson had a job for life at the club if he chose to stay. For all we know it might have been the bribe that encouraged him to stay. Adamson became manager in 1970, but Stan Ternent in his own book, describes how shortly after Potts was planning to sell him to Carlisle in '68, Adamson told him then that Potts would be moved 'upstairs' and he wanted Ternent to stay at the club. So: Adamson knew for at least two years that the manager's job would be his before long; and as his and Potts' 5-year contracts ran out in 1970 Adamson would know that the job would be his that year. The ever amiable, unsuspecting Harry meanwhile, had absolutely no idea according to Margaret.
May Adamson was the constant in Jimmy's life that never changed. Running through his story is the story of their marriage, their devotion and loyalty. May was one, but not the only reason why Adamson turned down the England manager's job in 1962. She did not wish to leave Burnley and Jimmy did not wish to take up the post, London based, without her. It would be some years later when he was on the verge of taking the Sparta Rotterdam job the problem of separation arose again. He spent a few weeks in Rotterdam and realised he could not live there on his own without May. Nor would she later move to Sunderland but from there Jim could, and did, return to Burnley at every opportunity. At last she did move, but only to Leeds, within easy reach of her daughters and grandchildren in Burnley. Granddaughter Katie Bolton described them as being inseparable. They were devoted until the very end, even being together in the care home until May had to be taken to hospital in Blackburn. By then Jimmy suffered from dementia and perhaps in his blurred mind had no real concept that May had been taken away from him.
Piecing together all the things that Jimmy said about the England job at different times over the years, it is possible to put forward a fairly comprehensive picture of why he turned it down. The conjecture arises, however, when one wonders just how early Bob Lord did suggest to him that he had a job at Burnley for life, and that one day the manager's job would be his. Whilst once it was Harry Potts whom Lord regarded as the son he never had; then it became Adamson.
Yet another strand that runs through his story is that of failed hopes and broken dreams. We remember him as a supremely elegant player, 1959/60 title winner, FA Cup finalist, Footballer of the Year in 1962 and England assistant manager in Chile in 1962. The offer of the England manager's post was the ultimate accolade. And yet, take away the three golden seasons when he very nearly did create the 'Team of the Seventies', his career in management was one of failed ambitions and broken dreams. Add to those the personal tragedies in his life and his is a story of lack of fulfilment and the final years of estrangement from the club that he once loved and cared for so much.
If Bob Lord began the process of breaking his heart, then the two years at Leeds United finished him off and certainly ended any lingering interest he had in football management, if not football altogether.
By all accounts he was a complex man, brooding one day, cheerful and sociable the next. On some days he could walk straight past people; on others he couldn't do enough. A small band of players revered him; a much larger group did not. All of them would say he was a marvellous coach. Most would question his man-management skills. "Not everyone's cup of tea," was perhaps the nicest way it was put by one of his most loyal disciples.
An Adamson book therefore does not make pretty reading post-1976. After that he had just five years remaining in the game and was finished with football at the early age of just 51. The settlement he had received from Bob Lord in '76, the settlement he received from Leeds United, plus an out of court settlement he received following remarks made about him by his successor Allan Clarke in the Press and on TV, set him up quite comfortably to enable him to follow his interests; Crown Green Bowling, holidays in the sun, and gardening.
There's a huge satisfaction in finding information, talking to people, looking through the papers and documents that his granddaughter Katie has; finding help in Ashington his birthplace, at Sunderland, at Leeds United, and of course in Burnley. The outlines of all the chapters are sketched out. Interviews will fill in the gaps. Luck plays a part. I met Alan Parker from Ashington via the Clarets Mad website. In Ashington I tracked down the local historian Mike Kirkup who has written many books about the area. It was Mike that cleared up a misconception. The Charlton brothers were not born at Beatrice Street, Ashington; they were born at Laburnum Terrace which is where Jimmy was born. This was the Terrace that therefore produced THREE footballers of the year.
Another huge stroke of luck; John Wray the journalist who covered Leeds United for many years lives just ten minutes away from where I live and John still had mountains of cuttings and his articles relating to the period. Help relating to Jimmy's time in Rotterdam came from Cliff Hacking and Alfons Meijboom both via Clarets Mad, plus articles that Tony Scholes turned up in Burnley library.
John Gibson the man who covered north east football in Jimmy's time there, I already knew. George Forster has followed Sunderland since the days of Alan Brown. Gary Edwards has followed Leeds United for 40 years and more. Both of them are classic supporters who know the history of their clubs inside out. Gerard Bradley still has many of the photographs that his father took years ago for the Burnley Express. Howard Talbot has the finest collection of Burnley pictures that he and his father took as official photographers at Burnley for many years. Sir Bobby Charlton agreed to provide the foreword and it is his own book about The England Years that contains a superb tribute to Jimmy of several pages.
The Adamson book is a project I kept putting off for quite a while until at last I decided I had enough of the jigsaw pieces to start putting it all together and knew that enough of his former players at all three clubs would talk about him. Seeing all the memorabilia and pictures in the glass cabinets in the Jimmy Adamson Suite at Turf Moor in the Jimmy Mac Stand gave me the final push. But: there was one picture that gave me not just a push but a kick. It was of Jimmy in his garden with his Scottie dog. I had a Scottie myself for many years; little buggers they are as well. I made the decision to go ahead looking at that picture, thinking just one thing; how could I not do a book about Jimmy Adamson, a fellow Scottie owner?
Adamson, the man who said no to England: Pitch Publishing, publication August or September 2013, Dave Thomas.