Then there was why was Jimmy Mac sold? Was any early secret contact between Owen Coyle and Phil Gartside prior to Coyle being poached? Then there was that brief period when only a handful of people knew who actually owned Turf Moor. 'Shadowy figures in the British Virgin Islands,' was as much as many of us could find out.
But perhaps the most entertaining (with hindsight) and intriguing mystery was the Peter Shackleton affair, once memorably described as a real Shaggy Dog story; when back in 1998 with the club desperate for money, Shackleton, a teacher and then college principal, arrived on the scene with promises of millions and the 'carrot' of backers he purported to have, but who never came to light.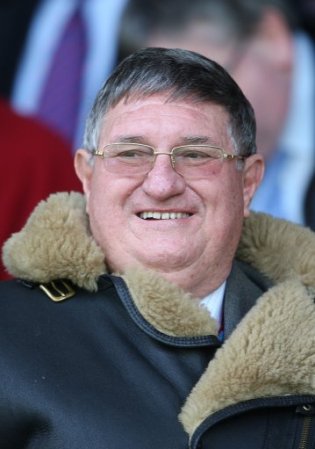 Clive Holt, when we met again, (Burnley still second after the Yeovil game), went through the Shackleton story and his involvement.
'The background to the Peter Shackleton story was that we had no money, and my bid to buy more shares and assume a bigger say in things, had come to nothing when I was quite wrongly accused of going behind the club's back. That was rubbish. They had letters from me to say that this is what I planned to do. The demand for my resignation at an AGM was deflected and things settled down again, after I refused to resign, into the cosy boardroom drinking-club routine that existed. Bob Blakeborough was the only ally I had. It was clear we needed new money and new blood on the board so I proposed that the share total of 50,000 be increased to 100,000. This was rejected. All the 50,000 were taken up so the only way to invite new directors was for existing directors to sell them some of their own shares. It was clear that the board needed freshening and didn't have the wherewithal to move forward. The only way to raise funds was through loans from someone we could give 100 shares, so they could then join the board; but all that would do was increase the total debt.
'Millionaire and businessman Ray Ingleby was showing interest in the club, but then, out of the blue came Peter Shackleton saying he was the front man for potential investors in France and South America. Our eyes lit up and it was Shackleton that became the preferred party. At that time the board didn't quite take to Ingleby. He said that it would be 'neat' to own a football club and the board found him quite Americanised. If Ray Ingleby had taken over, a key factor was Frank Teasdale would not have remained as chairman.
'Shackleton told us he was a Burnley supporter, from Colne, had worked as a lecturer there and had then moved to the Midlands. He told us he had lots of contacts and could find investors. What he proposed was a £12million buy-out, plus a £1million gift and that Frank Teasdale could remain as chairman. Frank was of course delighted. The club was his baby, although alas it was going nowhere.
'So we met Shackleton in a box in the new stand that we still hadn't finished paying for, thus adding to our financial pressures, but in those days we were able to have a bank overdraft, something banks don't do today for us. I realised immediately that he himself had no money. But he insisted he had the contacts and the potential investors.
'A little later I received a phone call. The voice was foreign; he said he was calling from Cannes, and wanted to assure me that Shackleton was genuine. Looking back, for all I know, it could have been an imposter from Bacup but I do recall thinking it was all a con from the start and pie in the sky. It looked to me that Peter was enjoying the attention, being looked after by the club, and then as an afterthought thought he'd better find some investors.
'The thing went on for several weeks. Shackleton had a meeting with supporters at the Sparrow Hawk in town at which he was largely evasive when asked questions and I was there too but said nothing. Eventually we had a meeting in Bernard Rothwell's Company boardroom, with Shackleton, the bank and our accountants. He brought a huge folder with him that he passed to me to examine. I had it in my hands for approximately five seconds when Frank Teasdale grabbed it from me and then it went to the bank people. The meeting ended with the promise of millions in just a few days but walking back to the car one of the bank guys said to me not to touch it with a bargepole. To this day, it either never existed or if it did exist, it might have been South American drug money for all we knew. After that meeting we heard not another word and Frank Teasdale was left high and dry having had his hopes dashed, the club owing money left, right and centre, with no money for new players or any kind of progress. After weeks of wrangling and unmet deadlines, Shackleton could neither name his backers nor continue with the deal but Frank was completely banking on him coming up with the goods and it took a lot of persuasion to get him to give up on the idea so we could try other avenues. '
Fans still remember the events at The Sparrow Hawk:
He was hazy with the details… but it was a time when everyone was clutching at straws… he did a reasonable job of winning over the fans said one fan… the fans had a real go at him, said another fan… the people there lost interest when he said he would be working with the existing board… something like 200 were crammed into a tiny room… I was at that meeting, the room was full and it was obvious he was making it up as he went along. It was laughable at best… Ray Ingleby was a serious businessman with a decent amount of financial clout and pretty good contacts… at one point his company was worth £500million… I remember the phones interviews on Radio Lancashire with Shackleton and Ingleby. One came across really well and the other was Shackleton…
Ray Ingleby, born in Lytham St Annes, in fact by 1998 and based in the USA, ran Caribiner, an audio-visual company that had a turnover of 750million dollars that year. And yet it was Shackleton that the board found tempting until Shackleton went quiet. The bottom line is that at the time too many board members just didn't like Ingleby. Alas by 2010 Ingleby was declared bankrupt and left the board that he did in fact join as vice-chairman at Barry Kilby's invitation after his £1million injection. The ongoing paradox in '98 was that the fans overwhelmingly supported Ingleby not Shackleton. But with the board, it was the other way round.
'By now,' Clive continued, 'most of the board wanted out and would have been happy to sell their shares. But I wanted to stay involved and so did Bob Blakeborough. So he and I put our heads together and came up with Barry Kilby's name. Plus, years earlier, I'd even taken phone calls from the infamous Robert Maxwell about buying the club. Barry had recently sold his company to an American company called G Tech and we concluded he might have the money to help us. He was a supporter of the Clarets and at one time for a short period had been a youth player a number of years earlier. The one black mark was that at the time he had a box at Blackburn Rovers but time has proved him to be a true Claret.
'So: we'd had Ingleby, Shackleton, phone calls from Maxwell; but then we met up with Barry – and Barry said yes and offered to buy the shares from anyone who wanted out. By then Stan Ternent had been appointed manager so Barry was asked was he still happy to take over with Stan as manager. Again Barry said yes and then invited Ingleby to join the board. I remember he had a private jet and he had it repainted claret and blue.
'Stan coming here was a learning curve for all of us. We had new and inexperienced directors and a manager who was far more demanding than we'd had before. We'd just had the laid-back Chris Waddle of course so Stan coming was a total contrast. He was focussed, knew exactly what he wanted, you'd call him an 'old-school' manager, knew his coaching alright but stood no nonsense and said what he thought. And at last there was some money to invest. Of course he was never off the phone to Barry, all managers are like that. But Sonya Kilby one morning on holiday was so fed up of them she threw Barry's phone in the swimming pool.
'Stan's time here was certainly eventful. We had two seasons when we just missed the play-offs, once on just goal difference. That was when Gazza was here. I always remember Gazza had a Gladstone bag, a real genuine Gladstone bag and you could always hear the clink of bottles in it. Stan said he would control Gazza by having him stay at his house. I suspect his wife Kath vetoed that immediately. Gazza never had the same impact as Ian Wright. What a gentleman Ian was. His first away game was at Colchester and I'll never forget he turned up at the coach with his clothes in a cardboard box. That was the game when he took some appalling racial abuse. It took a lot of persuading to get him to stay he was so angry. But he genuinely worked for the club and was a real ambassador. At the time of the Scunthorpe game I was in a high-intensity hospital ward and it was my wife who sat on the bus when it toured the town after promotion. She sat downstairs with Ian Wright and when she asked him why was not upstairs with the team, he said simply, it was their moment, their day, their triumph, not his.
'In London once for an away game we had dinner with Stan and Vinnie Jones. It was an evening where they went down Memory Lane telling stories such as the time at a training camp in the sun the players completely emptied Stan's room of all the furniture and hid it on the balcony behind the closed curtains. Of course Stan went in and was both aghast and baffled and raced down to reception to say his furniture was gone. On the same tour they played a bit of golf and when they'd tampered with the golf buggy and the thing went out of control Stan ended up in the brambles.
'The radio sacking is well remembered. That was the time he announced to the media after the game that four players, Blatherwick, Howey, Williams and Winstanley would never play for him again. When he came up to the boardroom to tell us we were both astonished and horrified so that I said to him: 'Well just what do we do with these players now, how do we sell them?' It left us either having to pay up their contracts or just give them away. One of these players was sometimes late because in the morning he had to clean out the horses' stables that belonged to his wife.
'Of course Stan was demanding, but more often than not in the right way; except there was one occasion when he threatened to resign. But it was one time I called his bluff and basically said: 'Well OK sign here,' or words to that effect. It was all smoothed over.
'Stan did well for us but it all went belly-up with the ITV Digital problems. This was the time when we were supposedly guaranteed £2million a year for televised games. Many people have probably forgotten what ITV Digital actually was. They were a subsidiary of ITV so that in effect there were three groups in the deal – ITV, ITV Digital and the Football League. It was thought to be a watertight deal but it wasn't and in the meantime, we, like so many other clubs had based our budgets and projections on the £2million a year coming in. Except it stopped. Once ITV realised how much money they were losing they ended it. But the deal was signed with ITV Digital, not ITV, and it wasn't underwritten by ITV. So, the clubs were left in the lurch, and in many cases in the red. It hit Burnley hard so that that was when the begging bowls came out and Stan had the ground cut from under his feet. Costs had to be cut, economies made, players couldn't be signed and it all ended with Stan keeping us up by the skin of our teeth in a season when he said if he kept us up it would be his greatest ever achievement. His contract was up for renewal and it was decided not to extend it. The basic premise was that it was time for a new and younger man with new ideas.
'Initially it was Ian Holloway that was offered the job and he accepted, but then met Barry to say that his kids were in tears at the idea of moving. He had girls who were profoundly deaf at a specialist school. So then it was back to Steve Cotterill.
'I got a phone call while I was driving across the M62 somewhere. "Harry here," said the voice.
"Harry who," I replied.
"Harry Redknapp." And he was calling on behalf of Steve Cotterill to recommend him.
'So Steve was appointed. I never found him an easy person to get on with, always thought he was a rigid thinker; I certainly crossed swords many times with him. But that was Steve. Steve was always right and towards the end of his reign one got the impression that he considered himself bigger than the club. I could never understand why he had to have a new pair of socks every day or what happened to the old ones. He was certainly the rising star when we appointed him. It's fair to say he was what we needed at the time, but by the end he was at a stage where he couldn't get the players any further. But he certainly had an eye for a player and Owen Coyle benefited from that.'
For various reasons I rarely got to a game during the 1990s. I do remember that Burnley beat Plymouth in the very last game of the season to avoid relegation. I knew nothing of the Shackleton mystery and Clive Holt's recollections prompted me to delve into it further. In his professional life in the world of education, Peter Shackleton was an accomplished man who, on his death, was held in the highest esteem. But, in the takeover saga, suffice it to say for now there is a lot more about the whole sorry story waiting to be written.