We all chuckled. Yes he was unstable but it wasn't his body that was the problem.
The apology when it came was quite a surprise although in hindsight I don't suppose it should have been. 'I deeply regret what occurred. I apologise to Giorgio Chiellini and the entire football family. I vow to the public that there will never again be another incident like this.'
The sceptical, most of us I guess, had a ponder and came to the probable conclusion that with a move to Barcelona a possibility, he and his advisers might have felt had to make some sort of a conciliatory statement. Then it left you wondering what the Uruguayan FA and manager thought about it after they had defended him presenting him as a scapegoat and the victim of a conspiracy. Without him Uruguay were then promptly out of the World Cup when they lost their next game in the knock-out stage.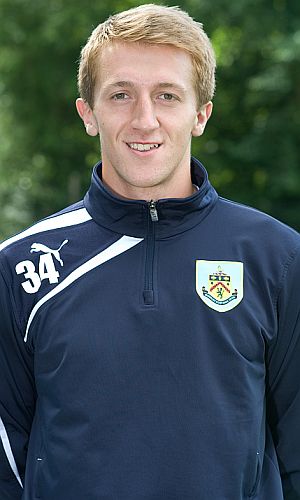 Was Tom Anderson head butted by Suarez?
Only a few days earlier FIFA's disciplinary committee had acted promptly. Henry Winter reported: the carnivore has left the carnival and asked did Suarez need either a psychiatrist to help with the inner demon, or a specialist to help with the inner chimp?
Specsavers were straight onto the advertising possibilities with a fantastic ad, full page in most newspapers. At the top was a large picture of Chiellini with a bright red cross next to it. Underneath it was another picture of a plate of Cannelloni with a large red tick next to it. It didn't need words. When I grow up I want to work in the ideas department of Specsavers. They have some brilliant people in there.
Liverpool were initially non-committal about his future; they would seek legal advice now that he would miss 14 of their games. At Turf Moor we wondered if he would be in Liverpool's team for the Boxing Day fixture or would he have been moved on, maybe to Barcelona.
In Uruguay few people condemned Suarez. In fact he was simply seen as the victim of a huge plot and unjustly punished in view of all the other transgressions that had taken place. Was his bite worse than a leg-breaking tackle? It probably isn't in terms of the injury it inflicts but what sets it apart most folk agreed was the sheer unusualness of it. Children bite, not groan-ups. Would Suarez condone his own children biting other kids in the playgroup?
But it was Gordon Strachan who woke me up the other night when I was half dozing watching one of the yawn-inducing pundit-panels after a group-stage game. They were of course discussing the bite. Suddenly I sat up straight when I heard Strachan say quite unequivocally: there are no morals in football at all. Of course we all know that but I'd never heard it said before so publically by such a leading football figure and so emphatically. The other pundits, Ian Wright and Lee Dixon, went totally silent and open-mouthed for a second as if they had heard blasphemy. Adrian Chiles for once was speechless – no bad thing you might say. The colour and suntans drained from their faces. What Strachan was saying in effect was why should we be aghast? Why should we take the moral high ground? Football is riddled with things that people turn a blind eye to and clubs buy players who have committed all kinds of crimes. And the reason: winning is more important than morality. In his time, he added, he had played with love rats, sexual deviants, alcoholics and frauds. (Sounded a bit like the village where I used to be the Head) But none of that mattered when winning was the sole aim.
Jim White in the Telegraph wrote: 'A couple of years ago I went to a match between my local team Oxford United and Port Vale. It was not a distinguished affair, its rhythms bore little resemblance to football as we have seen it played at this World Cup. But there was one thing remarkable about it; three players had served time for causing death by dangerous driving. Out on the pitch those being cheered for their football ability to kick and rush had, between them, taken the lives of four people.'
Is a club that is sponsored by Wonga not just as obscene as a player biting someone? We accept that certain appalling behaviours and conduct are part of football and always have been, but grimace at the man who bites. Where is the consistency in that? It is a game of constant double standards.
Cult hero status has been bestowed upon Suarez back in his homeland. The definition of cult hero itself provokes debate. Exactly what is a cult-hero? At Burnley it's reasonable to think that Ade Akinbiyi has had the status bestowed upon him. Who will ever forget his performance at Luton in a ten-man team when Burnley won 3-2? Who will ever forget his equalising goal at Chelsea in the Carling Cup when Burnley went on to win the game on penalties? Who will ever forget his infamous head-butt on the Sunderland defender just two minutes into his debut for Burnley against Sunderland? The ground went totally silent for a moment absolutely stunned. But we pardoned him; even found it funny eventually. We forgive a head-butt but not a bite. A head-butt whilst unacceptable is seen as just one of those things that happen in football; a bite isn't.
If it's Suarez it must be news was the possible motivation behind the Sunday Mirror revelations that Suarez had head-butted Burnley's Tom Anderson in a behind-closed-doors friendly with Liverpool designed to get Suarez back to fitness after his ten-game ban for biting a Tottenham player. The source was an unnamed Burnley player who claimed that there had been several clashes involving Suarez during the game, that Anderson was head-butted in the closing moments but because he was so much taller than Suarez was butted in the chest. Suarez, it was claimed, continued to niggle even in the car park after the game that Burnley won 2-0. In a DVD of the game that was given to several players it was alleged that the offending ten seconds showing the incident had been edited out and that both clubs had agreed to keep quiet about the incident.
At Leeds, now subject to a transfer embargo, it turned out to be correct that players had been told to bring a packed lunch to the training ground now that the kitchens had been closed down as an economy measure. Leeds incidentally for a ten-year period were one of the most vile and nasty teams on the planet with no underhand behaviour or intimidation they did not practise. They kicked, hacked, injured, nipped, thumped, elbowed, intimidated, threatened and deliberately injured other players. And that was just in the warm-up. But: no-one ever accused them of biting anyone although with great irony Norman Hunter's nickname was 'bite yer legs.' Funny that: when you think about it; a nickname that included the word 'bite'. We thought it was amusing.
The whole thing is bizarre. Biting someone provokes revulsion; the tooth marks the symbol of a deviant's dishonour. There is a stigma attached to it. Boxer Mike Tyson was lauded, complimented and praised for performances with his fists when he frequently battered opponents' faces into a sticky pulp and then stood over them sneering as they lay on the floor semi-conscious. But then he bit an opponent, Evander Holyfield; he bit a lump out of his ear. And the boxing world went into meltdown at this behaviour as if to say: Yeh it's OK to half kill someone in the ring punching them, but if you bite them just once you are a pariah. Tyson was disqualified and temporarily lost his boxing licence. You can smash someone's face in but you must not bite.
We find it revolting. It is animalistic. In the great scheme of things spitting in someone's face comes pretty close. But how do we decide the difference between what is truly grotesque and disgusting and something that is deliberately violent and dangerous but is accepted as being an unfortunate part of the game?
'It throws the orbits out of whack,' said the great NYPD Commissioner Reagan in the season finale of Blue Bloods the other night. Or, as Doc McCoy might say in Star Trek to Captain Kirk: 'I think we're in uncharted territory here Jim.'
The Arjen Robben dives in the World Cup didn't go unnoticed. He admitted to some of them, denied others. One of them had a huge impact (was it a dive or not) and resulted in Holland progressing to the quarter-finals. What was worse, that or the Suarez bite? You can argue about it 'til you go blue in the face about ethics and morality and then you come back to what Strachan said. 'There are no morals in football.' If Holland actually go on to win the trophy will there have been as much media time and space given to Robben as Suarez? Diving is a part of the game alas. Nobody was better than Harry Potts according to his contemporaries including Jimmy McIlroy. His speciality was a dive outside the box and landing in it. But back in those days there was no SKY TV and endless TV debates to condemn him. Mind you in those days it was all quite legal to kick an opponent black and blue and for a centre-forward to try and cripple the goalkeeper.
Tuesday 1 July: shirt day at the Turf and the long awaited first chance to buy the new one. At the weekend I bought three large-size scrapbooks for the coming season. The last time I did this was for the 2009/2010 Premier League season; those lovely big sugar paper things that look great when they're filled with newspaper clippings and reports and pictures. I still browse through them from time to time. I kept one over 50 years ago for the title season of 1959/60 when I was just 15. When I left home for college three years later it was one of a pile of things I just threw away. I still kick myself. Memo to anyone who keeps scrapbooks and souvenirs and programmes; just don't throw them away. Somebody somewhere will take them off your hands. In the basement there are four huge tote boxes filled with scrapbooks that cover the sixties and seventies, passed on to me by someone who wanted them to go to a good home. Normally I use huge lever-arch ring binders. They fill the office and space is becoming hard to find. I have separate files on Coyle, Laws and Dyche. Things have gone quiet in the Laws and Coyle files. Mrs T thinks I'm a bit obsessive. There are three covering just Jimmy Mac, and two each for Jimmy Adamson and Harry and Margaret Potts; Willie Irvine, Paul Fletcher and Roger Eli. The Margaret Potts file contains dozens of her handwritten letters, most of them several pages long.
The big question now: will the new scrapbooks feature Luis Suarez when Liverpool come to town? Ironically Suarez was the first cutting to go in, the rather distasteful report of his alleged head-butt on Tom Anderson in the Sunday Mirror. How sad is that?