Who's Hoos
Feature by Dave Thomas
Updated Tuesday, 13th December 2011
We welcomed a new Chief Exec to Turf Moor, Lee Hoos. The best post on a website was surely from Rileybobs: "Why are we signing a new CE when we have obvious weaknesses in midfield and defence?"
Probably because the new guy has extensive experience of handling new investors and overseas takeovers; rumours and suggestions of impending takeovers at Turf Moor immediately hit the airwaves.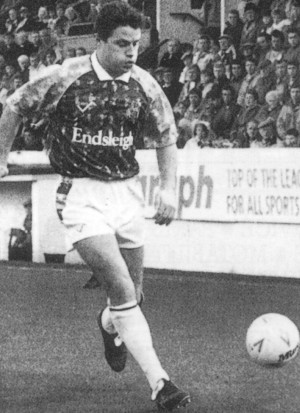 Who's John Deary?
And another first: Mr Hoos is from Maryland USA. There were immediate suggestions that the café kiosks should now stock Maryland Chocolate Chip Cookies. Then came the suggestion that Turf Moor might well be renamed The Maryland Chocolate Chip Cookie Stadium. Crumbs, I thought, that certainly takes the biscuit.
All in all though, it came across as a bold and exciting appointment. And other things too were all good news. The reserves with Pato and Charlie Austin scoring on their comebacks won 4–2. And the youth team won 7–0 away at Boston in the FA Youth Cup. The Alliance side won their 11th consecutive game.
For me though the best news was that the Roger Eli book has now been sent to the publisher at last. I delivered something around 110,000 words and files of pictures on a tiny memory stick you could lose in your pocket, just a few centimetres long. I looked at it and thought bloody hell there's 12 months work on that. There'll be a few things to alter I'd guess now it's at copy edit stage not the least of which will be the curse of the typo. But from now on it's all systems go to get it into print by the end of next April. There really is a splendid selection of BFC books at the moment on the shop shelves. Roger's will be a worthy addition. We settled on a name… for now we keep it to ourselves until the Press releases and sales blurb comes out:
"This isn't a book about money. This isn't a book about playing in European Leagues and World Cups. Nor is it a sensationalist, tabloid style, expletive-filled story of recovery from debt, gambling and alcholism. It's just the story of a player who had his dreams but never made the big-time, and met no end of hurdles and injuries along the way. It's a story about life, the crossroads that we meet, the choices that we make, and the way that the decisions of others affect the paths of our lives. It is both heart-rending and heart-warming.
Roger Eli's career was influenced by several managers: Brian Clough at Nottingham Forest, Eddie Gray and Billy Bremner at Leeds United and then Frank Casper and Jimmy Mullen at Burnley. There are others who appear fleetingly in his story. It's a story of struggles, determination and bravery, and then brief success before the man who mattered, the man who picks the team, decided he was of no further use.
Roger Eli was one of those pioneer black footballers of the early 90's. He was Player of the Year at Burnley in 1991/92. After several years of knockdowns he eventually tasted glory. This is a story about what lies at the heart of football, about how cruel football can be, and how success is so fleeting. For every Terry, Torres or Tevez there are scores of other footballers that make a living from the game, but who could write a manual about the pitfalls and obstacles along the way, yet not without a little humour and a store of good memories. Roger Eli is one of them."
Portsmouth next: the weather cold, wintry, light dustings of snow up on the moors. With three wins behind them and a super weekend down at West Ham would our heroes do the business again? Alas the signs were not good. Portsmouth had not won away all season so it seemed reasonable to assume they would put that right at Burnley. Turf Moor is good for helping teams end their barren away form. And in any case Portsmouth have an excellent record at Turf Moor. It's a good ground for them. And by the law of averages a fourth consecutive Burnley win seemed unlikely. We headed west from Leeds wondering if the omens were good, but if they were, for whom? Every traffic light was red. "We're doomed," I said to Mrs T.
A win would have ended a good week at Thomas Towers. We'd seen little grandson Joe in his school nativity. You'll only say "aw" if this has happened to you. Bless him, he was a sheep. On the Friday night we had the first Christmas Dinner out in Harrogate. Yum Yum. And just before the game in a pair of trousers I hadn't worn for a few weeks, I found 5 screwed up £20 notes. Surely I was on a roll and the good luck would continue.
John Deary was just coming out of the club shop.
"Hey that's John Deary," I said with awe and reverence to Mrs T as we drove by and into the car park.
"Who's John Deary?" she said. I nearly drove into a steward in shock. I gave her a quick lesson in 'who is John Deary?'
"Somebody we could sure use today," I concluded.
It was a good day for star-watching. In the club shop Roger Eli, John Francis and John Deary were signing copies of the new DVD about the 91/92 season and the night in York. Up in the Jimmy Mac, there was Jimmy Mac himself signing and selling copies of his biog and scrapbook. Paul Fletcher and Colin Waldron were up there too. I thought my stunning, much-admired overcoat was the real deal until I saw Fletcher's with its fur collar. Then I looked closely. It was fake.
We sampled a bit of the high life in the Premier Club area. The pie and peas was OK but the plastic knives and forks that broke when you stabbed the pie crust were a bit of a let-down. Perhaps Mr Hoos could make this a priority. In-Hoos catering utensils like a proper knife and fork wrapped in a pretty serviette has just a touch more class.
This was not a game to remember. It might have been the mind-numbing cold or just the lack of action in the first half that slowly destroyed both the will to live and the memory of the fantastic game at West Ham. Burnley never got out of the blocks but Portsmouth were crisp, sharp and pacey in the first half. In the second half there was better stuff from Burnley who made all the effort. A shot from McCann was kept out by their goalkeeper who hardly knew a thing about it. On another day it would have gone in. Edgar put a good headed chance wide. The nearer it got to the end you thought that it would either be a 0–0 draw or either Paterson or Austin would score a late goal to mark their comeback. Of course the third possibility was a sneaky goal for Portsmouth right at the death. You didn't have to have been at the game or even seen the results to know what I am going to say next.
Burnley pressured. Portsmouth were on the ropes and hanging on. And then in a 90th minute breakaway suddenly there they were at the far end and the ball was somehow in the back of the net. It was only their third shot on target. I can't recall a real Grant save, though Portsmouth did have their moments once or twice. Their supporters went wild. Burnley fans headed for the exits in droves. I sat with my head in my hands. There was just one Burnley shot on target the whole game… ONE. And just how many times this season had we seen late, late goals snatch all the points away?
The TV replays the next day we saw confirmed that this was a goal to squirm over. From the opposite end of the ground, the day before, we didn't have much of a clue how it had gone in. I stood and watched the TV screen open-mouthed at the ineptitude of the four defenders who surrounded the Portsmouth player. One player surrounded by FOUR Burnley defenders. Not another Portsmouth player in sight. And still he got his shot in from outside the box without a challenge. It wasn't the greatest shot in the world. It lacked power and pace but it did have direction – into the bottom corner of the net. The jury is out as to whether Grant could have got across to it. But all in all there were five players including Grant versus just the one attacker. That's not much less than HALF the Burnley team. It was a horrible, silly, drippy, soppy, stupid goal to concede. Sometimes you feel that you've wasted an afternoon. This was one of them.
The only positives were the return of Paterson and Austin. The standing ovation that greeted Paterson was long and sustained. Alas the Vokes wagon in this game stuttered and misfired. Stanislas was a nonentity. You can only assume he was selected because Howe thinks a run of games will bring the best out of him. Unfortunately he now has the crowd on his back. Nothing came off for any of the others. Wallace tried to get into the game. His shooting was woeful. I can't remember one run to the bye-line and a cross from either Wallace or Stanislas. Are they wingers or not? I never know in this modern game of transitions and phases and nullification.
McCann is better in a five-man midfield that includes Marney when he can make more runs forward. Treacy is at least more direct than Stanislas and packs a mighty shot many of which have been on target. In the penalty area nothing dropped right.
As a general rule Portsmouth were quicker and sharper to the ball. Kitson, annoying though he is, was probably the best player on the pitch. The referee was awful. But anyway, Kitson was refereeing most of the time so it didn't matter too much.
Last week at West Ham it was Big Sam who said it was just a bad day at the office. That's what me and Mrs T decided after this game. Fitful though they might have been, they didn't deserve to lose that's for sure.
The bright ray in a dull afternoon was another Bolton defeat. They are now the bottom club. Cue a poor joke – they must have a strong side, they're holding up the rest of the Division. With a Blackburn defeat as well, Christmas for Burnley supporters looked just a little more cheerful than it did at the beginning of November, especially with those three wins. And: apparently Barclays have told the Venky's they must deposit £10million by New Years Eve. Failure to do so will result in no extension of credit to enable the players' wages to be paid. A Venky spokesturkey stated that this was mere chickenfeed and would be no problem. It just gets better.
Finally, as well as the rich array of books on the clubshop shelves at the moment here are some more that I've enjoyed recently and highly recommend you add to the list of suggested pressies you leave under the wife's/girlfriend's/mum/dad/ husband/ boyfriend's/ Santa's pillow.
Paul Lake: I'm Not Really Here, published by Century
Mick Rathbone: The Smell of Football, published by VSP (Highy recommended)
Brian Reade: An Epic Swindle, published by Quercus
Keith Dewhurst: When You Put On a Red Shirt, published by Yellow Jersey
Barrie Williams and Tom Lawton Junior: Get in There Tommy Lawton, published by VSP
The decorations in the house are done (in the best possible taste); Mrs T has done her usual fine job dressing the tree. The turkey is ordered. Another Christmas Dinner in Skipton this week in an Italian restaurant; apparently the Italian for turkey is Berlusconi. The one disappointment is that Mrs T would not let me get a giant inflatable Santa's Grotto for the front garden.
A very Merry Christmas to one and all…. Dave T xxx
Interact with us
Sponsored links