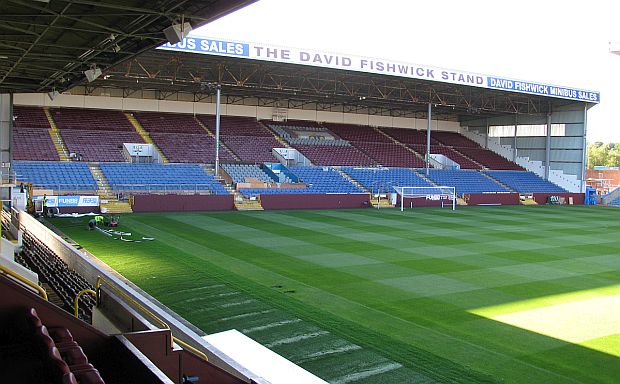 Joe must have been over from the USA to look around Burnley and it sounds like he interviewed Sean Dyche in the media centre at Gawthorpe. The team is using Premier League money to refurbish the former groundkeeper's house into the new media centre. As the interview progressed, 'media manager Darren Bentley comes in,' wrote Posnanski, 'and screws a lightbulb into a dangling electric wire overhead.
"Sorry, sorry," he says. "We only have one lightbulb for now."
Joe was mighty impressed by the whole setup and improbable story at Turf Moor and also fascinated by the fact that little Burnley had a guy from the USA in charge. Lee Hoos was mighty impressed by the fact that when he arrived he only saw claret and blue shirts on the streets. Wherever else he's been he saw Man United and Chelsea and Arsenal shirts. But Burnley was different, he said. Burnley was their team, it was their father's team, it was their father's father's team, and it was their father's father's father's team.
Sean Dyche provided a memorable paragraph when he said: 'I just felt work was an integral part of the area. This is a tough area. People have to work really hard; they have to get out and go to work for what is probably less than the normal wage. They're reflecting the team. And the team has to reflect them. The team has to give everything like these people do.'
This father's father's stuff set me back cogitating about my granddad. He died when I was a nipper before he reached the age of 60. He was the one who had a baker's shop in Todmorden and during the war did a bit of under the counter stuff. He was the one with the parrot in a cage that told customers to buggar off when they came in. Folk used to say 'ey he's a bit of a monkey int he, yon parrot,' which seemed a strange thing to say about a parrot.
My father used to tell me that he went to matches before the war with his father, Herbert, and Herbert used to tell him stories of footie in the 20s when if you came off the pitch without a broken leg or a crushed shoulder, you'd done well. Treatment back then for a broken leg was just a wet sponge and if you couldn't stand up afterwards the crowd simply bellowed that you were a big Jessie. Anyway he used to tell stories, my dad said, that even for then seemed a bit fanciful like the winger who was tackled so hard by one of the full-backs, that he sailed out of the ground, landed in a lorry and ended up in Bacup. The next bit of the story where he just jumped out of the lorry, got the bus back, and played the second half, did seem a just a bit far-fetched, because back then could you really get a bus in Bacup?
The sad thing is, we don't tell stories like that anymore do we? The game is so sanitised, players so protected, if they don't feel like playing, or having a strop, they just tell the manager they don't feel in the right frame of mind, or they are too tired to be at their best, and all the manager can do is leave them out.
The Posnanski piece is lengthy and heart-warming. It gets the whole notion across that Burnley is a club with a history, and certainly a David amongst the Goliaths. Sean Dyche tried to rationalise that and ended by saying: 'Maybe, when the moment of truth comes, we too have a slingshot.'
In the absence of any meaningful football (since when have England games been interesting and watchable) we filled our time with reading more snippets about BFC when we could find them. Sean Dyche in another interview said words to the effect that he was a bit peed off with greedy parents; that some of them could smell the money their young sons could earn, and that indeed some of these embryonic footballers that he had enquired about were earning more as young hopefuls than some of his own established first-team players now in the Premier League. He knew this because he had enquired about some of them.
But of all the stuff I read in the 2-week break, the thing that both intrigued and impressed me most was a new review on Amazon of the Fairytales promotion book. It was by the mysterious 'Elizabeth' who had no interest in football, she said, but had read three Dave Thomas books. Then she wrote that I was her "guilty pleasure." I can only imagine she must have a copy of the bonus edition with the extra randy chapter.
It seemed such a long wait for the West Ham game. In fact it was an age since the last home game against Sunderland. And for me and Mrs T it was even longer having missed that game because we were away in Kalkan. We'd almost forgotten what our players looked like. So: we rooted through twitter and Clarets Mad for news along with the local newspaper websites. In truth there wasn't much, other than a bit of a hoo ha about £5 administration charges for upgrading tickets, the general consensus being it was a bit steep for the simple act of swiping a card and issuing a one-off paper ticket.
Picnic to eat in the car park, bags of cheddars, bananas, mini sausage rolls, and drinks for little Joe; a packed marquee in the car park for the beer festival and music, live music from a decent band with a damned good girl singer. Even at 2.00 crowds of people marching in. Not a sell-out but a great atmosphere filled with anticipation. West Ham fans according to their websites were expecting an early Christmas present. Alas they got one. There was no slingshot that I could see. In this game little David got his comeuppance.
Football is cruel. Lessons are painful. You don't always get what you deserve. Defeats can be gallant and plucky but that's no consolation. By the end of the first half Burnley deserved at least a goal and a 1-0 lead would have been merited. They had the possession, they had the shots, they had the goalmouth incidents, and Adrian in the West Ham goal was in constant action. They hit the bar. They had a goal disallowed. Ings was back and buzzing and weaving and dancing his way through tackles. Jones and Arfield patrolled the midfield commandingly. Boyd and Kightly zipped up and down the wings with incessant regularity. The Jut looked powerful and menacing. Trippier bombed forward at every opportunity. Crosses were fired over. For long spells Burnley were scintillating: ball to feet; pass and move, look for the wide man, West Ham on the back foot. Heaton had precious little to do. They'd played some wonderful stuff, but it all counted for nothing with a halftime score of 0-0.
We mulled and pondered at halftime and shook our heads. You could sense what would happen. You could have bet money on the next sequence of events; that West Ham would come out a different team, probably having had a bit of a dressing room rocket from Allardyce. They'd offered little, but on a couple of occasions had demonstrated how they could break forward with power and menace.
The away support turned up the volume. West Ham came out fired up. Burnley came out half asleep. You just knew that West Ham would turn this around; the only surprise was the speed at which they did it so early in the new half. Burnley had slung crosses over throughout the first half and they had all gone unrewarded. Defenders had got the penalty area blocks in with a speed that you don't see in the Championship. Centre-half Collins was crude, rough, basic, uncultured, but effective.
Then: West Ham slung two crosses across, beauties that were both inch perfect. Full backs breaking at pace, whipping the ball over, Burnley defenders thin on the ground, Heaton powerless to keep the superb headers out. Burnley suddenly 0-2 down, the goals out of nowhere, stunning in their simplicity and application, the crowd dumbfounded; 3,000 West Ham fans in heaven. Here endeth the lesson; that life in the Premier League is all about class, pace, accuracy; sudden moments of magic and above all, taking chances when they come.
But if Burnley were down, they were not out. The half was still in its early stages, plenty of time to get back in the game. And they did. A ball into the 6-yard box, the goalkeeper fumbles and drops it, a melee follows and there is Boyd to slam the ball home from 6 yards. Dare we dream that this might end 2-2 or even an improbable 3-2 win?
If only Ings' header had gone in. At last some rare pace from Burnley and a superb cross comes over. Ings is rising and on the end of it from somewhere near the penalty spot. From where we are, the header looks good, looks like it could arrowing to the top right corner. But our view is distorted and the flashing, glancing header goes wide; oh for a Vokes folks. Groans follow, heads shake again, hands cover faces in dejection. And not too long after that Burnley are losing 3-1 as Carlton Cole scores from a corner, with yet another header. Dear God, we moan, bloody Carlton Cole.
Barnes comes on and then Sordell with a few twists and turns. With time running out Barnes hits the crossbar. The final whistle and we all applaud. Burnley have not been bad. They've run and harried and done their utmost, played at their maximum - but for the 10 minutes when they were caught napping.
'We can't be this naïve,' said Dyche afterwards. 17 shots in the game and only three on target tells the story. At no time did West Ham dominate the game yet off they go with a nice 60th birthday present for manager Allardyce.
We clap them off the field. They deserve nothing less. But at the end of the day we, and they, all know they are at a different level now and they face being caught out and punished if they switch off for even just a minute. The stats are looking ominous, goals scarcer than hens' teeth, the goals-against column mounting up and already four points adrift. No win in eight, yet you still can't fault them for effort, grit, bravery, willingness and long spells of damned good football. But is there a formula that spells a struggle down the bottom end?
If at Burnley we suspect the answer is yes, then the Sunday game between QPR and Liverpool underlined it. It's quite a simple formula really; play well, deserve to win, be luckless for 90 minutes, then throw the game away and lose just as QPR did against a poor Liverpool side that with the aid of two own-goals contrived to win in the final minute. QPR had pegged the score back to 2-2 in the final five minutes, fans ecstatic, a point seemed assured and then Liverpool break at pace, the low square ball is played into the box and a second own-goal gives them all three points. On a scale of cruelty this was a 10+. It's as if no matter what you do, how well you play, or how much you deserve, the odds will stack against you, lady luck will desert you, and sod's law will kick you in the teeth.
There can be no grumbles at Turf Moor. All we need is just a little bit of luck. It's been in short supply this season.