Of course they were appreciative of the Burnley effort but it wore a bit thin after a while that what the pundits wanted to write about was only how City had blown the chance to catch up on Chelsea, concentrating on the theme that this was City who had been so poor and complacent, rather than Burnley being simply superb.
The walk to the shop was one of two I did. The second was to the doctors to register online. We've been going there for 16 years now but you can now book appointments in advance online. Mrs T's resolution this year is to keep me healthy so I was sent up with a flea in my ear that I should take more care of myself. Up I went, walking briskly, swinging my arms like you're supposed to do, 30 minutes each way, only to arrive and be asked at reception had I got any identification. She said she knew who I was but did I have a passport or something.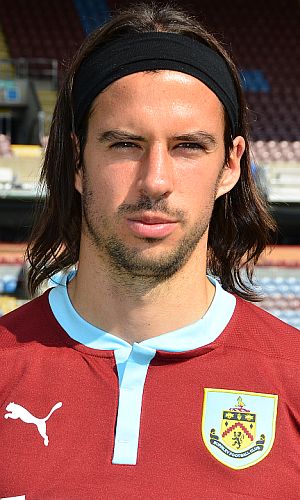 Clarets Angel of the North George Boyd
I groaned loudly and spluttered I had been going up there for the last 16 years and was a passport a new NHS initiative to weed out illegal immigrants and the Taliban.
'Look,' I said, 'that's Doctor Earnshaw in the back there brewing up and I'll tell you a little story. The last time I saw Doctor Earnshaw here was 15 years ago when I thought I'd had a heart attack and came up pronto quick. But, as soon as I said I was a headmaster, she forgot about the heart attack and began to ask me about how she could help her two sons who were dyslexic. So there we were having a conferences about dyslexia while I'm thinking bloody hell Doc I could be dying here.'
The receptionist then looked at me. 'Ah you're not Mrs Thomas's husband are you? We know her. She's always up here. She's one of our A-listers. That's fine then. Here's what you need to do.'
The fitness of the Burnley squad is assuming legendary status. The same players have featured in the last five games. The same players that played on Boxing Day appeared just 48 hours later. Pellegrini muttered about his players not being able to reproduce their Boxing Day form. He blamed a heavy pitch at West Brom for the defeat and tired players. He even said in the closing stages of the Burnley game they had no legs left. The Burnley lads blew his excuses right out of the water not even putting a sub on.
By coincidence at the moment I'm reading David Conn's book about Man City, Richer Than God. What is abundantly clear is that Sheik Mansour and his team see their involvement purely as a business venture where the target is to make everything world class, from the cutlery to the door knobs; but there's a nice line in it spoken by a long-serving former director, Ian Niven, about the fantasy land that City supporters now live in: 'Well it isn't the City I know and love. But if all this was going to happen to anybody, I'm glad it's happened to us.' I suspect most of us would say the same if it happened at Burnley.
Like so many other City supporters, Conn started years ago when the side of Bell, Summerbee and Lee was all-conquering. But they had a chairman, Peter Swales, who decided to bring Malcolm Allison back for a second spell in the early 80s and from then on everything went pear-shaped so that Division Three eventually beckoned. The parallels between Swales and Bob Lord are strong, particularly staying on far too long at their clubs and running them into the ground whilst fans screamed for them to resign. Where City are now then is a source of constant amazement to them all, but a source of great satisfaction to the fans of all little clubs when a club like Burnley reduces the City millionaires to exhaustion by the end of a game chasing shadows.
So: next up was Newcastle and the managerial merry-go-round that had begun at Palace when Warnock left, had continued at Newcastle when Pardew upped and left for, yep, Palace. Meanwhile Irvine at West Brom had also been sent packing to be replaced by Pulis who had much earlier had left - Palace. So for Burnley's visit, Newcastle were both managerless and Cisse-less, banned for three games for elbowing an Evertonian a couple of days earlier.This was the fourth game in 13 days for the Clarets making this period a genuine endurance test.
New Year's Eve and we were wondering what the highlights of 2014 had been. In January we were heading for promotion but none of us knew it back then. We hoped and wondered; the heart said yes, logic said how could it possibly happen? But it did and a year later we can sit back and remember the best moments.
Arfield equalising at Watford was the moment I really thought we can do this. The win at Blackburn was utterly joyous with the look on Shackell's face when he scored one of raw, primeval triumph. Ings' goal in the same game was magical. The whole promotion-day Wigan experience at Turf Moor will be remembered for years and the marvellous team goal finished off by Barnes. The first goal in the Premier league against Chelsea by Arfield was a hair-raising moment though it came to nought. The first win of the season against Hull City was proof that Burnley would not lie down. The away win at Stoke City was against the odds and so unexpected. Wallace's brilliant equaliser at Leicester was a kick in the face for Pearson whose after-match comments were just sour, unprofessional and disrespectful. Barnes' goal at Tottenham was one of the best you'll see. His equaliser at the Etihad was another stunner. Add it all up and it left Burnley at the end of the year in the bottom three – but only just, sharing the place with three other sides, still in charge of their own destiny and with the critics eating their own words.
If there was a snatch of luck at City, and then another huge dollop at Newcastle when Burnley equalised with a present of an own goal, then it all crashed down around their ears by the time the first half at Newcastle had ended. Three Burnley players had to leave the field injured, Shackell first, and then Marney. Next up was the luckless Long making his Premier league debut replacing Shackell and then stretchered off himself. With the first shot of the game, for good measure Barnes had hit the post. Mee moved to centre-back, Trippier moved to left-back and Reid came on at right-back to make up a patchwork-quilt of a back four. Sometimes all you can do is sit back and grit your teeth at the sheer bad luck of things and accept that this is not going to be your day. What chance any kind of a result, losing 2-1, all subs used and facing not just an uphill battle but an Everest to climb. With results around them also going unkindly, damage limitation seemed the only option.
On and on the bad luck went; Ings hit the crossbar with a 20-yard shot. Barnes hit the post from the rebound. Barnes had already hit the woodwork in the first minutes. Mee hit the crossbar with a thunderous header from a corner. Ings was booked for an alleged dive after weaving his way into the box. On the box afterwards it looked more a penalty than a dive with a defender's flailing arm sending him off balance. Referee Mike Dean was good to us five years ago at Wembley. We'll have to forgive him this one. Boyd had a 20-yard shot tipped over the bar by the goalkeeper. Matt Murray on SKY was singing Burnley's praises baffled at how they hadn't scored again. Our friend Anne texted to say that Peter was still in the garage, unable to listen to it; those who were there high up in the away end up in the clouds almost, were struggling to see it anyway they were so far away. I read somewhere that the distance from the back seat to the centre spot, is nearly a quarter of a mile.
But then with Burnley dominating the second-half and Newcastle hardly figuring INGS scored the goal that Burnley so richly deserved glancing in a header from Kightly's cross.
'Outstanding' said Matt Murray. 'They can go on and win this.'
Watching and listening to SKY we'd have taken the 2-2 there and then. Peter I assumed was still hiding in the garage - with good reason. Burnley magnificent but the next goal entirely against the run of play was Newcastle's. The air turned blue, language that would have made the Kray twins blush echoed round the house. This was cruel. This was unfair. This just wasn't right. This was so undeserved.
But this is football. Bloody hell it's what it does. It's the game that drives you mad, that kicks you in the teeth and leaves fans utterly distraught when things are not going their way.
That was it we decided. Three injuries, the woodwork four times, shots tipped over the bar, stunning to come back to 2-2 but now at 3-2 you just assumed that all the effort was spent, wasted, to no avail; all the struggle futile. If we felt desolate how must they have felt? The minutes ticked away and into the last five the game went.
I was mooching in the office wondering what to write. Mrs T is made of stronger stuff and was still stuck to the telly. I had given up; decided that this was the day that Burnley's fortunes were back to normal, that there was no justice, that 3-2 was it.
And then Mrs T yelled. 'It's 3-3. They've done it.' In I rushed incredulous and there it was on the screen, 3 bloody 3. Three times they'd come from behind. These boys were heroes, filled with spirit, guts and bravery. They were indomitable, totally stubborn, and still playing to win. Boyd the scorer was lifted aloft his arms stretched out wide to make him into a Claret Angel of the North. Matt Murray, he with the face and expressions of a gloomy bloodhound, with the charisma of the Grim Reaper, was actually animated – well for him anyway. Can Burnley win it 4-3 he was asking, they were that good. Three injuries they'd had, a re-arranged, patched-up, make do and mend back-four, but with an effort and an approach that was unquenchable and uncontainable, George Boyd the perfect example covering a staggering 13.5 kilometres.
Headline of the day: THE BOYD DONE GOOD
3-3 was how it stayed with an added 5 minutes to torture us TV viewers further. Twitter was filled with the thoughts and praise of proud Clarets. The 3000 Burnley fans in attendance acclaimed them rapturously as they left the field whilst Newcastle were booed off the field. Newcastle acting manager Carver was generous in his praise, that Newcastle didn't deserve one point let alone three, that Burnley deserved to win it, and were the better team over the 90 minutes. It was in total honest contrast to the oral flatulence that Brendan Rodgers came out with after the totally undeserved Liverpool win at Burnley. Dyche agreed with Carver: 'It's a head scratcher how we have come away with only a point.' Newcastle fans were on twitter by the dozen to say how superb and loud the Burnley fans were.
My only grumble: this team and these outstanding results are costing me a fortune. There was another trip to buy an armful of newspapers. The reports go into the huge scrapbooks that I keep. How can you not when games like this are a treat to read about, to watch on SKY main match at 8 in the evening, and then again on MOTD. Even before half-time we'd seen the comedy own goal by Newcastle on one of the overseas websites, well worthy of any Christmas pantomime as defender number one headed the ball towards his own area so that defender number two, under no pressure at all, could head it accurately over his advancing keeper into the net.
In the history of the club we thought the 2-2 at Man City was up there with the great come-backs, but now this. With three injuries in the first 35 minutes other teams might have folded, but not this lot. Trippier excelled when moved to left back and Mee in his once favoured position was a rock at centre-back. But how one feels for Kevin Long. The club was tight-lipped about his injury. It looked a bad one as he was carried off.
The media was generous: 'A remarkable performance from the Clarets,' said the Mirror. 'A decent bet to avoid relegation,' said the Guardian. 'Nobody can say with certainty that they are poised for an immediate return to the Championship,' said the Telegraph. The guy with a metal detector who found a million pounds worth of Saxon coins in a field must have thought it was still Christmas. So do all of us Clarets.