There was carol singing 'round the cash registers at Marks and Spencer. No matter how many times you say that's the last bit of shopping, you end up at the supermarket again. There's always one card arrives at the very last minute from someone you haven't sent one to. No matter how much bluetac you use there's always one card that keeps falling down.
And doesn't it cost a fortune? And that's just giving tips: the milkman, the postman, the window cleaner, the wife. I gave the window cleaner a really good tip – told him to press on a bit harder.
Mrs T was back in the swing of things after her enforced layoff a year ago with her arm in a sling. It was down to me a year ago to save the day. I offered to cook again this Christmas but the offer was rejected. Little Joe thrilled to bits when his package arrived from Junior Clarets with his certificate. Enclosed was a flier from Santa's Pizzas, Burnley. We live in Leeds so no good to us.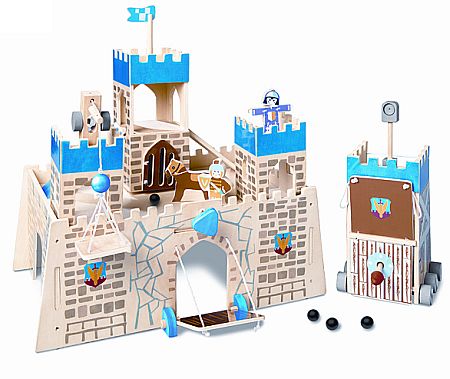 Wooden castle ready for Christmas
Twas the day before Christmas, the weather outside was frightful; and the fire indoors delightful… let it snow, let it snow, let it snow, the song goes, but it was rain that lashed down and gales that caused mayhem.
The day before Christmas Eve: Granny Thomas was in the kitchen in food preparation mode. The blender was out. The mixer was out. The robot-chef was blasting away. Everywhere you looked, debris, food, splatter, spills, wreckage, not a surface uncovered, frustration rising, washing up heaped in the sink, stuffing half made, bread sauce half made, steam everywhere… and a little voice pipes up from the doorway…
'Granny can I help?'
Never got in this mess last year when I did it, I mentioned casually… steam came out of her ears. I heard words that you'd never expect from a granny. I had to cover little Joe's ears.
Twas the day before Christmas, Christmas Eve, there was Joe's wooden castle to put together before he came to the house. I got caught out a couple of years ago when we bought him a PlayMobil School. The box was gigantic and I assumed the school was in one piece inside, so it never occurred to me that it would be in a thousand bits and pieces you had to fix together with the most infernally infuriating little fixing things. I have never sworn so much in such a short space of time as realisation dawned that there was a mammoth project in front of me. It took three days to do it. So: this time out came the castle in plenty of time, and the Philips screwdriver. Woodwork was never my strong point but it went together like a dream; Asda, highly recommended.
Twas the season of bad jokes… how do you make an idiot laugh on Christmas Day… tell him a joke on Christmas Eve… who says oh, oh, oh… Santa walking backwards… what do you call a brothel at the North Pole… a workshop… how does a Yorkshireman make a few quid at Christmas… he puts parking meters outside his house… three men die on Christmas Eve and St Peter meets them at the gates of heaven… if you want to get in show me something that represents Christmas he says… the first bloke pulls out a lighter and says it's a candle… the second guy pulls out a set of keys and jingles them and says these are bells… the third guy pulls out a pair of panties and says… these are Carol's.
Christmas Day: and what a great idea it was of the club to do little Christmas video messages for deserving fans. Mrs T and me are big softies at heart and at some of them we had a little tear in the eye… especially when Danny Ings sent his message to little Joe and we played it on Youtube. Joe's eating habits revolve round M&S sausage rolls. Greggs are quite acceptable too. There's a little café near us as well so we'll nip in there as well. Danny told him if he wanted to be a top footballer he'd have to start eating proper dinners. Joe's best Christmas present… a Danny Ings shirt. Danny meanwhile was having Christmas Dinner at Nino's in Rawtenstall.
Twas the day after Christmas… and exactly 50 years ago Burnley beat Man U 6-1 on an amazing Boxing Day afternoon when a record number of goals were scored. Fulham scored 10. Blackburn scored 8. Liverpool scored 6. Chelsea scored 5. Another game was a 4-4 draw. I was just 19, home from college for Christmas, standing on a packed Longside in that section lower down where you had previously paid a bit extra to go in. The air was filled with the buzz of Christmas, the smoke from cigarettes, the smell of cigar smoke and blokes took a tot of whisky from their little flasks. Willie Morgan, only 19, had given a dazzling display and scored twice. Andy Lochhead scored four. Morgan today has a place in Tenerife and when they bump into each other out there, Lochhead still asks how Morgan was Man of the Match that day and not him. Two days later at Old Trafford Man U won 5-1 and this time it was George Best who was the star.
Morgan remembers there were few if any tactics. There were no coaches, just the manager. At Burnley it was Harry Potts. According to Morgan he might tell his players to watch out for a couple of names in the opposition team but by and large they were simply told to go out and score as many goals as they could. He might say that the opposition weren't a bad side; but that Burnley were better. He remembers that it was a joy to play back then; his only regret the state of the pitches. The emphasis was on attack and most teams had several players who were good on the ball, plus a centre-forward who could score plenty.
Twas the day after Christmas, Boxing Day 2013: 1,300plus Burnley fans made the journey to Middlesbrough, not the best of hunting grounds for the Clarets. That's how it stayed with a 0-1 defeat, 'Boro scoring with a 25-yarder that swerved, dipped, wobbled, bounced and deceived Heaton. Given made a couple of decent saves in their goal one in particular from Ings. According to the stats Burnley had by far the greater possession, but Dyche in the aftermath described them as lacking a cutting edge. The picture that emerged from those who were there was that it was a poorish display with some well below average individual performances. Despite just 2 wins in 9 games and just 9 goals in those games, astonishingly they remained second, but promotion form this was not.
Leicester won to go top but QPR lost at Nottingham and Derby could only draw. Form at the moment is fitful, the points come in dribs and drabs, goals have been hard to come by; but there they were still hanging on to a top-two place. Burnley had Martin Paterson to thank for the points that Derby dropped at Huddersfield with an equaliser with just minutes to go.
The foul weather, gales, storms, floods and lashing rain returned after Boxing Day. Sister in law had been one of the thousands without power for 24 hours down south. It was restored in the nick of time for Christmas Day. England had Australia on the ropes in Melbourne but it didn't last long. Billions were spent in the Boxing Day sales by the haves; the have nots traipsed to food banks in greater numbers than ever. Malkay Mackay was sacked at Cardiff by fashionista Vincent Tan. Phil Brown was hot favourite to take over on account of he loved a good tan.
Twas a few days after Christmas: gluttony and over indulgence over, leftovers in the fridge dwindling, unwanted presents flooding eBay, another birthday gone by, Clarets Mad back on-air. We fancied a nice day out and had seats on the BFC Supporters Club Wigan Express. A staggering 4,600 Clarets made their way to the pie-eating centre of the universe; the world championships usually held at Harry's Bar on Wallgate. It was a Wigan dancing troupe that gave Charlie Chaplin his show biz debut. It was Wigan Athletic where Owen Coyle made another exit to the further amusement of many Clarets.
The coach was filled to the brim. So was the away end with the latecomers standing and filling the aisles to overflowing. 4,600 fans and a sit-anywhere policy does not work. Stewards (what few there were) just ignored it. The stadium is at the edge of the most soulless out-of-town shopping area I have ever seen; Chappy's fish and chips right by the ground the only redeeming feature. We wandered round in the sunshine. Was this really December?
It was a thoroughly engaging game; the first half belonging to Burnley who produced three fingertip saves from the Wigan keeper, whose arms were a very unfair 5 feet long, and Jones hit the crossbar the ball bouncing down and some claiming it was over the line, then to be miraculously cleared away by last ditch defending. Half-time and things looked promising.
But then in the second half the limitations of such a small squad unable to maintain the pace became plain to see, plus the lack of any forward able to get to the by-line at and get an accurate cross over. The lack of anyone on the bench able to take some weight off Ings and Vokes was blatant. Both looked shattered because for them there was no respite. The bruising punishment they take is relentless. Stanislas, as frustrating as Treacy, but the one forward who can take a man on and the best accurate crosser of a ball at the club, remained firmly stuck to the bench.
With Burnley pinned back by Wigan for most of the second half, with no outlets or penetration in wide positions; by the end it seemed like a well-earned point as defenders repelled the repeated Wigan forays. But in truth it was frustrating. Wigan created little in the box. Heaton was busy but this was just the routine collection of crosses and tidying up. He had no real saves to make save for one in the first half.
And so there are frustrations. The frustrations come from seeing the club in such a fantastic position at exactly the halfway mark, still joint second and just three defeats, but simultaneously the strong possibility that it will all come to naught without fresh legs to bring variety to tactics and impact from the bench if a game is at the stalemate stage. Without pace on the flanks, and so much play through the middle, so much relies on the interplay between Ings and Vokes. Both at Wigan were more and more off the pace the longer the game progressed. As one bloke put it, 'This was like seeing two tired horses being flogged to death.' And there were no replacements.
Talk after the game walking back to the car park and then on the coach was of the club and board being at a crossroads. It can stick or twist. The team is in a totally unexpected position. It has done so well. In truth it has amazed us.
So: the board can find a couple of million to bring quality players in; it can make determined efforts to secure signings; or it can play safe with the finances and hope this tired squad can hang on in there. On the evidence of the Wigan and Middlesbrough games, the same squad achieving the impossible seemed unlikely.
There is a new director in the boardroom. Brendan Flood was in the directors' box at Wigan. The board has already said there is money available. Only the intransigence of Billy Davies prevented the loan signing of one of his players in the last window. Andy Keogh wasn't allowed to sign from Millwall; yet more frustrations. To secure even a play-off place, probably ten more wins are needed but at Middlesbrough and Wigan that seemed a tall order.
It's been a brilliant ride so far. Stick or twist… The crossroad beckons.