It needs 200 or so advance subscribers and some local businesses to buy advertising space which we would look to produce in the style of the 50s and 60s. All of us of a certain generation loved that magazine.
Graham Threadgill responded from the USA. It was either 1973 or 1974 and he was at Nelson and Colne College having been shipped there from Colne Grammar as part of the shift to Comprehensive Education. He was studying Biology, Chemistry and Maths. Maths, he says, was beyond him, so he always took a Football Monthly in with him to read under the desk as the lesson droned on. Alas the maths teacher spotted this one day and quietly suggested that Graham leave the class. He was happy to comply and never returned to a maths lesson. Eventually he ended up with a PhD in Biochemistry from King's College, London, and has been in the USA for the last 30 years in Southern California, returning once a year and taking in a game. His success in life of course he now attributes to Charles Buchan's Football Monthly and the abandonment of Maths.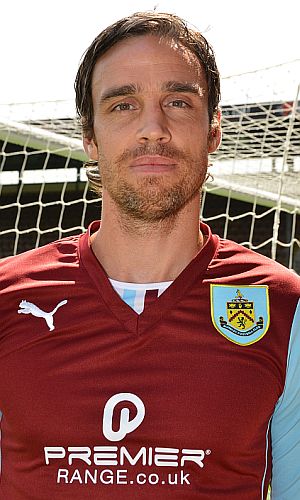 Michael Duff, compared to a fine wine
Responses came from the most unlikely places. Kenneth Blom wrote from Sweden to say that he has followed Burnley since 1962 when he first saw a colour picture of the 1962 Burnley team in a Swedish football magazine 'Rekord Magasinet.' He fell for the club colours and learned they were England's best team. The magazine featured the Burnley teams of 1957, 62, 64 and 67. He had watched the QPR game on Swedish TV and like the rest of us was crossing his fingers for 'Mr Dyche and the others.'
Kevin Lumb remembered my mother when she was teacher at Roomfield Junior School in Todmorden. He was in the same class as John Kettley and my mother was always saying "ooh I used to teach him' every time she saw him on the telly. He said the thing he remembered was carrying her golf clubs out of the boot of the car into school and she talked to him about the great golfer Dai Rees. Any teacher using a pupil to carry golf clubs these days on a school day would probably be had up before a tribunal.
If there is to be a Burnley Gift Book version, it will need an intro. If you have any other good stories please send them.
With huge foolishness my own collection was disposed of when we moved house back in 1999. There weren't that many but since then I've kicked myself of course, especially as I now buy them from eBay at the mere mention of Burnley. There was one colour picture of a crew-cutted Doug Winton that became almost the Holy Grail. I'd seen it somewhere and had to have it, one of those wonderful old black and white photos that were then hand coloured and became works of art. As a kid I'd always loved that crew cut he had but my stern, humourless, Victorian father would never let me have one. An Elvis quiff was OK, but a crew cut, never. Today I just don't have enough hair.
The images of the QPR game were slow to fade. The Football league Show didn't do it justice. How could it? I didn't see a Sunday paper that wasn't fulsome in its praise. But all of them featured the moment the coke bottle was thrown at Barton. The more you think about it, the more it seems just such a stupid thing to do. The Lancs Police need to find the culprit. There are people who know who it was. Who is to say the club won't face a stiff fine and income is hard to come by at this club. It would be infuriating to see some of it disappear because of the actions of a complete twerp. Perhaps he, and all those who enjoyed it, could chip in and pay the fine. One photographer caught the incident in a series of pictures. Of the dozens of people caught in one frame, all bar one of them clearly found it hilarious, their faces a picture of both derision and glee. On the Monday after the game it was a rare occasion when the Daily Telegraph condescended to report on a Burnley game. Sadly, over half of it waffled on about the bottle incident rather than eulogising the terrific win.
Yep: it was one of those memorable days; the Bee sent off (the news travelled as far as the Press in the USA), a half-time wedding proposal on the big screen and the bonny lass said yes whilst the crowd shouted 'NO'. One of the great characters of the game was in the opposition dugout. He ducked the press afterwards; his face and jowls throughout the game a picture of helpless frustration. His expensive team from Harrods were impotent, outplayed by the boys from Poundstretcher. And how about that Ings first goal; if this had been a Premier League goal, at the Emirates or Old Trafford; if it had been scored by Suarez or Rooney, it would never have been off the screens. It's still on our Sky box. I must have watched it a dozen times and just don't get tired of seeing it. It was football perfection. Little Joe was down for a sleepover and asked could he see it again. Then he watched the Bertie Bee video on Youtube and is desperate to meet him. He wants an Ings picture for his wall. Thus is the Burnley bond embedded in a new young 'un.
'What a joyous afternoon,' said one message boarder. 'I can't remember celebrating a goal like that since Robbie Blake against Manchester United.' This same well-read poster compared Ben Mee to Horatius Cocles. For a moment I scratched my head at that one until I dredged up from murky memory a poem we used to read at Tod Grammar; How Horatius held the Bridge from the Lays of Ancient Rome by Lord Macaulay. It was one of those heroic stories so beloved by the Victorians of how the one-eyed Horatius led a handful of Romans including his chums Herminius and Lartius, to defend a key bridge against the invading armies of Lars Porsena, thus saving the city. Eventually even the exhausted Horatius had to jump into the Tiber to escape, given a helping hand and a prod of encouragement when a spear was thrust into his buttocks. Both Romans and Etruscans thought he would surely drown but he had shown such bravery that all of them cheered when he emerged from the murky waters and re-joined the Romans. Ben Mee as Horatius; wow this was high praise indeed.
The guy who compared Duff to a fine wine was spot on. Is this guy really in his middle-30s? He's lucky; he has one of those lean, wiry bodies that last longer than some of the muscle-bound, heavy-weight terminators that masquerade as centre-backs. His speed is no less than it was 10 years ago. His tackling at key moments is crucial. His reading of the game is based on years of experience. His heading is awesome and his bravery unquestioned.
The Great Storm had abated. The Daily Express was stuck for a headline. True the south was badly affected but up north we got away lightly. A clothes line was blown down in Horsforth. A garden chair was blown over in Cleckheaton. A survey revealed that 3million elderly will struggle to keep warm this winter. Downing Street advised us to wear an extra sweater if we were cold and just heat one room. The words f*****g imbeciles sprang to mind. After I got an emergency appointment; the dentist whipped out one of my wisdom teeth on the Monday before the West Ham game, to solve the toothache problem that had raged over the weekend. Mrs T said it wouldn't make too much difference; she said I never was bright to start with.
Next up was West Ham. Here was Sam Allardyce, the second of the 'big names' to grace our stadium with his presence, although I'm not sure 'grace' is exactly the right word. There was contact with him when Brian Laws departed this parish but though he spoke kindly about Burnley, he preferred to wait for a Premier job.
There were changes to the line-ups. In came several squad members to the West Ham team. Carlton Cole, not quite on the dole, but recently unemployed, was now back with the 'ammers to resume the blowing of bubbles. West Ham fans would love the doorway in Hebden Bridge from which bubbles forever blow and float down the street in quite spectacular fashion so that you could be forgiven for thinking it's a Chinese laundrette. In fact it's a wonderful soap shop, The Yorkshire Soap Company, on Market Street where they make their own soaps. Soap boys Marcus and Warren create soaps in all shapes and designs.
The much admired multi-coloured heavy overcoat made its first appearance of the season; the one I got years ago from Camden Market allegedly made from old horse blankets. It could be true; as soon as I put it on I want to break out into a gallop, but boy is it warm and cosy and when the bitter winds blow into the Upper James Hargreaves, strong enough to blow the ears off an elephant; it's like wearing an electric blanket. Todclaret was the first to see it and gasped at its elegance.
In front of a 14,000+ crowd, Burnley had a second-string midfield of Treacy, Stock, Edgar and Stanislas. Long came in for Duff. And despite all that, the first half was mostly Burnley playing neat, tidy stuff and outplaying a timid West Ham. The West Ham keeper made two stunning saves, was in regular action, whilst Heaton at the other end might as well have brought out a programme to read. And then: presumably Big Sam read his lads the riot act at half-time for out they came, a team transformed, and proceeded to dominate Burnley with a changed formation, putting huge pressure on in the box, although with few shots or end product.
Bit by bit Burnley got back into it. The 'reserve' midfield did a decent job. Edgar and Stock looked good in the first half with Stock pinging balls to all parts of the field. But for Ings, by his own high standards it was an off-night. If he was superb on Saturday, on this occasion he was well held, and had few if any chances to burst through into the box, other than one turn and stinging shot in the first half that was saved and tipped over.
With Burnley back in the game again, Trippier was so unlucky with his free-kick that hit the bar. Despite West Ham having upped their game and brought on fresh players, it was still anybody's game until the last ten minutes. Funny how a bit of a thought so often becomes reality; it'll take a penalty or something daft for either side to settle this game, I'd just thought to myself and lo and behold the referee awards a controversial penalty to West Ham when a superb stretching tackle by Shackle was adjudged to have been a foul. We looked on incredulously. Shackle was disbelieving. In an instant, the referee had handed the game on a plate to West Ham. 'We had a bit of luck,' said Allardyce. Their second penalty in the dying seconds made for an unjust scoreline. Treacy red-carded was the icing on the cake.
We left for home wondering just how we had lost. You couldn't say any Burnley player had played badly and this was most definitely a makeshift midfield. Even so it out-passed West Ham for long spells and it was Burnley who looked the Premier outfit for the first 45 minutes. But if you don't score you don't win.
I suppose West Ham shaded it in the end and just about deserved the win. But I also suppose the way it was handed to them by a dubious decision was the painful bit. Pain from a dodgy wisdom tooth you can get fixed and it goes away. Pain from a dodgy decision that decides the course of a game is a whole lot worse.